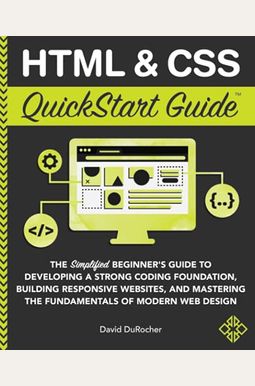 
 
Html And Css Quickstart Guide: The Simplified Beginners Guide To Developing A Strong Coding Foundation, Building Responsive Websites, And Mastering T
Frequently Asked Questions About Html And Css Quickstart Guide: The Simplified Beginners Guide To Developing A Strong Coding Foundation, Building Responsive Websites, And Mastering T
Book Reviews
(9)
Did you read Html And Css Quickstart Guide: The Simplified Beginners Guide To Developing A Strong Coding Foundation, Building Responsive Websites, And Mastering T? Please provide your feedback and rating to help other readers.
Useful but go to the MDN

Derived From Web

, Mar 11, 2022

I thought I needed something else to support my studies for a class I am in. Which is great! But go online and read books by Shay Howe. Read the MDN, it is a complete reference that is updated continually. Go to css - Tricks and watch the traversy - media videos on YouTube. Do a free code camp and watch these videos on YouTube. Check out the free code camp and the Olin project. You'll get a more complete education, in a format that doesn 't feel like you are being spoken to like a kid.
Alot of information

Derived From Web

, Feb 16, 2022

Perfect, as I am now getting into web development. I haven 't read the whole book, but I'm trying to prepare myself for the classes I take soon. It is filled with a lot of information and you can go back and look for something you feel like if you forget.
Great for beginners.

Derived From Web

, Oct 20, 2021

Sometimes I struggle to stay interested in reading books and the layout of this book is amazing. I have not even finished it and I love it. Black and white pages are white.
Informative, breaks everything down

Derived From Web

, Oct 12, 2021

At my location, only 3 people were picked up. Everyone claims that the online teacher teaches too fast, which was true. Clyde Bank Media thanks you.
Good and fairly complete guide to the topic.

Derived From Web

, Oct 7, 2021

I think it would be improved by the inclusion of an index, so that one could quickly find a topic on which one has a question. An appendix with an HTML 4 quick reference would also be a useful addition. Something like Sams Teach Yourself has HTML 4.
Smooth

Derived From Web

, Jun 24, 2021

This book flows and makes you practice, and had a big project for you to work on. I haven 't completed this book, but it is geared for beginners and is 100% worth the money.
Well organized and perfect introduction to HTML & CSS

Derived From Web

, May 31, 2021

I found this book while searching for a textbook for some courses I teach on Web Development. It includes assignments so that you can practice what you are learning. The author does an excellent job in introducing html and css to beginners, while providing more interesting and complicated material at the same time. It is a great book for students, and I plan to use it in my classroom. I love how the author included access to all examples through github and encouraged the use of a text editor. Throughout the book there are reminders where to go to access the online content that I found very helpful so that you don 't have to hunt for where you need to go each time.
My Awesome guide.

Derived From Web

, Apr 11, 2021

Though I am retired, I have little spare time to study, but this article helps me make the most efficient use of it. An awesome Qockstsrt guide!
This is a great supplemental tool for college class or self teaching.

Derived From Web

, Apr 9, 2021

I am taking a web design class and was worried about not "getting it ", this book helped. It takes it a little slower and I believe that if you teach the language HTML and CSS coding, this is a good book to help. Fairly simple to read, you are connected to a website where you can work through codes. It is small enough to fit in a shoulder bag to take it with you.