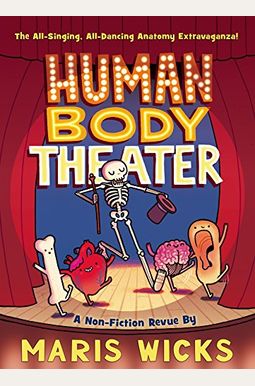 
 
Human Body Theater: A Non-Fiction Revue
Book Overview
Welcome to the Human Body Theater, where your master of ceremonies is going to lead you through a theatrical revue of each and every biological system of the human body Starting out as a skeleton, the MC puts on a new layer of her costume (her body) with each act. By turns goofy and intensely informative, the Human Body Theater is always accessible and always entertaining.
Maris Wicks is a biology nerd, and by the time you've read this book, you will be too Harnessing her passion for science (and her background as a science educator for elementary and middle-school students), she has created a comics-format introduction to the human body that will make an expert of any reader -- young or old
Frequently Asked Questions About Human Body Theater: A Non-Fiction Revue
Books like Human Body Theater: A Non-Fiction Revue
Book Reviews
(10)
Did you read Human Body Theater: A Non-Fiction Revue? Please provide your feedback and rating to help other readers.
Best anatomy/physiology book I've ever read

Derived From Web

, Mar 25, 2021

My sons asked to buy this book after seeing a friend reading it in the 6th grade at school. I expected it to be more graphic than informative from the cute novel format, but I was so wrong! It is packed with information, funny and the explanations make tons of sense. I wish I had owned this during my college physiology class, but then it did not exist. I'm really happy that my children get the opportunity to read it. It is actually quite enjoyable and offers so much detail.
Homeschooling the Human Body

Derived From Web

, Oct 25, 2020

I recommend for lower elementary, maybe 5th or 6th grade. Both my son and I love this book! We are using it together with Scholastic's The Body Book and it is working perfectly! It goes into enough detail to give my son an idea of how the body works, but not to bring him to death! It does have 3 chapters that I intend on saving at the end of our Body Lessons, because I use 2 books in tandem with these lessons are not in the other book and go into the 7 endocrine, 8 reproductive and 9 immune systems. I read this book with my son and I am able to answer questions or Google. It has been great in general!
Tastefully Done & Informative

Derived From Web

, Jun 24, 2020

This book will be used part of our 2016 homeschool curriculum. I'm very happy with its contents and how simply things are explained ''. For anyone on the fence, I included pictures of the most "risqué " pages. I think '', which I do so beautifully. I highly recommend this book for a human introduction to the solid body.
Awesome book!

Derived From Web

, Oct 5, 2019

I received this book yesterday and my son took it quickly, sat in his room and read it for several hours! I haven 't yet had the chance to look at it, but is very detailed in drawings and descriptive with explanations from what I have seen. The only reason I didn 't give 5 stars was because we found a total of 4 pages together. My son accidentally tore the first because he thought they were truly stuck and not just not cut ''. Totally fixable with scissors. Also select the hardcover book! It ended up being cheaper. )
We used it to help introduce the reproductive system

Derived From Web

, May 1, 2019

The beauty of it is that it talks about ALL systems of the body, so when we got to the chapter on reproduction it was no more taboo '' than the fact that you have a skeleton or blood or even that you pee and poop. I read it to my children when they were young - 3 and 5 - and now they read it independently when they are older. They don 't bat an eye when they have family life at school, unlike some of their peers who are shocked or embarrassed.
Talk about grabbing someone's attention!

Derived From Web

, Apr 8, 2019

This was bought for our 8 year old granddaughter. She was super excited about it. Approximately a picture sent us a picture shortly after receiving it, and it showed her sitting cross-legged on the couch reading. Our daughter sent us a text this morning with these quotes from our granddaughter, Can I bring it to the pavilion to read while we wait for the show to start. Can you give me a flashlight so that I can read in bed? I have to brush my teeth fast so that I can read my new book. I think it was a success.
Great overview on the human body & it's functions

Derived From Web

, Dec 9, 2017

My degree is in biology, so I tend to collect all cool science books for my children. I warn for those who are unaware that they talk about puberty, but leave out the actual sex act. My kids had this conversation quite early on, so they don 't even blink an eye to things like this, but I thought it was worth noting for those who had never seen the book in person.
Great balance of detailed information using kid friendly language

Derived From Web

, Oct 11, 2017

My four-year-old daughter loves this book. At this age she still doesn 't understand everything, but she does not want to have it read to her and loves the pictures. For some reason, I thought it would be a high book that covered the thinnest basics. This book is really thick and goes into a lot of detail. Even I learn new things as I read it to my daughter. I love that this helps my daughter develop an interest in how the human body works. I have recommended this book to several friends. One friend said that her 2nd grader loves it and will sit there and read it on his own.
The best book about the human body

Derived From Web

, Sep 17, 2017

This is the best book ever written about the human body. My girl has read a few books about the human body, including her favorite magic school bus. She loved all the scientific topics except for the human body. And she believed it is yucky until I found her this book. I borrowed this book from the library and my six-year-old starts to read on her own. She was obsessed with it and kept giggling while reading. Her Daddy asked her why we feel when we touch something, and she replied that it was the brain. How the brain receives information? She said that it was the nerves that were affected. The hardest thing in education is to teach complicated information in the easiest way. We tried this book again, tried different libraries for her to buy this book and finally decided to keep it because she is never bored with it.
it is definitely a good choice. But notice

Derived From Web

, Apr 30, 2017

If a child is interested in the human body, it is definitely a good choice. But notice, it has lots of details, very full graphical approach with specific and fun pictures makes it easier to read for a kid. My kid is 8 years old and reading level is 3-4th grader who loves to read it. There are not many children's book related to the human body gives enough detail information and is one of rare good book suits that fills little curiosity.