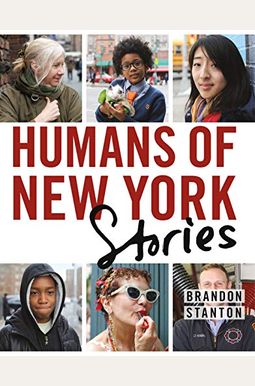  
Humans Of New York: Stories
Book Overview
Now a #1 New York Times Bestseller
In the summer of 2010, photographer Brandon Stanton began an ambitious project: to single-handedly create a photographic census of New York City. The photos he took and the accompanying interviews became the blog Humans of New York.

His audience steadily grew from a few hundred followers to, at present count, over eighteen million. In 2013, his book
Humans of New York,
based on that blog, was published and immediately catapulted to the top of the
New York Times Bestseller List
where it appeared for over forty-five weeks. Now, Brandon is back with the
Humans of New York
book that his loyal followers have been waiting for:
Humans of New York: Stories
. Ever since Brandon began interviewing people on the streets of New York, the dialogue he's had with them has increasingly become as in-depth, intriguing and moving as the photos themselves.
Humans of New York: Stories
presents a whole new group of people in stunning photographs, with a rich design and, most importantly, longer stories that delve deeper and surprise with greater candor. Let Brandon Stanton and the Humans of New York he's photographed astonish you all over again.
Frequently bought together
Frequently Asked Questions About Humans Of New York: Stories
Books like Humans Of New York: Stories
Book Reviews
(15)
Did you read Humans Of New York: Stories? Please provide your feedback and rating to help other readers.
Slice-of-life stories

Derived From Web

, Apr 22, 2022

I have read quite a few negative reviews of this book by people who question the author's motive. I am firmly in the love it camp, Tunick said. I'm not trying to over-think it, Mr. Rule told the judge. I'm just accepting the pictures and their stories as a slice of life. Some fill me with immense sadness at the gaps in society that people can fall into. Many, many of them have vastly different lives to the one I have -- when is it ever a bad thing to feel compassion for another person? Only a fool would think that I could give any advice to the person who is wondering whether or not to read this book. I'd be surprised if you don't get something out of it, Mr. Rule told the judge. It's great to be back home, said Blair.
I like reading the stories on Instagram

Derived From Web

, Apr 22, 2022

I'm not going to lie, I bought this because I wanted to support Brandon. It sat on my coffee table for a few weeks before I cracked the cover. Everyone was asleep by the time I was done, so I had to laugh and even cry at a few. Great Job, Brandon! It has already been recommended to family members.
Completely captivating

Derived From Web

, Apr 22, 2022

I've seen trailers, but this is by far the best looking. I've been following these stories for a while on Facebook and knew when this book came out I had to have it. The day that it came in, I sat down and read it cover to cover, sometimes laughing, sometimes crying, but completely enthralled. It makes a great coffee table book and everybody that has come over has picked it up and started reading it, Morgenthau said.
... New York for a few years on Facebook and enjoy his pictures and posts

Derived From Web

, Apr 22, 2022

I have been following him on Facebook for a few years and enjoy his pictures and posts. I bought the first book and thought it was great, but I love this second one even more. There are some very interesting, heart warming, heart breaking and funny stories behind the people. It kind of connects us all, Austen said.
Love HONY

Derived From Web

, Apr 22, 2022

Follow me on Facebook. I've loved it so much, I bought it as a family Christmas present. Hubby wont read it, he's too Republican. Hiss loss. I enjoy the book more than the online posts, because readers seem to not think about the person, beyond what they stated about themselves. Brandon recently posted a week of prison interviews on his Web site. If a Sandy Hook parent saw the whole thing coming, I can only imagine what a bullet would have done to the criminal.
Loved this book

Derived From Web

, Apr 22, 2022

Loved the book, said Gillian. Before giving it to my mother as a birthday present, I read the whole thing. She loved it too, and we both thought it was fascinating how it gave you a look into the inner lives of the strangers around you. It really drives home the fact that everyone is a person, with thoughts and experiences just like you, going through the motions in their own little world, just like you, and with a fantastic story to tell-just like you."
Can't buy just one!

Derived From Web

, Apr 22, 2022

I ordered this as a present, thinking it would be a great Christmas present. The DVD arrived today. I took a quick peek inside and the book is now in my hands. The first time I opened the book, I was not expecting to feel so much emotion. The following entries did the same, from witty and lighthearted experiences no human being should endure to the pain of losing a limb. I am now ordering additional copies. One to replace the present I won't part with, and several more because every adult on my Christmas list will be getting one too.
Stories as a gift for my grandparents (who are not on Facebook & thus miss out on Brandon's wonderful stories there)

Derived From Web

, Apr 22, 2022

The pictures were purchased as a present for my grandparents.
Amazing...

Derived From Web

, Apr 22, 2022

I think I love this book more than the first book Brandon published, which I didn't think was possible, he said. You can really see Brandon's work transformed, as he goes from focusing on the photos in the first book to really focusing on the stores in this book. If I could go from out loud to crying in one page, I would. Many of these stories stand out because they were told by real people. I'd recommend them both to anyone looking for a good read.
Great compilation of compelling stories

Derived From Web

, Jun 4, 2021

I follow @HONY on FB and was anxious to read more stories. The stories themselves are told with all the emotion of a mother's heart. This is a great book, well worth the read.