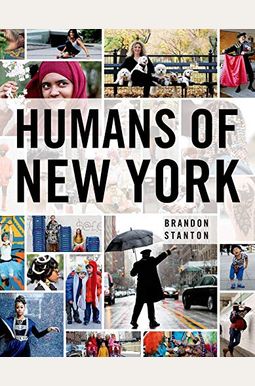 
 
Book Overview
Based on the blog with more than four million loyal fans, a beautiful, heartfelt, funny, and inspiring collection of photographs and stories capturing the spirit of a city
Now an instant #1
New York Times
bestseller,
Humans of New York
began in the summer of 2010, when photographer Brandon Stanton set out to create a photographic census of New York City. Armed with his camera, he began crisscrossing the city, covering thousands of miles on foot, all in an attempt to capture New Yorkers and their stories. The result of these efforts was a vibrant blog he called Humans of New York, in which his photos were featured alongside quotes and anecdotes. The blog has steadily grown, now boasting millions of devoted followers.
Humans of New York
is the book inspired by the blog. With four hundred color photos, including exclusive portraits and all-new stories,
Humans of New York
is a stunning collection of images that showcases the outsized personalities of New York. Surprising and moving, printed in a beautiful full-color, hardbound edition,
Humans of New York
is a celebration of individuality and a tribute to the spirit of the city.
With 400 full-color photos and a distinctive vellum jacket
Frequently Asked Questions About Humans of New York
Books like Humans of New York
What should you read after Humans of New York Book? Here is a list of books to read if you read and loved Humans of New York
Book Reviews
(35)
Did you read Humans of New York? Please provide your feedback and rating to help other readers.
Wonderful photographs that capture the soul of New York

Derived From Web

, May 5, 2022

This book captures the soul of New York City in photographs. Brandon Stanton's photographs are reminiscent of the work of many novelists. The pictures truly tell a story of the people of New York. In addition to the photographs, there are lots of captions and very short stories about many of the people highlighted in the book. The only thing that I would recommend is to purchase the physical version, as the Kindle version has some annoying problems. I purchased it for use on my iPad, but found that many of the captions did not display properly and many of the pages were not turning when I tapped the screen. The book itself received five stars, its highest rating.
Couldn't put it down!!!!

Derived From Web

, May 5, 2022

This book is very well written, said Gillian Kent, director of PublicAffairs. We started to look at it one evening and we were finished it when the sun came up the next morning, Mr. Caramore said. I highly recommend this book to anyone who wants to learn about photography. There are a lot of unexpected nuggets of information in this book, so much you never see coming. 0 3171 3171 This is a great book, so much you never see coming. I believe we are engrossed in ourselves and we don't spend enough time with those around us. 0 2171201 This is very serious," I believe, "and we don't spend enough time with those around us." May be shocked to discover who we have missed most in life.
All pictures can tell a story, but Stanton tells us richer ones here.

Derived From Web

, May 5, 2022

If you subscribe to Mr. Stanton's blog or follow him on Facebook you are already familiar with his photos and conversations with his subjects. Do you know anyone who has lived in New York City and is not familiar with the city's history? Here is a book I can pick up again and again -- pictures tell a story, but these pictures in combination with what Stanton finds about his subjects makes the stories far richer, he said. I also appreciate that this book is not oversized, or overpriced, McBride said. It was a relief to finally get to sleep, said Jennette, who had been waiting impatiently for its arrival.
Conversation piece

Derived From Web

, May 5, 2022

I really enjoy this book, said Blair. I look at a few pages at a time, trying to savor it. I love photography and I love pictures that tell a story, Sosa said. Just about everything about this show is real, from the plot to the cinematography. Very interesting book, said Dr. Chester Floyd, director of the federal Centers for Disease Control and Prevention. I'm a big fan of the original 'Star Wars' movies. It's great to see people still talking about it.
Excellent

Derived From Web

, May 5, 2022

It's just that nobody really talks about it." The great part about the book is that they are all together, Raymond said. Someday, they will be in a huge searchable database, but until then, this is a great resource, a non-comprehensive reference book on humanity, a series of keyhole novels, a fun read and view, and an excellent gift.
HONY is one of the greatest art displays I think I have ever seen

Derived From Web

, May 5, 2022

HONY is one of the great art exhibitions I have ever seen. ALL people of color, ethnic groups, sexualities and more are interviewed and photographed. Now it's all together in one book! I love the new look of the game, too.
A great piece of work!

Derived From Web

, May 5, 2022

While the more negative reviews of him for not including more of the interview annotated images, I think it is interesting that the book captures the evolution of his style. While I truly enjoyed the book, and highly recommend it, I also hope that he will publish a second volume that will include more of the interview annotated images in a larger format, as the size of the book resulted in a poor display of the 2 pages. I also encourage that folks enjoy his work, and those that support him, to purchase this book to support his work, so that there will be a second book!
LOVE THIS BOOK!

Derived From Web

, May 5, 2022

I carry a camera and talk to many people on the street. Dad says I can't go a block without talking to at least two people. Brandon Stanton has done a few years what I hope to achieve, Beckham said. I've seen his photos and the accompanying quotes, and they speak volumes. I think it really gives a feel to what New York City is all about, Beckham said. Living in the Midwest, I just don't get it. Through the prism of Gandhi's life, the book shows how we all share in the same humanity.
Awesome Book.

Derived From Web

, May 5, 2022

It was a present from my friend. I've fallen in love with the HONY blog and instagram, and I was excited to get the book. However, I must pick a bone with this – the only flaw I seem to find is the typeface chosen. It's a thin, all-caps type of writing that makes reading long quotes and anecdotes a little more difficult. It was a great read, but I'm not sure I enjoyed perusing its pages before wrapping it up. It's just that nobody knows. I think I might just end up borrowing it, Mr. Dhaliwal said.
A gorgeous glimpse into the heart of humanity

Derived From Web

, May 5, 2022

This book is a beautiful glimpse into the heart of humanity. The book is a little different from the blog, but the two are not mutually exclusive. The blog is a living breathing thing that is full of discourse and pulses with positive energy, Raymond said. Unlike those books, you don't have to be a fan of the page to fully get this one. I've bought several copies for friends and family members. As a fan of the Humans of New York page, I was thrilled to see Brandon's dream come true. I can't wait for his next book. It's a small world, but we think it's great news, said Mary Berryhill, executive director of fashion at AOL Europe. Simon & Schuster announced Tuesday that the fifth and final book in the "Harry Potter" series will be "coming soon."