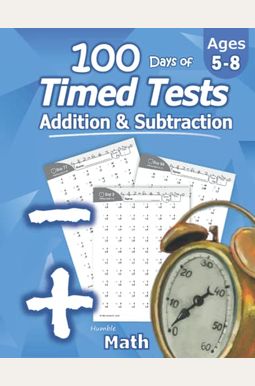 
 
Humble Math - 100 Days Of Timed Tests: Addition And Subtraction: Ages 5-8, Math Drills, Digits 0-20, Reproducible Practice Problems
Book Overview
This workbook has 100 days of reproducible addition and subtraction practice problems for digits 0-20. Use these pages as timed tests to improve fluidity or let students complete them at their leisure. Answer key is located at the back of the book.

Workbook Contents:
Adding Digits 0-5 . pages 1-8
Adding Digits 0-7 . pages 9-16
Adding Digits 0-10 . pages 17-40
Subtracting Digits 0-10 . pages 41-48
Subtracting Digits 10-20 . pages 49-60
Subtracting Digits 0-20 . pages 61-80
Adding and Subtracting . pages 81-100
(Answer Key in Back)
Frequently Asked Questions About Humble Math - 100 Days Of Timed Tests: Addition And Subtraction: Ages 5-8, Math Drills, Digits 0-20, Reproducible Practice Problems
Book Reviews
(8)
Did you read Humble Math - 100 Days Of Timed Tests: Addition And Subtraction: Ages 5-8, Math Drills, Digits 0-20, Reproducible Practice Problems? Please provide your feedback and rating to help other readers.
Great practice for traditional math

Derived From Web

, Aug 1, 2020

I loved this book. We have 10 pages left and are doing 2 a day. They don't learn basics first with common core being taught. He couldn't add 8+7 from his memory after going through 1st grade. He will have his basics down pat when he returns to school this fall because I got this to get him ahead during the summer. Sidebar has been training people using traditional math for a long time. A child can't add in his mind until he's in third grade. It's crazy. I have two kids that learned traditional math. Both of them were in school to become engineers. They could add and subtract double digits by 2nd grade. 7 year old and common core? That is the reason I bought this thing.
Timed Test

Derived From Web

, Jul 11, 2020

This is exactly what I was looking for. I have the right materials to make home school easier. I think my child is learning. We will be ready when school starts back.
Perfect for getting kids to memorize their addition and substraction

Derived From Web

, Jan 25, 2020

This book is great, even though it's just pages of math problems. My kid liked this book more than flash cards. They went from taking 15 minutes to solve a page to 3-4 minutes in a couple of weeks. It has helped them memorize it. My kid no longer needed help at school after 3 weeks. I hope other parents do as well as we did.
Helpful for kids who don't like flash cards

Derived From Web

, Dec 27, 2019

The book of tests helped my daughter get a boost at school. After we switched to using facts instead of flash cards, there was a marked increase in her performance in math class. We do one a night. When evenings are already chaotic enough, using the book is much easier for me.
Great for learning facts

Derived From Web

, Dec 6, 2019

Overall good practice. The book progresses at a nice rate if you add and subtract the same book. The only complaint is that addition progresses slowly while subtraction starts at 0-10 facts. I would rather have smaller numbers for the tests.
Great tool for math!

Derived From Web

, Jul 21, 2019

My son has enjoyed using this book to improve his math. We put it in a binder so that it can be used many times. He has trouble with the pages. He likes to see how much he has improved. Highly recommended!
Just what I was looking for!

Derived From Web

, Jun 19, 2019

My granddaughter is extremely smart and I wanted to make sure she was challenged throughout the summer. The workbook did not fail to impress. It has a lot of timed test and is more difficult to finish. Just what I was looking for.
Straight forward math problems

Derived From Web

, Jun 19, 2019

Perfect summer activities! Just digit over digit math problems. I love it.