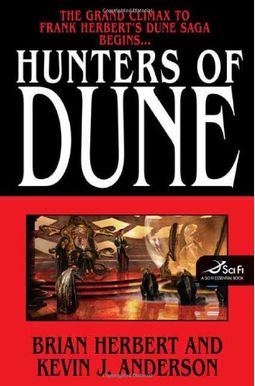  
Book Overview
This Description may be from another edition of this product.
Book One in the classic conclusion to Frank Herbert's worldwide bestselling Dune Chronicles
Hunters of Dune and the concluding volume,
Sandworms of Dune,
bring together the great story lines and beloved characters in Frank Herbert's classic Dune universe, ranging from the time of the Butlerian Jihad to the original Dune series and beyond. Based directly on Frank Herbert's final outline, which lay hidden in a safe-deposit box for a decade, these two volumes will finally answer the urgent questions Dune fans have been debating for two decades. At the end of
Chapterhouse: Dune--
Frank Herbert's final novel--a ship carrying the ghola of Duncan Idaho, Sheeana (a young woman who can control sandworms), and a crew of various refugees escapes into the uncharted galaxy, fleeing from the monstrous Honored Matres, dark counterparts to the Bene Gesserit Sisterhood. The nearly invincible Honored Matres have swarmed into the known universe, driven from their home by a terrifying, mysterious Enemy. As designed by the creative genius of Frank Herbert, the primary story of
Hunters
and
Sandworms
is the exotic odyssey of Duncan's no-ship as it is forced to elude the diabolical traps set by the ferocious, unknown Enemy. To strengthen their forces, the fugitives
Read More chevron_right
Frequently bought together
Frequently Asked Questions About Hunters of Dune
Book Reviews
(9)
Did you read Hunters of Dune? Please provide your feedback and rating to help other readers.
Awful

Derived From Web

, Feb 9, 2022

The continuation of the Dune series is bad. I was angry that I had to see this book through to the end because I felt I had to commit myself to the Dune universe. Shame on those involved for ruining the legacy of the elder Herbert. A human against a temptress. Love making between Duncan and Murbella is described in this line in the book. I almost felt bad reading it. Frank Herbert would be angry if he were alive today. This is all you need to make a decision. Sometimes you have to ask yourself if you are up for a task, just because something can be done doesn't mean it should be.
Review of the physical book's quality, not the story

Derived From Web

, Aug 14, 2021

I think this may be one of the lowest quality mass markets I' ve ever had, even though this is a mass market paperback and they' re always of much lower quality. There are many places where the printing is blurry. 13 of the pages so far have a fat strip in the middle of the page that looks like the printer is running out of ink, because the printing is very light. I think I' ve encountered 10 pairs of pages that are stuck together on the bottom of page 80. I have had to slide my finger in between the pages to rip them apart. There isn't much margin on the pages, and it's a minor issue that's common with mass markets. You have to hold the book wide open to see everything because the printing goes almost to the spine. I haven't had a problem reading it so far. When I have to separate them, there's no words and no pages torn.
Picks up the pace

Derived From Web

, Mar 29, 2021

After reading the first six books in the Frank Herbert series, I felt like the storyline was being dragged out. The story was interesting, but the action had slowed down from the first two books. Herbert's son and another author finished the saga after he died. I'm happy that they did. The hunters of Dune really pick up the pace. The series was enjoyable to read. When a new chapter begins, I stop reading because I can't remember where I left off, because the chapters are short. It took me a month to read the first four books of the series, a month to read Herbert's last two books, and a week to read the seventh book.
Inconsistent and shallow

Derived From Web

, Mar 11, 2021

I give this book more than one star because it's entertaining. It was over the time. I am an avid fan of the series, I' ve read every one in chronological order, some twice, up to this point, though some 40% in the book I am, so offput by inconsistent extended storyline flaws that I find it hard to continue. I don't think I' ve ever written a review of anything on Amazon, it bothered me that much. The style is shallow and not as intellectual as Frank Herbert's writings. I feel compelled to keep going because of my dedication to the original and extended series. I admit that it is premature to post only 40% into the book, but there are deep roots facts that are not easily disputed by any excuse that may be given further in the book. Come on, B- Herb and KJ! I'm very sad.
Truly terrible

Derived From Web

, Oct 23, 2020

The younger Herbert and Anderson don't have the deep insights into humanity that the elder Herbert demonstrated in the original series. In the final Dune books, there is a shortcoming that is inescapable in every chapter and it is unbearable. They fall into almost every sci- fi cliche, including a parade of returning characters that feels like an unnecessary curtain call. Just don. Let your imagination run wild while you finish Chapterhouse. The results will be better than this and the follow up.
Lame

Derived From Web

, Feb 21, 2020

The book was like a Frank Herbert novel. Where are the supposed notes found by his son written by Frank, and how are they integrated into this book? I do not see it. Quite disgusted and disappointed, that's what I would say. These books were written to make a living. It was a terrible read.
Disappointing

Derived From Web

, Jan 1, 2020

I was hoping that Hunters of Dune would be a story I could not stop reading. Frank Herbert did not give his son the outlines and notes for this book. I was curious to know the fate of those aboard the fleeing no- ship, and I went through simplistic characters and dialogue to learn the name of the Enemy. The saga has to continue without me. Chapter House Dune is just another bit of sci fi without the rich character development that I found in Dune decades ago.
Anything that must be endured, can be endured

Derived From Web

, Mar 16, 2019

This is fan fiction from a fourteen year old with a bad memory. Frank Herbert's work was completely destroyed by Brian Herbert and Kevin Anderson's dumbed down wiring style. I would rather have spent the same amount of money on Frank's 30 page outline as I would have spent on this loaf of meandering tripe filled with pointless characters in ridiculous situations with more references to the prequel books than actual Dune universe content. Since this is the only format in which you can see the shadow of Frank's outline, you must learn the ending.
Meh!

Derived From Web

, Feb 9, 2019

There are a few things that stood out. If they' re nothing more than a recap of what I'm about to read, then I don't like the use of epigraphs. Both of these two can't match the depth and breadth of Frank Herbert. Guys, just let it go. The plotlines are not credible. Is it the oracle of time? The names of Paul, Jessica, and et al? The revelation of the reason for the Honored Matres flight from the Enemy is disappointing, not to mention the identities of the old man and woman. I think it's unfair and disappointing that the authors didn't give a hint for this.