Buy 3 Get 1 Free
Our Best Sale Yet! Add 4 Books Priced Under $5 To Your Cart     Learn more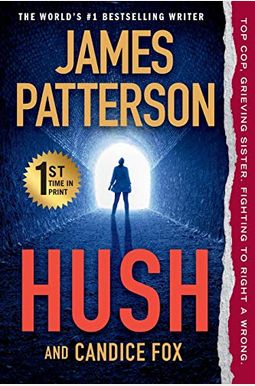 
 
Frequently Asked Questions About Hush

Book Reviews
(8)
Did you read Hush? Please provide your feedback and rating to help other readers.
A Gothic Masterpiece

Derived From Web

, Sep 3, 2020

The Hush is filled with paranoia, friendship that lasts until they rot away their sense of right and wrong and fall prey to the temptations of injustice. A young man is in love with the land that he has. It is a revelation of brotherly love. It is sad and hopeful. It's a true victory of rightness and purity. It is a reflection on madness and insanity. It is a triumph of light over darkness. The author's books are gifts to mankind.
Stink, stank, stunk

Derived From Web

, Jun 7, 2018

Really? This book is different from John Hart. It was not a surprise that he was writing supernatural fantasies. I think he's off my favorite authors list since I was mildly disappointed with the last book. I don't think I would approve of this book because there are so many holes in the story line that never get answered.
Not up to par for Hart

Derived From Web

, May 14, 2018

I have enjoyed all of Hart's previous works, but this one was too strange, too dark, and too wordy. The Hush's message was lost on me as others captured lessons of youth. I couldn't tell if it was triumph of evil over good, good over evil, or the importance of friendship to get one through it all. I don't recommend it but I think the audience who would enjoy it is small. Couldn't wait for it to be done.
Not up to par

Derived From Web

, Apr 19, 2018

The book was a disappointment. I was a fan of John Hart after reading Redemption Road. The plot and suspense were so compelling that you couldn't stop reading. Down River and The Last Child were bought later by me. I would recommend the books to anyone - 5 stars. I pre- ordered the sequel to The Last Child because I knew he was writing a sequel. He should not have tried. I read until the end. I was interested to see what had happened to Johnny but the beginning of the book was completely unrealistic and I didn't like it. Not a cup of tea. I think John Hart is a good writer, but this book didn't measure up to his others. I would not read a second if this were the first one of his.
After reading "The Lost Child", I did not expect ...

Derived From Web

, Mar 12, 2018

I didn't expect a follow- on book that dealt with the supernatural. If I know what I am getting into, then I don't mind watching a supernatural movie. I barely made it through this, but I was hopeful that someone was working behind the scenes to make sure that there was a logical explanation for everything. The story dragged on and I lost interest at the end. I won't pre- order a Hunt book again and wait for comments in a forum such as this to factor into my decision to buy or not buy.
I have loved all of John Hart's books and I loved this ...

Derived From Web

, Mar 11, 2018

I love all of John Hart's books, and I loved this one the most during the first half. I couldn't put it down. But then it went into the supernatural. I don't enjoy horror stories and it became a horror story which I don't enjoy. There were many unanswered questions when the story ended. His previous books were wonderful, but this one was a huge disappointment. You don't want your kids to read bad young adult fiction. I understand that he is trying to bring to light the legacy of slavery, but this is not the way to do it.
'Don't do it, old friend."

Derived From Web

, Mar 9, 2018

The Hush is similar to The Last Child in that it is lush and hypnotic in its descriptions, with a frightening calm flowing below the violence of the narrative's surface. The context for everything in a story that spans centuries and genres is provided by friendship and faith at the center of The Hush. The connections between women and men are examined, but the friendship of men are not. I think only a man could have told this story in such a way that was frightening and fascinating. I am looking forward to reading this book again.
Incredible

Derived From Web

, Mar 1, 2018

The book is great. It's not a collection of books. The previous books carry more meaning if you read them. John Hart is a master of his craft.