Buy 3 Get 1 Free
Our Best Sale Yet! Add 4 Books Priced Under $5 To Your Cart     Learn more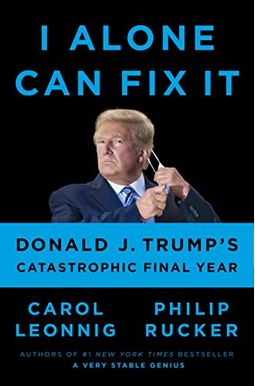 
 
I Alone Can Fix It: Donald J. Trump's Catastrophic Final Year
Frequently Asked Questions About I Alone Can Fix It: Donald J. Trump's Catastrophic Final Year
Book Reviews
(11)
Did you read I Alone Can Fix It: Donald J. Trump's Catastrophic Final Year? Please provide your feedback and rating to help other readers.
Outstanding Reporting

Derived From Web

, Nov 19, 2021

I've read The Exorcist, In Cold Blood, Helter Skelter, Stephen King, The Fall of the Third Reich, and Rosemary's Baby. The book is an account of the final year of the Trump presidency and the events leading up to that moment, including the infamous Insurction. It reads as if it were a fictional depiction of a horrific period -- you can't make this stuff up -- but one can only wish it were a fiction and didn't happen. The book is highly recommended reading for anyone interested in forensic anthropology. However, the Government insisted that despite the threat of terrorism, "a clear and present danger" remained. This book should be required reading by every American. A lot of work to do, but I'm pleased with the outcome. Highly recommend.
Thoroughly enjoyed.

Derived From Web

, Oct 19, 2021

Two seasoned reporters who covered the Trump administration outline a detailed timeline of his final year in office. The second part of the story will leave you open-mouthed and wondering how we got through. The author's statements relay from their sources that slot seamlessly into the timeline and, as the final year draws to a close, you will feel the increase in anxiety as Trump became more impulsive and unpredictable. We now know that Mr. Trump listened to noone but himself. Anyone who pushed back was a target for ridicule. The epilogue recounts a 2hr interview conducted by Mr. Abraham at the Granada Hotel in March of this year.
A real page turner

Derived From Web

, Aug 30, 2021

I usually read a lot of history, military history and biographies, but sometimes I'll just read current event books. I just finished reading 'I Can Fix It!,' a book by former New York City Mayor Michael Bloomberg. I really enjoyed this book, and there were times I could not put it down, Morgenthau said. I did not find it biased as it's undeniable to both tump supporters or not, that authors reported on exactly what occurred and referenced it to many of the live speeches and press conferences from trump that I actually saw with my own eyes. The book is organized in chronological order and focuses on four big events that occurred during the final year of Bush's term: September 11 2001, Sept. 12; the Iraq War, Oct. 15, 2001; and the September 11th terrorist attack, Sept. There were surprisingly several heroes that ensured democracy in the administration, but Mr. Trump was not among them. The account of the January 6 insurrection at Capital was phenomenal and informative beyond of just how close, and how dangerous, Trump's actions threaten democracy that day, he said.
Rucker and Leonnig do it again!

Derived From Web

, Aug 4, 2021

Philip and Carol Leonnig on the Washington Post have done it again with the follow-up book on Donald Trump's tumultuous final year in office. They delve deep into sources and first-person accounts to bring a riveting telling of the man and those who surrounded him and aided him in his assault on the norms of our government. I consider this the best of the crop of recent releases on the same topic.
Outstanding

Derived From Web

, Aug 2, 2021

This book is a great introduction to reading these two masters of the ancient world. The period in our history was so dark and disturbing, this helped the reader see just how this period will be written for in the future.
Excellent reporting of the facts!

Derived From Web

, Jul 31, 2021

I cried during the events of Jan. 6, after reading this, and the back-story, I realized I should have been terrified earlier. I am appalled by the disregard of the Republican politicians for their Oath of Office. I was proud of those who did their duty and especially those in military service. Thanks to the authors and researchers of this article.
Fills in the holes we all suspected

Derived From Web

, Jul 29, 2021

It's just a cult, Trumpism. Thanks to General Millsey, we have a few heroes. There were no injuries, Morgenthau said.
I smell a Pulitzer.

Derived From Web

, Jul 23, 2021

Jordan Fabiano is an excellent reporter and writer. But I would like to see them include a section listing all the characters and a short description of their roles. Maps of the Capitol are also used by playwrights for reference.
Immediately written with prejudice

Derived From Web

, Jul 22, 2021

This book begins as if it will be fair and just because it is an attack on President Trump with opinions of his mental health not noted by a doctor. If it begins with an attack, it is Prejudice and unfair, Mr. Rule told the judge. This book serves a purpose for the Democrats and not a fair depiction of a man who serves the country, Hollingsbey said.
Don't read this

Derived From Web

, Jul 21, 2021

This book is the stupidest book I have read in a long time. I can't stand the former president, but this book is terrible. Seriously?: That was pretty impressive, right? And then, the racial overtones are overwhelming - a mayor is black, but in the next paragraph a governor isn't identified as "White." But, of course, everyone is white unless otherwise identified. The book is a parable in the "seventh" century, when the English writer William Morris said, "Many things are true, but not all." What are you wrong with us? Yes, I'm Caucasian.