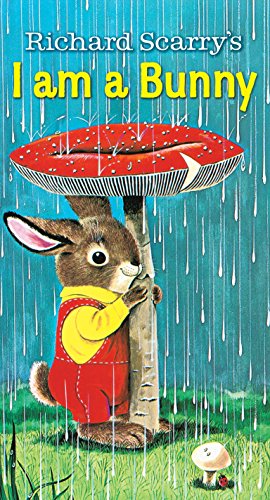  
Book Overview
Cuddle up with Nicholas the bunny through the seasons in Richard Scarry's beloved classic. This adorable story makes a perfect gift to fill any Easter basket this spring
I am a bunny. My name is Nicholas. I live in a hollow tree.
In the spring, Nicholas picks flowers and chases butterflies, and in the summer, watches the frogs in the pond. In the autumn, he sees the animals preparing for the winter. When winter comes, Nicholas watches the snow falling from the sky, then curls up in his hollow tree and dreams about spring. In print for well over 50 years, this beautifully illustrated, gentle story has been a favorite Golden Book for generations.
Frequently bought together
Frequently Asked Questions About I Am a Bunny
Books like I Am a Bunny
What should you read after I Am a Bunny Book? Here is a list of books to read if you read and loved I Am a Bunny
Book Reviews
(20)
Did you read I Am a Bunny? Please provide your feedback and rating to help other readers.
I loved it, my son loves it, and I'm sure the next generation will love it.

Derived From Web

, Apr 20, 2022

I was a child with this book. Nicholas was my first pet rabbit and was named after the character in the book. I had to get it for my son. It helped that I could remember it from my own childhood, because he loved hearing the book and looking at the pictures. He likes naming all the plants and creatures on the pages as we read. This book was not part of your childhood, but if you are expecting. You won't regret it. Make sure your bunny is male before naming him Nicholas. It was -)
A Classic for a Reason

Derived From Web

, Feb 28, 2022

This is one of my favorite books. I don't know if my child will remember it, but I wouldn't be surprised if they do. We took a break from reading this one after she was 12 months old. We now count the frog, birds, and discuss seasons. The bunny sleeps alone at the end, but he's cozy, with a smile on his face, and a blanket, which seems to calm her before she goes night night on her own.
Oldie but Goodie

Derived From Web

, Jul 20, 2021

Richard Scarry's books are adorable. He is my favorite illustrator of children's books. Great stories can be written by him. When my brother brought Scarry's books home from the school library, I became aware of him. I would help him read them, but I couldn't get over the cute pictures of animals. Both of us enjoyed them. I was 8 when he was 5. I told him to check the library for other Richard Scarry books. He brought many home when he was young. They always had a lot of illustration, sometimes with few words, but he covered a lot of topics, such as jobs, emergency personnel and places, situations in communication, physical movement, and more. I can remember some of the books, but it has been a long time. The illustrations and text were quite funny.
This vintage children's book is charming.

Derived From Web

, Jul 9, 2021

My eighteen-month-old grandson loves this book. He says ribbit when he sees Nicholas with his friends. My grandson learned to say ladybug when he found the little ladybug using the little mushroom as an umbrella during the rainstorm. The colors are striking. The book goes through different seasons. It is highly recommended.
Damaged :(

Derived From Web

, Jan 12, 2021

My book was damaged. The boards are bent as if they were from the water. The corners of some of the pages are not straight. The book is in terrible condition.
What does Nicholas do??

Derived From Web

, May 24, 2020

What kind of children's book has a bunny in it? This one! The animals are in the forest. He stands off to one side and looks at birds while wearing his overalls. He chases the butterflies and he chases him. What did he do to the butterflies? We'll never know. We don't know what this bunny does for work. Does he work? He seems to loaf around a lot, even watching other animals prepare for winter. I would like to know what the rent is for his room in that tree. A 5 star classic.
I read this book to my son 1970

Derived From Web

, Apr 11, 2020

The book is good to read to small children. This book is good for anyone. I bought the book for the baby shower.
A beautiful classic book!

Derived From Web

, Dec 30, 2019

I gave it as a baby shower gift. We were asked to give a book instead of a card, and I chose this one. Richard Scarry is one of my favorite children's book writers and he has a classic story about the seasons.
Great purchase! Great quality book!

Derived From Web

, Nov 10, 2019

My husband was given an old copy of this book by my mother. We read it to our daughter and she loves it, but it was falling apart. I bought this hoping it would have the same quality as our copy. It has the same story, but it has better pages. We are very happy with this purchase. I am going to give my husband's old book to our daughter.
A childhood favorite

Derived From Web

, Sep 10, 2019

This is a book that I'm happy to read again and again when my son asks me to. I remember the illustrations from when I was a young child and they are just as beautiful to me now as they were when I was young. Over the years, we've bought this book for many of our friends with new children. It is an absolute classic.