BLACK FRIDAY DEALS CONTINUE - SAVE 20% AT CHECKOUT WITH CODE CYBERBOOK. Learn more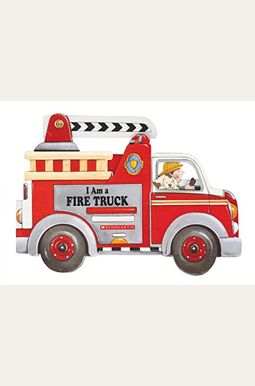  
Book Overview
A board book shaped like a fire truck
I am a fire engine.I have an engine to pump water.The ladder truck reaches high in the sky, the rescue truck carries special tools, and the fire boat fights fires along the shore Little firefighters will love learning the names of their favorite vehicles and seeing them in action A book and toy in one
Frequently Asked Questions About I Am A Fire Truck
Books like I Am A Fire Truck
Book Reviews
(11)
Did you read I Am A Fire Truck? Please provide your feedback and rating to help other readers.
Terrible binding falls apart, but otherwise excellent books for a young boy

Derived From Web

, Apr 29, 2022

I have a huge variety of board books, so I'm well aware of how much damage they will reasonably tolerate and how much they won't. The boys broke their spines in two places within one day of arriving. They keep on breaking and I've repaired them numerous times. The spine attachment is just too weak and flimsy, held by a thin strip of paper, Hicks said. These should be taken back to the printers and rebounded because it is a shame to have such beautifully designed books, the contents of which my son absolutely adores, housed in such a fragile form.
is fine - shaped like a fire truck and that's cute

Derived From Web

, Apr 29, 2022

No wonder SALVAGEDATA so uncharacteristically described this book as "a total snooze." It's just kind of ends, without really giving any information or story. Quality of book itself, literary issues aside, is fine - shaped like a fire truck and that's cute, too. It's priced at a mere $575, so I guess it's fine for the price. But honestly I've tried several fire truck books and can't find any that don't make mom and dad want to croak when reading to toddlers...
Good book, but poorly made

Derived From Web

, Mar 4, 2022

He's really into trucks, his mom said. He was a huge fan of the Harry Potter series, and we got these books for him. Within a week, they were falling apart. There are a lot of books. These are the cheapest binding we've ever seen. The raccoons are now in the trash.
Book started to fall apart first time reading it.

Derived From Web

, Jun 23, 2021

Bought this for my 20 month old son who was apparently obsessed with fire trucks. Perhaps he was to young for it, I don't know, he doesn't tend to destroy books, but during the first time reading it he tears the binding off. This was with adult supervision, said Dr. Robert Yeates, director of the Children's Hospital at Montefiore. I'm going to tap it and hopefully all will be well, but I'm anxious about letting my son handle it which kind of defeats the purpose of a board book in my opinion.
Falls apart

Derived From Web

, May 29, 2021

Some people said that this book falls apart and I bought it anyway because it was $4. A lot of people thought it was a stunt, but it lasted a min. It literally came apart in my hands just turning the pages, Mr. Dhaliwal said. Not too rough, just normal book reading, Mr. Rule told the judge.
My son's favorite book!

Derived From Web

, Jan 27, 2021

This book board is easy for my one-year-old to flip through on his own, but also cute to read with his mom. It's just a few pages, but it's perfect. Even with time, I would say the spine is so thin it did not tear easily. It's just that he needs to be reinforced with scotch tape before he can read.
Don't waste your money

Derived From Web

, Nov 4, 2020

The second one arrived damaged, huge deep scratch on the front and the binding was messed up. The person who sent it must have thought it was okay to do so, Mr. Rule told the judge. It's sad because they all are SOOO flimsy in the binding and they all are falling apart after just two days of reading them, it's also sad because they had great potential and my kid loved them, it's just too good to be true.
Held together by 2" of cardboard

Derived From Web

, Aug 18, 2020

The book made it a whole month before it was sold. But he is very heavy handed at times. The book only has a 2nd spine which is begging for trouble as well. It was a perfect present for my son's birthday, I said. It's a book shaped like a fire engine, so fragile is it.
Amazing books, will not survive for long in the hands of a toddler.

Derived From Web

, Jul 20, 2020

A book about the firetruck. Both my boys absolutely love the series of books. Three of the girls survived more than two days in the hands of their tormentors. They want to play with them as if they are what they look like and they are no match for the indestructible Tyrannosaurus Rex. I'm not sure how well that will go over with my boys, Mr. Rule told the judge. Theh will be very happy just looking at them and not get their hands on them, he said.
Cute fun book

Derived From Web

, Jan 11, 2019

This is a great looking book, said Michael Conover, director of marketing at Scholastic. There's just not much of a story here, but the illustrations are cute and the shape is fun and inviting, he said. It's easy for my son to follow along and recite the story which he loves to do. However, I understand why people complain about them not being bound well. Even if your child is not obsessive, I would mirror this concern if your child is one who totes their books around a lot. This is not an issue for us as we have a designated reading spot in our house and neither do our books leave that space unless we're out of town. It's just that we keep that in mind, So keep that in mind, Mr. Rule told us. You may want to reinforce the bindings or buy something different if you think your child won't leave home without them.