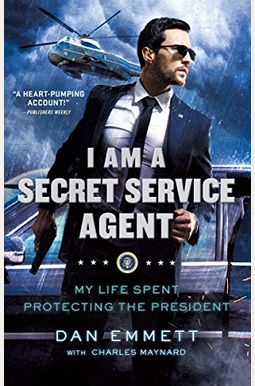 
 
I Am a Secret Service Agent: My Life Spent Protecting the President
Book Overview
Adapted from Within Arm's Length for a young adult audience, a rare inside look at the Secret Service from an agent who protected Presidents George H. W. Bush, Bill Clinton, and George W. Bush.
Dan Emmett was just eight years old when President John F. Kennedy was assassinated. From that moment forward, he knew he wanted to become a Secret Service agent, one of an elite group of highly trained men and women dedicated to preserving the life of the President of the United States at any cost, including sacrificing their own lives if necessary. Armed with single-minded determination and a never-quit attitude, he did just that. Selected over thousands of other highly qualified applicants to become an agent, he was eventually chosen to be one of the best of the best and provided protection worldwide for Presidents George Herbert Walker Bush, William Jefferson Clinton, and George W. Bush.
I Am a Secret Service Agent skillfully describes the duties and challenges of conducting presidential advances, dealing with the media, driving the President in a bullet-proof limousine, running alongside him through the streets of Washington, and flying with him on Air Force One. With fascinating anecdotes, Emmett weaves keen insight into the unique culture and history of the Secret Service with the inner workings of the White House. I Am A Secret Service Agent is a must read for young adults interested in a career in federal law enforcement.
Frequently bought together
Frequently Asked Questions About I Am a Secret Service Agent: My Life Spent Protecting the President
Book Reviews
(8)
Did you read I Am a Secret Service Agent: My Life Spent Protecting the President? Please provide your feedback and rating to help other readers.
Very cool experiences shared in a very good manner

Derived From Web

, Mar 24, 2019

It was fun to read about Dan's experiences. He delivered his journey to the audience in a good manner and it was fun to see his growth and rise in ranks. Even if you were a secret service agent, there are some unique experiences in this book that you wouldn't experience if you were one. That made his story fun to read. He is proof that childhood dreams can be accomplished.
Very good book

Derived From Web

, Jan 24, 2019

It was a good book about Mr. Emmett's experiences as a Secret Service agent. Mr. Emmett was a marine and a member of the United States Submarine Service. He was a member of the paramilitary side of the USSS, and he deals with weaponry. President Clinton and Bush were protected by Mr. Emmett. This biography will be of interest to anyone who wants to know more about being a Secret Service agent. Bongino's books protecting the president and In The Secret Service by Jerry Parr are recommended by me.
Amazing insight to the Secret Service

Derived From Web

, Dec 8, 2018

The Secret Service is something that intrigues me. It's an honor for someone to make it to the ranks. The book was well written. It gave me answers to many things I didn't know about. If you like the Secret Service, this is a must read.
Great Read

Derived From Web

, May 30, 2018

There is a story about the Secret Service. Dan shows the importance of the Secret Service with interesting stories.
Not just for kids! Surprisingly exciting and uplifting!

Derived From Web

, Dec 7, 2017

I picked this up because I was curious. It was difficult to put it down. I was pleasantly surprised by how much time was spent and how much detail was given. It is a pleasure to read a book by a person who loved their job, even though it was hard and dangerous, and could have been boring. The author shared the good parts with us, along with his motivation and how he kept himself engaged. This was a very enjoyable read for me.
Great career read for the younger set

Derived From Web

, Sep 9, 2017

This author wrote a follow- up to his first book for a younger set of readers who might be interested in careers and intrigue. The cover is really striking.
New Cover, Same Book?

Derived From Web

, Jul 31, 2017

I'm wondering if this is a re- release of Dan's first book, Within Arm's Length. Can anyone tell me if the sample I downloaded was the same as the first chapter?
Fascinating

Derived From Web

, Jun 6, 2017

This is a good look at what it takes to become a secret service agent. When President Kennedy was killed, the author was interested in the secret service. He moved from college to the marines to join the secret service, with a persistence that few possess. There are few jobs that require you to requalify every eight weeks, and the authors experiences were interesting. The men and women of the presidential protective detail willingly do this. Anyone interested in the secret service will enjoy this book. The first couple of chapters made me change my rating to four stars. The large number of sentences made me think. This was only present in the beginning of the book and I am very happy that I continued to read.