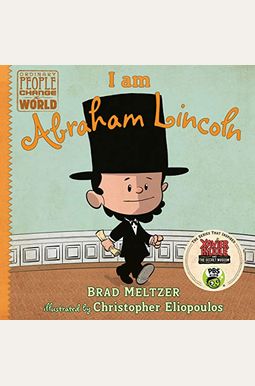 
 
Book Overview
We can all be heroes. That's the inspiring message of this lively, collectible picture book biography series from New York Times bestselling author Brad Meltzer.
Kids always search for heroes, so we might as well have a say in it, Brad Meltzer realized, and so he envisioned this friendly, fun approach to biography - for his own kids, and for yours. Each book tells the story of one of America's icons in an entertaining, conversational way that works well for the youngest nonfiction readers, those who aren't quite ready for the Who Was series. Each book focuses on a particular character trait that made that role model heroic. For example, Abraham Lincoln always spoke up about fairness, and thus he led the country to abolish slavery. This book follows him from childhood to the presidency, including the Civil War and his legendary Gettysburg Address. This engaging series is the perfect way to bring American history to life for young children, and to inspire them to strive and dream.
Frequently bought together
Frequently Asked Questions About I Am Abraham Lincoln
Books like I Am Abraham Lincoln
Book Reviews
(13)
Did you read I Am Abraham Lincoln? Please provide your feedback and rating to help other readers.
Great book, great series

Derived From Web

, May 10, 2022

I get books for my nephew, who turned 1 on Christmas Day. This is certainly an older reader to read independently, but my brother and sister-in-law read every day to him. I've added all ranges of books to buy variety for them. This is a beautiful book and a wonderful series in general. They are amazingly written and illustrated. When I learn it, I read them several times before wrapping them as a gift. I love that they are multi-sorted and multi-racial ''. Even more, I love the tagline ordinary people change the world. Until I heard the author talking about it on a podcast, I was unaware of this series. So glad I found out about them ''. I will add the entire series to my library of my nephews.
Great Learning History Moment

Derived From Web

, May 10, 2022

For my six-year-old granddaughter, I bought this book and another book by the same author. She wanted to read to her both books immediately. As I began reading, the other children in the room also came on to listen to the story. This was a teaching moment for all of them, especially when I got to the penny part. None of the children realized that it is Lincoln's face that is on the penny. It also opened the floor to talk about this time in our country's history. Mr Meltzer, thank you!
This is an excellent children's book

Derived From Web

, May 10, 2022

This is an excellent book for children. As a child, this author wrote about a great man of history. He introduced President Lincoln in a way that teaches young people to respect our heroes of history. I would recommend this book to all parents of children 1 year old and above through the high school. It will become the favorite book of your child.
Great story for children and adults

Derived From Web

, May 10, 2022

This is the second book by Brad Meltzer called ordinary people, I purchased it for my grandchildren. It seems that children also enjoy these books as much as adults do. Each of them emphasizes the ordinary person's history and makes it come to life. I knew something from each book, though I learned that the story of each person. I believe, I have read each book at least 6 times to my grandchildren. Intuite : Wonderful writing, wonderful true stories.
Great book for children - and adults will enjoy it, too!

Derived From Web

, May 10, 2022

I bought this book for my granddaughter, who was five at the time and is now 6 : 12. This book and Brad's I am Amelia Earhart are her two favorite books and she pulls them out of the bookcase for her to read to her. We discuss the pictures and stories. I love the encouragement in these books to be true to yourself and to your values. I love the inspiration to follow your dreams and dream big. There are no other books that I have found that give our children those necessary heroes to inspire them and teach them. As Brad Meltzer says : Ordinary people change the world. I eagerly await the rest of the series, I believe that these are a great addition to any library of the great-grandparents. It would be wonderful to have these also in the public library and school libraries!
I gave this to my 5 y/o grandson for Christmas ...

Derived From Web

, May 10, 2022

I gave this to my 5 yo grandson for Christmas, since he is very interested in Abraham Lincoln. His mother reads this book almost every night to him.
great introduction to a historical figure that doesn't lie and ...

Derived From Web

, May 10, 2022

Great introduction to a historical figure that does not lie and whose face is on the penny. Grandma, what's a penny?
My children love this book

Derived From Web

, May 10, 2022

My children love the little Abe Lincoln and have learned a lot about history and character from this book. We were able to buy it right after the MLK Day and the kids were able to relate to the themes of equality and fairness and using your voice to stand for others. We even bought a copy for a friend, whose child had recently stood up to a bully at school and needed some reassurance that he did the right thing.
I was not disappointed and am so glad I did

Derived From Web

, May 10, 2022

I recently heard an interview with Brad Meltzer on PBS, so ordered four of his books. I was not disappointed and am so glad that I did.
Highly recommend!

Derived From Web

, Jun 16, 2021

It is a good and well written biography of Abraham Lincoln. It is appropriate age for 5 to 8 year olds.