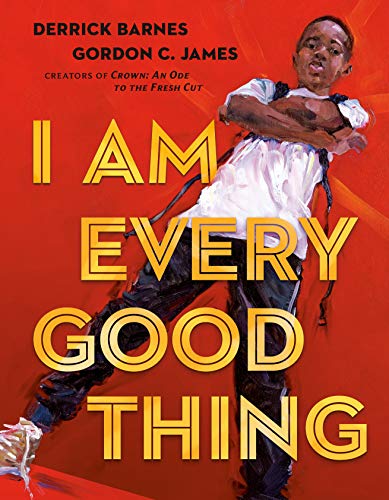 
 
Book Overview
An upbeat, empowering, important picture book from the team that created the award-winning Crown: An Ode to the Fresh Cut
I ama nonstop ball of energy.Powerful and full of light.I am a go-getter. A difference maker. A leader.
The confident Black narrator of this book is proud of everything that makes him who he is. He's got big plans, and no doubt he'll see them through--as he's creative, adventurous, smart, funny, and a good friend. Sometimes he falls, but he always gets back up. And other times he's afraid, because he's so often misunderstood and called what he is not. So slow down and really look and listen, when somebody tells you--and shows you--who they are. There are superheroes in our midst
Frequently Asked Questions About I Am Every Good Thing
Book Reviews
(12)
Did you read I Am Every Good Thing? Please provide your feedback and rating to help other readers.
Very good book.

Derived From Web

, Jan 19, 2022

He bought this book for his 7-year-old nephew as part of his birthday and Christmas present, he was so excited. He says he loves it! Since reading it, he has received four times. Book of, good buy.
Best book ever for little boys

Derived From Web

, Jan 5, 2022

The artwork and storyline is impeccable. My 3 year old loves absolutely everything about this book. The beautiful and abstract art really draws him in and the storyline seals the deal. Every little boy needs this book.
Very Good! Empowering book for all children!

Derived From Web

, Dec 15, 2021

Yes, yes, and lots of more YES'!!! Absolutely stunning! Great for all children! I have to say my truth and say an excellent book for all brown children! I make no apologies for the reasons I stated this truth, as I was a brown child and rarely saw this type of books or had access to them. Thank God, things have positively changed. This book is relatable to all children. Did I mention... the artwork is superb! All in it is a welcomed treasure to any family library, all in it's a treasure to any library. *Note : I purchased this book for my 5 year old grandson with Amazon's monthly subscription. It is affordable and awesome. If you are not aware of it, search Amazon as the terms are really affordable and book selections are age appropriate and fun!
I am every good thing

Derived From Web

, Jun 17, 2021

I loved seeing people who are like me and positive affirmations of blackness! For young black children, the words and illustrations were spot on.
Nice book

Derived From Web

, Jan 19, 2021

I thought the book was for an older boy maybe 15 or 16 years old, '' I thought the book was for an older boy. It reads like a book for a younger boy age 5 to 11. It is like a book for a younger boy age 5 to 11. I am not sure if I want to give it back or send it to a younger boy.
Positive Affirmations for young boys

Derived From Web

, Oct 14, 2020

The book is so wonderful! I have my 8-year-old son read it for positive affirmations several times a week. I truly believe it helps him start his day with self-love! '' I truly believe it! I wish I could give it 1 million stars, I wish I could give it 1 million.
Uplifting books about African American boys

Derived From Web

, Sep 7, 2020

This book was very uplifting and emphasized the good things about being a boy. A book that is needed in these difficult times is to show the world that our African-American boys are just like all the boys. As a mother of an African American boy, these are the things I would like to know about my child, not just what the media portrays him to be. Our African American boys are full of energy, go-getters, full of life and leaders! All the words and affirmations we should speak every day into them! Hey! ''
Excellent

Derived From Web

, Sep 4, 2020

Absolutely '' Love this book. The imagery, the words, everything. My boys really see themselves in this work. I love it just as much as I thought I would.
Stunning

Derived From Web

, Sep 3, 2020

This book is absolutely beautiful . I can 't read it without crying. I share it with EVERYONE I know.
Great story representation is so important ❤️

Derived From Web

, Sep 2, 2020

I love that book! My son adores this book, he's 4. He said, Hey that Kid Looks Like Me '' such an awesome book to add beautifully to his library!