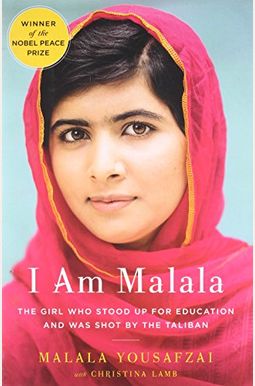 
 
I Am Malala: The Girl Who Stood Up For Education And Was Shot By The Taliban
Book Overview
This Description may be from another edition of this product.
A MEMOIR BY THE YOUNGEST RECIPIENT OF THE NOBEL PEACE PRIZE
As seen on Netflix with David Letterman
I come from a country that was created at midnight. When I almost died it was just after midday. When the Taliban took control of the Swat Valley in Pakistan, one girl spoke out. Malala Yousafzai refused to be silenced and fought for her right to an education. On Tuesday, October 9, 2012, when she was fifteen, she almost paid the ultimate price. She was shot in the head at point-blank range while riding the bus home from school, and few expected her to survive. Instead, Malala's miraculous recovery has taken her on an extraordinary journey from a remote valley in northern Pakistan to the halls of the United Nations in New York. At sixteen, she became a global symbol of peaceful protest and the youngest nominee ever for the Nobel Peace Prize.
I AM MALALA
is the remarkable tale of a family uprooted by global terrorism, of the fight for girls' education, of a father who, himself a school owner, championed and encouraged his daughter to write and attend school, and of brave parents who have a fierce love for their daughter in a society that prizes sons.
I AM MALALA
will make you believe in the power of one person's voice to inspire change in the world.
Frequently Asked Questions About I Am Malala: The Girl Who Stood Up For Education And Was Shot By The Taliban
Books like I Am Malala: The Girl Who Stood Up For Education And Was Shot By The Taliban
Book Reviews
(14)
Did you read I Am Malala: The Girl Who Stood Up For Education And Was Shot By The Taliban? Please provide your feedback and rating to help other readers.
Story Will Continue

Derived From Web

, Apr 20, 2022

I started this book with the expectation that it would be Malala's story, but the first half was mostly about her family history and Pakistan's history with the Taliban. I got bogged down with the details, but once I got to the second half of the book, I realized that history made sense to understand more of what happened to her and what she was fighting for. Malala is a very bright young lady and I wish her a life of health and hopefully she will realize her dream of education for everyone in the world one day. After reading an article in the paper last week about the killing of the head of the Taliban by drone and the one replacing him was the one who gave the order to kill her, it will be a story that continues. Stay safe Malala, stay Malala!
Invitation into the Life of Malala

Derived From Web

, Apr 20, 2022

The book was very important to me as I lived in Swat Valley from 2005-2006 and met Malala briefly in 2011 about 1.5 years before being attacked. Reading her book brought back many memories of places I have been. When she wrote about the character of the Pashtun people, I could agree with her, as I have experienced the people in a similar way. The book is written like a journal and we are invited to experience Malala's life and the events that led to her being attacked. It is so important for people in the USA to have a clearer picture of the life of people in Pakistan, especially rural Pakistan, and Malala helps make this possible. I think this is a book that should be in every school library in the US, our children need to know about Malala's world if we are to have peace one day. --- B. Rabia O 'Loren is the CEO of Roshni Centre for Women.
So uplifting

Derived From Web

, Apr 20, 2022

Malala's story is the story of many young women in Pakistan, with the exception of course her targeting by the Taliban. This young woman is an inspiration to us all, and she presents her story here in the same way she has presented it elsewhere - calm, cool, collected, and unwavering from her principles. Her writing is both colorful and effective, as she tells of her upbringing in Swat Valley, you feel transported there. The noose-like invasion of the Taliban into her home territory is painted in words that chill the chilling. It is amazing how a young woman can have such strength, and while I recommend this book for everyone, I recommend it mainly for teenage girls. From Malala's story of courage and poise in the face of life-threatening adversity, each of us can learn a lot from Malala's story of courage and poise. Malala live long may Malala.
Thought I would hate it - yet I don't

Derived From Web

, Apr 20, 2022

Had to buy this book for a class on Pakistan. I thought I would hate it, but I don 't. I really like how much you learn in a non-preachy, realistic way about Pakistan ''. The personal stories, mixed with true facts about Pakistan, are just so engaging. If you want to learn about Pakistan from the perspective of a young woman who has actually lived in Pakistan, read this book. If you want to read a book about a young woman who shows determination and strength for a better life, read this book.
Incredible story written by an amazing young lady

Derived From Web

, Apr 20, 2022

Amazing young story written by an incredible young lady. Reading her story and learning from her point-of-view what goes on exactly in her country made me realize how much we take in America for granted. She has been through so much and continues to fight for what she believes in despite the dangers she faces for doing so. I would recommend this book to anyone and think that it should be required reading in high school or in middle school -- might help students in America put certain things into perspective.
The Righteous Girl

Derived From Web

, Apr 20, 2022

An awesome, powerful autobiography. Malala is truly an exceptional young woman. I learned so much about its native Pakistan, its people, its customs, history. The Taliban came and destroyed Pakistani history in such a short time. It is so twisted that it is hard to understand how men can be so treacherous. And all Malala wanted was for girls to be able to go to school, be educated, successful, be what they dreamed of being, which was her father's dream as well. If there was ever a person who deserved the Nobel Peace Prize, this young girl goes directly to the top of the list. I learned so much from her. And she misses her homeland, where she is still targeted, so much.
Inspiring!

Derived From Web

, Sep 18, 2020

Indeed, I expected this book to be inspiring and it was indeed. I didn 't expect the depth of education that the book gave me on the history of Swat Valley, Pakistan and the Taliban. I found the account of intelligent, educated people seeing their country shattered by ignorant religious extremists and corrupt military and political leaders to be absolutely frightening, especially given that it is now happening in the USA, with Trump and his evangelical supporters. Malala's determination to continue her leadership and not to retreat, as well as the kindness shown to her by the good people of the world, moved me deeply! Like Malala, all we can do is fight the good fight and never give up!
Beautifully Written

Derived From Web

, Apr 22, 2020

I had this book a while ago, picked it up and read the first chapter, then never finished. A few weeks ago I picked it back and was so captivated that I didn't put it down until I had read it all the way through. Not only is this a great telling of Malala's childhood, but it also provides details of her current advocacy and experiences. Specifically, I was glad that it did not just focus on her as the girl shot by the Taliban, but also on her as a champion for the education of girls, a powerful speaker and a thoughtful young woman. I have so much more understanding of the historical influences of the Taliban and how the lives of women and children are influenced under their control. Overall, I would recommend this book for anyone, because anyone can benefit from reading about Malala's fight against injustices.
Life under the Taliban humanized

Derived From Web

, Jun 14, 2019

This book is compelling because it is written in a relatable way about a school girl who is heavily opinionated, yet is still a child like any other. I loved reading Malala's story. She is very well-focused in her youth and wise as well. I can appreciate her awareness of her surrounding throughout the story, as she is very descriptive of settings and people's language and demeanor. There is a lot to learn from a personal perspective, cultural or political irrelevant.
Powerful story....not well written

Derived From Web

, Oct 24, 2018

This book was an upper school read aloud. I usually read along with my daughter... it was tough to get through. Seems that it may have been easier to write with 200 fewer pages. Speaking with other English teachers of the upper school, the feeling was mutual and a few mentioned that they weren 't interested in finishing it. This is not to take away from her experience, but this experience could have been much better written!