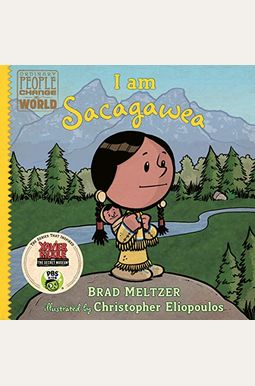 
 
Book Overview
Sacagawea, the only Native American included in Lewis and Clark's historic expedition, joins the inspiring list of heroes whose stories are told in this New York Times Bestselling biography series.
Sacagawea was the only girl, and the only Native American, to join Lewis and Clark's Corps of Discovery, which explored the United States from the Mississippi River all the way to the Pacific Ocean in the early 1800s. As a translator, she helped the team communicate with members of the Shoshone tribe across the continent, carrying her child on her back the whole way. By the time the expedition arrived at the west coast, Sacagawea had proved that she truly was a trailblazer. This friendly, fun biography series focuses on the traits that made our heroes great--the traits that kids can aspire to in order to live heroically themselves. Each book tells the story of one of America's icons in a lively, conversational way that works well for the youngest nonfiction readers and that always includes the hero's childhood influences. At the back are an excellent timeline and photos.
Frequently Asked Questions About I Am Sacagawea
Books like I Am Sacagawea
Book Reviews
(9)
Did you read I Am Sacagawea? Please provide your feedback and rating to help other readers.
A great nonfiction adventure book!

Derived From Web

, May 29, 2021

The illustrations and non-fiction biography was excellent. I highly recommend '' this historical biography. Every book in the series of Outstanding People Change the World '' is organised. Brad Metzler knows how to write so well for ages 5 to 8. When we read every biography, we learn so much. I recommend recommending I Am Sacajawea '' for parents and grandparents to read their children and grandchildren.
Look out, Pacific Ocean, Sacagawea is coming your way!

Derived From Web

, Dec 6, 2020

I don 't remember learning too much about the Lewis and Clark expedition to the West Coast of the then-smaller United States, but I remember participating in a school musical that focused on that very expedition. I wondered how the story went in real life and now know more. This very American Indian heroine brought our men to the West Coast and brought them there in a piece. If you want to teach your children the story of the Lewis and Clark expedition, this is mandatory reading!
Highly recommend

Derived From Web

, Oct 21, 2020

My Great Daughter is 6 and taught her to read during Covid school while out of school. I purchased George Washington first and she and her mother loved the story and the graphics. SHE said that she also learned things that she wanted to learn. This book was more to let her see how girls influenced history too. I love the Brad Meltzer books because he knows his history and brings it to life for children. I continue to teach others monthly to add to my grandkids collection while purchasing American history from them.
I am. . .They relate!!

Derived From Web

, Oct 19, 2019

I bought this for my students so that they could read from the time they were children about the lives of famous people. My third grade students love, love, and love the I am series. To see third graders love biographies as much as Dog-Man is the most inspiring and has us on our way to wide reading for the year!
AMAZING-- BUY this book

Derived From Web

, Feb 23, 2018

A very powerful and empowering message! I also learn so much from these books as an adult, as do my children. I had no idea that Sacagawea was 17 years old when she took Lewis and Clark off their expedition with a baby in tow. This book brings Sacagawea's life back in an exciting and empowering way to life. The message at the end is FANTASTIC... If you have a small girl, this is a must buy!!! I am always looking for books by history for my daughters, to show them that women are also intelligent and powerful ''. I can not praise this series enough! A book will be bought and you will be hooked too! Currently, I am collecting the entire series for my daughters. BUY THIS BOOK A TEXT ''
Inspiring!

Derived From Web

, Nov 6, 2017

I bought this book for my 5 year old son as part of a homeschool - unit - study on Native Americans. We both loved it! I actually cried when reading it to him because I am so moved by Sacagawea's story and the powerful words written about how strong she was. I am so glad I bought this amazing book and I can 't wait for my 1 year old daughter to be old enough to read it to her as well. In this series we will probably order more books. Where can I request that this author write a book about Pocahantas? And maybe Steve Jobs also knows?
Another Fantastic Book in the "Ordinary People Change the World" Series

Derived From Web

, Oct 20, 2017

I am Sacagawea is another great book in the ordinary : people change the world series. Many other subjects reached greatness as adults, but I love the way this book highlights Sacagawea's amazing accomplishments as a teenage girl and a native American. Despite finding herself in a forced marriage, Sacagawea endured extreme hardship and the physical danger of exploration, while contributing lifesaving wisdom to an expedition in which the leaders were far less experienced than her. At the end of her servitude, it was her husband and not she, who was presented with compensation. Stories like this, which exalt personal excellence and the strength of the human spirit, are vitally important, as are choosing subjects that have achieved greatness in spite of our country's darkest injustices. Five stars :
Be sure to buy this one, too!

Derived From Web

, Oct 17, 2017

There is something wonderful about the way Brad writes the books I Am.... From each of them, I learned so much. The best part, however, is that Brad Meltzer is a gifted storyteller. His books are enjoyable for all ages. My son and his 5 year old son love to sit together and read. Brad makes the stories alive. The illustrations are also wonderful and keep the interest of even the littlest reader or soon-to-be reader. I've gotten into the habit of buying one for my family and then one for my grandchildren's classroom, and the teachers love it. And so powerfully to learn that one person can make a difference, well, what a great life lesson!
The layout and illustrations are absolutely fantastic. I am Sacagawea belongs in every classroom

Derived From Web

, Oct 16, 2017

I read these biography books before and this was no different. The layout and illustrations are absolutely fantastic . Sacagawea belongs in every classroom.