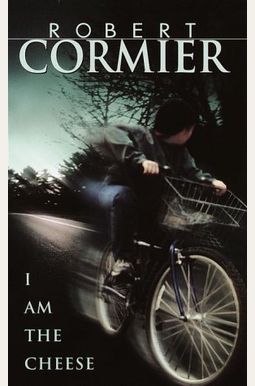  
Book Overview
This Description may be from another edition of this product.
Before there was Lois Lowry s The Giver or M. T. Anderson s Feed, there was Robert Cormier s I Am the Cheese, a subversive classic that broke new ground for YA literature.
A boy s search for his father becomes a desperate journey to unlock a secret past. But the past must not be remembered if the boy is to survive. As he searches for the truth that hovers at the edge of his mind, the boy and readers arrive at a shattering conclusion.
An absorbing, even brilliant job. The book is assembled in mosaic fashion: a tiny chip here, a chip there. . . . Everything is related to something else; everything builds and builds to a fearsome climax. . . . Cormier] has the knack of making horror out of the ordinary, as the masters of suspense know how to do. The New York Times Book Review

A horrifying tale of government corruption, espionage, and counter espionage told by an innocent young victim. . . . The buildup of suspense is terrific. School Library Journal, starred review
An ALA Notable Children s Book
A School Library Journal Best Book of the Year
A Horn Book Fanfare
A Library of Congress Children s Book of the Year
A Colorado Blue Spruce Young Adult Book Award Nominee
Frequently bought together
Frequently Asked Questions About I Am the Cheese
Book Reviews
(20)
Did you read I Am the Cheese? Please provide your feedback and rating to help other readers.
I am the Cheese

Derived From Web

, Apr 20, 2022

Wow! Wow! What an incredible psychological drama! The reader follows three parallel stories of Adam Farmer's life, all at once. At the end, these three stories converge into one logical conclusion! Adam Farmer has questions about his family that he's afraid to ask. Each week, his mother receives secretive calls in her bedroom. Why does his mother receives such calls in his bedroom each week? Why does his father receive mysterious visits from a regular, secretive visitor? Adam remembers him and his family fleeing into the night as if they had something to fear? Cormier creates shocking characters and realistic twists and turns that even his adult readers keep guessing. This story was an incredible experience for this story!
Suspenseful Psychological Thriller for Teens

Derived From Web

, Apr 20, 2022

I am the cheese by Robert Cormier, the story of a boy on a mission to see his father, a mysterious man in an institution, and Adam, a boy who discovers his life has all been a big lie. Their stories weave together in a suspenseful plot that keeps the reader guessing and thinking at every twist and turn. Readers may be taken aback by the book's use of three views, or even confused, by the book's use of three viewpoints. All three narrators feel underdeveloped, like the mere facets of a real person. The connections are not clear at first. However, Careful readers will soon make connections between the three characters and get wrapped up in their collective story. As the story develops, the reader is asked to become a detective of sorts, drawing their own conclusions throughout the story, until the explosive climax, where the reader and narrators discover together the truth about their lives. This gripping psychological thriller is perfect for mature teens who are looking for something higher than the average YA novel.
like a Sick and Twisted "Wizard of Oz."

Derived From Web

, Apr 20, 2022

Most of the one-star reviews are due to this book being a recipe for hopelessness, and that is an accurate picture of this book. What I find the most interesting is biblical metaphors. The main character, Adam, closely parallels the Adam of Genesis, including the curse of Adam that he would have to be a farmer. His girlfriend, Amy, is like Eve in his creation for Adam. And the antagonists in this book have an eerily hidden quality. I use the plural antagonists due to both the sides of the struggle : Adam finds himself in being essentially antagonistic and deeply intermixed. How much you'll enjoy this book depends on how much you like David Lynch movies, Memento and the [neo-noir ] genre in general.
Dark and fascinating

Derived From Web

, Apr 20, 2022

I read this wonderful book when I was at the grad school for an Adoloscent Literature class. I read it in one sitting ''. I thought it was a big deal, but I just didn 't think I would get into it. As another reviewer said, it took me by surprise. This eerie and gripping story is at first puzzling, but it takes you over. Until you find out why, Adam's journeys are almost surreal until you find out why. However, I remember a fairly heated debate in the class that this book was too dark for young readers. I disagreed, but I saw their point. Would I recommend it to a 14-year-old? Tough Call Tough. I think I would, but I think I would. But if you are an adult, I would definitely recommend it.
Excellent story for teens

Derived From Web

, Apr 20, 2022

I read this book first as a summer reading assignment a few years ago and I read it in two days. I bought it! It was such an awesome read that I ve it! '' The reader has to dig deep and read between the lines in the story, and reading it a second time is worth it. The climax of the story was a sudden, total shock and I found myself holding back tears as I continued. Loved this book, would read it for the 5th time!
Excellent story for teens

Derived From Web

, Feb 8, 2022

I read this book in two days as a summer reading assignment a few years ago. It was a great read and I bought it! The reader has to dig deep and read between the lines of the story and it is worth it a second time. The climax of the story was a total shock to me, and I was holding back tears as I continued. I'd read this book for the fifth time.
Crime

I loved this book, it is very well written and an entertaining read for being as short as it is. It takes on heavy topics through the view of a child being affected by them, and makes for a unique story told by an atypical main character. It reads like a crime thriller and I would recommend to anyone looking for a short yet deeply reflective novel!
Sad

Derived From Web

, Jan 18, 2021

It's just sad. The book leaves you feeling sad and empty, but with no lesson learned, no redeeming quality. Depressing is for no reason just depressing.
Some wear and tear

Derived From Web

, Sep 13, 2020

A friend of mine told me about the book and I am looking forward to reading it. I was disappointed by the lack of wear and tear on the edges. Everything is good, except that.
Some wear and tear

Derived From Web

, Sep 13, 2020

I have been looking forward to reading this book after a friend told me about it. I did buy this new kind of wear and tear on the edges kind of disappointed me since I did buy this little. But other than that, everything is good.