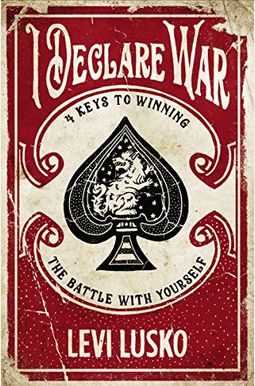  
I Declare War: Four Keys To Winning The Battle With Yourself
Book Overview
Get out of your own way.
Whether you recognize it or not, you're at war with yourself. There's anxiety. Selfishness. Self-sabotaging tendencies. Narcissism. The black dog of depression. The inability to do the great things you long to do because you spend so many hours mindlessly drifting through the internet.It
is
war, but all is not lost. You can win--if you choose to engage.In
I Declare War,
Levi Lusko candidly shares about his struggles with moodiness, bullying, suicidal thoughts, night terrors, and difficulty managing himself. He identifies four weapons you have at your disposal--thoughts, words, behaviors, and power--and illustrates how to use them to achieve ongoing victory. These practical tools from God's Word will help you learn to
retaliate against your anxiety by filling your heart with truth and making it inhospitable to terror
stop being victimized by your bad behaviors and become the victor you were born to be
overcome self-imposed isolation by learning to think right so you can live right
spare your family unnecessary heartache by confronting your dysfunction so they don't have to
It's time to stop being your own worst enemy. Declare war and become the person, the spouse, the parent, and the leader God intended you to be.
Praise for I Read More chevron_right
Frequently Asked Questions About I Declare War: Four Keys To Winning The Battle With Yourself
Books like I Declare War: Four Keys To Winning The Battle With Yourself
Book Reviews
(10)
Did you read I Declare War: Four Keys To Winning The Battle With Yourself? Please provide your feedback and rating to help other readers.
Big fan. Definitely read.

Derived From Web

, Dec 30, 2021

Lee is a big fan of John Rossell and all his books! The insight and perspective shared in this book was huge in helping me find some breakthrough in my life, especially in my thought life. Can 't recommend it more! I have an audiocopy and a physical book.
So good!!

Derived From Web

, Mar 24, 2021

I know that I will come back to this book over and over again. There are so many helpful tips for winning the war in our minds.
Good enough

Derived From Web

, Dec 3, 2020

I recently heard Pastor Lusko preach for the first time, and he impressed me so much that I immediately came here to order his books. If you have been a Christian for very long, you probably have a similar book on the mind. Here is nothing terribly new. It is reassuring to know that even great men of God wrestle with their human emotions, and the pastor tells many of his own struggles. So often we fail because we do not consistently practice the very things we know to do. Like maintaining a healthy body weight, it is easy on paper, but much more difficult in practice. I look forward to reading his other books and hearing more of his sermons. Not despite his frailties, Levi Lusko has a lot to offer the world, not because of them.
Amazing Book!

Derived From Web

, May 26, 2020

This book is called Holy Moly. This book rocks my world. This book has challenged me with some of the things that Levi said has never challenged me before. I am about half finished with it, but it's so good that I have read so far. Some things that Levi mentioned in the book have really stood out to me like You are not your career ''. You are not your car, your job or the table you sit in the school cafeteria at. Instead, put your value in being God's daughter or son, in being loved by him. "You are what you think, not what you are. " I recommend this book to anyone who needs to win a battle against himself ''.
Best Bible Study!!! Life Changes!

Derived From Web

, Feb 18, 2020

My fave Bible study My fave! I highly recommend this book and the study guide that goes with excellent Bible study on your own or with a group. Eye Opening Way to get closer to God, no matter where you are in with your walk, this will have something for everyone! If you can splurge for the video, get it too because Pastor Levi Lusko has an easy way of talking about the theme. His stories are great and the setting is in New Mexico, I believe. A wonderful experience that happened to me is that our Sunday school class is multi-generational and it was great to hear from across the room, across our social circles that we are all fighting the same battles, sometimes differently, and it unites us as women! This Bible study is not intended for women only.
God's word is sufficient

Derived From Web

, Oct 21, 2019

I considered awarding this three stars, since I found the hip cracks, cultural allusions and constant wise efforts to be culturally grating. I changed my mind '', because the author does acknowledge that God's Word is the ultimate weapon and the highest authority for believers. Lusko has experienced serious struggles with anxiety, depression and a few other problems with mental delusions. But nowhere does he claims that his psychiatric chemicals speak to him or that the answers lie in psychiatry or psychotropic drugs. I can only praise Bravo and say the Lord for resisting the trend of secularization within the churches to capitulation.
We are our own worst enemies

Derived From Web

, Nov 15, 2018

It's true...I have loved this book so much love. I love Pastor Levi's ministry anyway, but this book was so needed at this particular point in my life. I never felt like I was being "talked down to " or anything like that. This book is written by a REAL person who has issues just like I do, and for some reason I am more willing to take his advice. I think that this would be great for new Christians and seasoned Christians... or anyone really! I am buying copies this year as Christmas gifts... partly because I know that EVERYONE NEEDS TO READ IT and partly because I don 't want to share my copy!
Ivicerated my expectations!!!

Derived From Web

, Nov 3, 2018

This book fulfilled all my expectations! I had high hopes, but my goodness, the transparency and personal honesty makes this more of a glimpse at Levi's than an encouraging page-turner. I am reading again with my wife and she has been entombed by the content from the beginning. I have all of Pastor Levi's books and cannot choose a favorite, but let me say I Declare War '' is in my top 3 .
Absolutely Life Changing!!!

Derived From Web

, Nov 3, 2018

This book is amazing! Levi is so honest about the things he struggles with that it gives hope to all people dealing with similar issues. This book is a resource I will use to finally defeat all the internal battles I face! Thank you Levi for sharing your battles so open and honestly! Sometimes, we Christians need to hear from our leaders that they are facing our same challenges! This book not only empathizes with you, but also teaches you a practical way to RISE above all that holds you back to be what God created for you!!! Now you read and buy!!!
A book that shows how to practically apply God's promises to win the battle of your mind

Derived From Web

, Nov 1, 2018

This book has now been added to my Top - Ten - books of all time and I own hundreds of books! Levi Levi Lusko is one of the most real authors you 'll read. He not only shows you promises of Provisioin, Strength and Grace to win the battle in your mind, he also teaches you how to apply these promises by his real life examples. I Declare War '' is a page turner that you will not want to put. I recommend that you put a set aside two days to read the book because it draws you in! Pastor Levi thanks you for writing another practical book and being vulnerable. I've prayed that God continues to bless and protect you and the Fresh Life Church!