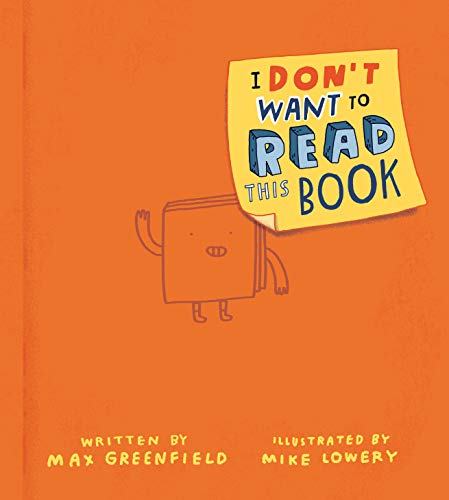 
 
I Don't Want to Read This Book
Book Overview
From actor Max Greenfield (fan-favorite Schmidt from television's New Girl) comes a hilarious picture book for every child who thinks they don't like to read books (and all the kids--and grownups--who do).
Words, sentences, and even worse,
paragraphs
fill up books. Ugh So what's a reluctant reader to do? Actor Max Greenfield (
New Girl
) and
New York Times
bestselling illustrator Mike Lowery bring the energy and laugh-out-loud fun out for every child (and parent) who thinks they don't want to read a book. Joining the ranks of favorites like
The Book With No Pictures
and
The Serious Goose
, this clever and playful read-aloud breaks the fourth wall and will have
all
readers coming back for laughs again and again
Frequently Asked Questions About I Don't Want to Read This Book
Book Reviews
(11)
Did you read I Don't Want to Read This Book? Please provide your feedback and rating to help other readers.
Great read aloud!

Derived From Web

, Jan 19, 2022

I'm a 3rd grade teacher and just got this book to read to my kiddos. It was a blast, said Blair. They completely understood the humor, especially when I added my 'fun' voices while reading, he said. It's great to have such a great product on the market, said Dr. Julie Gerberding, director of pediatric neurosurgery at the Children's Hospital at Montefiore.
Perfect

Derived From Web

, Jan 17, 2022

He has a very good reason: His 8-year-old grandson hates to read. I had searched the Web for ways to get him to like books. However, I am not saying that reading this book is going to convert a child to love books, but it will get them to read and laugh about the reasons why they hate books. It is funny, I got this for my grandson for his birthday and he opens it and right away said in a disappointed voice, "Oh it is a book." The boy reads the book and starts to giggle. I caught him later picking up the book and looking through the back cover, which means he was curious to see what else the book said. It may not get him interested in reading all books, but I am looking at it one book at a time. This book was an easy read and most important Fun. There are some great books out there, too. Very pleased with the service.
Clever

Derived From Web

, Jan 8, 2022

It was a great read, said Blair. The book was well received, but the kids aren't interested in re-reading it.
Funny, perfect for kids who are not fans of reading

Derived From Web

, Dec 13, 2021

This book is witty, irreverent and shows the author's respect for his intellect. My 7.5-year-old daughter giggles whenever she reads it, especially at the part about the silent 'b' indoubt. Max Greenfield's fans will find much to enjoy in this book. I can hear him say these things, I can hear him say them all the time.
I didn't want to read this book

Derived From Web

, Dec 6, 2021

I was sure it would have words in it, and probably sentences, too. I read it, too. There were giggles and words aplenty as well. And what's worse, when I was done reading it, one of the kids opened it. It was terrible, said Blair.
Love you Max, but stick to acting

Derived From Web

, Nov 25, 2021

Such a great performance, Byrne said. The book is a parody, too, because kids get bored half way through. Max's book is a total disappointment. 0 3171201 3171578 It has been a busy week for SALVAGEDATA.
This was the best story book I've read to my kids in a long time!!!

Derived From Web

, Nov 14, 2021

I bought this book because one of my favorite actors Max Greenfield was on my favorite talk show, Kelly Clarkson promoting his new book. The way he talked about it and the meaning behind the book was what sold me. I bought it, read it to my kids and they all asked me to read it again! We've read it every night since we got it!!! I'm planning on reading to each of their classes for mystery reader too!!!!!!!!! I know all the kids will crack up! It's a great, funny, and good hearted book, Robert tells us. It's great to be back home, said Blair.
Fantastic book!

Derived From Web

, Nov 12, 2021

Only because Simon & Schuster insisted on publishing the book did I buy it. It's perfect timing, because I just binge-watched all of the seasons for the first time! As I was reading this book, I could hear Schmidt's tone through out. Max Greenfield did an outstanding job, said Dr. Robert Anderson, director of UCLA's neurosurgery center. I've had many, many, many, many, friends who were very excited to read this book. It was probably more fun than my kids did, too. It was a huge hit, and we're delighted the show's creator and executive producer, Phil Hayles, said.
Surprisingly great

Derived From Web

, Nov 10, 2021

I'll admit I only bought the book because "Schmitt" wrote it, but it's actually super cute. My 1st grader was having a great time making faces at the trophy.
Brilliant, clever, adorable

Derived From Web

, Nov 9, 2021

This book is so perfect for reluctant readers, Simon says. It's just that we get bored." It's a great way to validate their feelings—and to introduce books as fun.