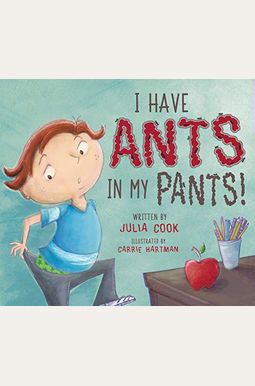 
 
Frequently Asked Questions About I Have Ants In My Pants
Book Reviews
(6)
Did you read I Have Ants In My Pants? Please provide your feedback and rating to help other readers.
Perfect for ANYONE who has a wiggle worm--or a classroom!

Derived From Web

, May 30, 2021

My son has tried these strategies and they have helped him a lot, more than anything to know that there are other kids out there like him who need to do the same things he does to help calm down his body so his mind can focus better. As a former teacher, I think this book would fit in perfectly with the beginning of the school year when establishing rituals and routines. All children need to learn self-moderation and strategies to help them meet their needs as learners, and this book can do just that for kids of all ages, I also really appreciate all of the strategies included in the very back of this book!
Brilliant!

Derived From Web

, Dec 14, 2020

Julia Cook has an amazing talent for teaching children how to solve problems. Ms. Kennedy, speaking in French, said: "He speaks their language."
Just OK

Derived From Web

, Oct 18, 2020

I think there's some value in this book, but it references a couple of her other books and has some of the same suggestions as her one about being a verb. Not that I'll use a lot of it.
Perfect for those little wigglers that just don't sit still in class

Derived From Web

, Sep 2, 2020

This book is just what I needed to talk to those little wigglers that just don't sit still, perfect for self-control classroom lessons, Melissa. Louis from My mouth is a Volcano is back, this time to help us to control our wiggles. The book starts with Louis struggling to control his wiggles on the carpet during storytime, waiting in line at the cafeteria and then watching a movie in a theater. His mom decided to give him the wiggle and jiggle he wanted, and they danced to the beat. Wobble your knees and wiggle your toes, Mr. Cowger said. Staying in our personal space is now more important than ever with the need for safe social distancing, Raymond said.
Good for those that wiggle

Derived From Web

, Sep 2, 2020

This book was written for children who have ants in their pants. It's just that he needs to keep moving." Even though he has no ants in his pants, teachers and other adults keep telling him that. And when he looks in his pants, he doesn't see any ants, Bruno says. It's just that he has the wiggles, Mr Gest said. There are strategies to get the wiggles out of his chair to help him when he does need to sit still, they said. It also offers suggestions for parents or teachers who need to wiggle their way to help. If you're working with children that sometimes just can't sit still, this book is for you.
For Kids Who Have the Wiggles

Derived From Web

, Aug 27, 2020

Even if you're sitting still, you may have to move. Chances are, at least some kids will never get sick. And some children just can't sit still no matter how hard they try. We're losing one or two kids a day. Whenever I can, I like to share a book that kids can relate to and learn from, she said. That's why I am so excited that Julia Cook has a new book out today to help kids with the wiggles. His wiggles cause a lot of little accidents he kicks a friend during story time, trips the principal in the lunch line, and bumps a man's seat in the movie theater. These tips are also useful for classroom use, too.