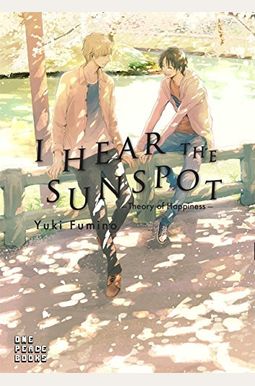  
I Hear the Sunspot: Theory of Happiness
Book Overview
Due to the overwhelming success of I Hear the Sunspot, the sequel has finally arrived, I Hear the Sunspot: Theory of Happiness How will this more than friends, less than lovers relationship evolve? --he can't hear . . . ? Because of a hearing disability Kohei is often alone. Taichi is outspoken and cheerful. At first, Kohei keeps himself well guarded, but after he meets Taichi he slowly learns to open up.
Frequently bought together
Frequently Asked Questions About I Hear the Sunspot: Theory of Happiness
Book Reviews
(8)
Did you read I Hear the Sunspot: Theory of Happiness? Please provide your feedback and rating to help other readers.
please pick this one up! you won't regret it!

Derived From Web

, May 20, 2021

i actually don 't even know how to express how much I love this series! It is easily one of my favorite series of all time and the relationship between the main couple is sooo sweet and it has just enough angst. i can 't wait to see the rest that the author releases about them!
Sort of Soap Opera like...

Derived From Web

, Mar 30, 2019

I read this series out of order. Like how the characters move forward as the storyline progresses. But left, this is really melodramatic. There has to be melodrama in an otherwise slice-of-life genre. Wishing it didn't rely on Melodrama so much to create tension between the two leads. I am ok with the two leads and the progression of their relationship. The characters are real and feel developed. I like the lead guy who quit college, I forgot his name. Cons - melodrama feels forced. Like there is just so much Melodrama. I went through three volumes, peeking into the 4th and wish it would do without the unnecessary melodrama jealousy, non-existent love triangles, misunderstandings...
Love the pace. I feel like as they fall in love I'm falling more in love with the characters ❤️

Derived From Web

, Nov 27, 2018

The story is beautiful. The drawings are great! So happy with the new arch with Maya, it is such a great addition to the humor. I really like how everything is trying together. This book feels special, the artist real puts her heart in it! I look forward to the Afterword '' also because it is a nice length, so it doesn 't feel rushy! The 3rd has already been ordered!
I can't wait for the third installment

Derived From Web

, Jun 3, 2018

Okay, so I bought this one and the third one and I had heard that there would be a first one before I bought it. I've ever said that this is one of the best BL I have ever read. It is quieter, respects boundaries and is wholesome. The BL isn 't all up in our face, which I like a lot, and is shown more in a relationship than in dominance and sexual attraction. The characters I think are well written as well as their lives are. The general stories are pretty quick and so far has shown us the back story. I can 't wait for the third installment. It comes around Christmas so I know exactly what I am getting myself.
Just so freaking adorable

Derived From Web

, May 14, 2018

This series is from the beginning. I love where Fumino took the story and our newest character Maya, in her destructiveness to the mc's, was hilarious. The only bad thing about this book is that the dialogue in some parts is a bit clunky. But this happens sporadically in some of the earlier chapters and takes the joy out of the story in no way.
Acceptance and love

Derived From Web

, Apr 22, 2018

Such a beautiful and moving story. Anyone with interest in a true romance story that features more about desire happiness than simply a mate, you need to read this.
I am so completely in love with this story

Derived From Web

, Feb 16, 2018

I m fully in love with this story so completely in love. Following this story has made me want to yell at them and tell them to get together at times. Beautifully watching them come together. Once I started reading, I couldn t stop! I have recommended this book 100%, you have to give this series a try! And the People! ''
Impactful!

Derived From Web

, Feb 14, 2018

If you loved the first volume, you will love this second installment. Not only has the artwork become better, but the story has become even more riveting and the romance is dramatic! Just like the last book, it shines an emotional light on those who live with disabilities and because of that it may be an insightful and empathetic read. I could not put it down. It is no wonder that this series has gained popularity. I can not wait for the third volume!