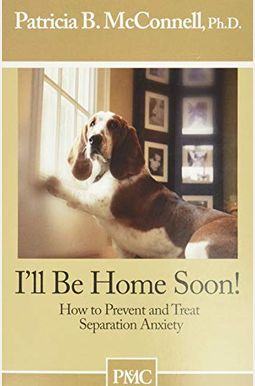 
 
I'll Be Home Soon: How to Prevent and Treat Separation Anxiety
Frequently Asked Questions About I'll Be Home Soon: How to Prevent and Treat Separation Anxiety
Books like I'll Be Home Soon: How to Prevent and Treat Separation Anxiety
Book Reviews
(12)
Did you read I'll Be Home Soon: How to Prevent and Treat Separation Anxiety? Please provide your feedback and rating to help other readers.
I'll be home soon

Derived From Web

, Apr 24, 2022

The information I knew before I started reading the book was what I was expecting from a good book, Mr. Dhaliwal said.
Helpful info

Derived From Web

, Apr 24, 2022

I'm a huge fan of Pauley's books, and just picked up the book today. That is, if everything goes according to plan. New puppy, completely velcroed to my side for 3 weeks, really needs some help to be able to help herself, Mr. Ridge told the judge.
Good stuff

Derived From Web

, Apr 24, 2022

Patricia always hits the mark with her writing about animal behavior and how we humans can learn to interact with them in a way that enhances each one of us.
Detailed, informative, and to the point.

Derived From Web

, Mar 18, 2022

It's not full of fluff and filler, but has enough wit and personality to keep it interesting and enjoyable, Wittman said. Still, it's hard to read a book with some typing errors. I highly recommend this to all foster dog owners, dog trainers, and dog lovers.
Quick and Easy, Fun Read

Derived From Web

, Jan 9, 2022

I received this book yesterday and read it in one sitting, Morgenthau said. Lots of good,specific techniques for training your anxious canine. I have underlined steps and plan to begin working with my dachshund today, Mr. Dhaliwal said. Author offers help in training and de-programing human owners as well, but has not done the steps yet.
This is the best.

Derived From Web

, Aug 13, 2021

This little booklet is a lifesaver when it comes to separation issues. I am seeing so many puppies these days that have separation issues since their parents have been home all the time and the pups are never left alone, she said.
Short, Concise & Helpful!

Derived From Web

, Jan 29, 2021

He has some isolation problems, and generalized anxiety. We wanted to do everything we could to prevent her from developing separation anxiety, and this little booklet has great tips and suggestions, and has helped provide us with the tools necessary to do so, Morgenthau said. It's clearly written and easy to understand," said Dr. Robert Hemenway, director of the federal Centers for Disease Control and Prevention. Even if you don't have a dog with isolation or separation anxiety, this is a great introduction.
Could be all you need to understand and treat anxiety in your dog.

Derived From Web

, Nov 12, 2017

This is a booklet, not a book. The book includes a half-page dedicated to separation anxiety. I would like to see more in-depth methods to help your pet adjust to being left alone, she said. The book is a booklet, not a comprehensive study of the disease. For many, the booklet can be sent heaven-sent - if your dog responds to the method of desensitization described in the book. Pauley, Jr., said: "This is a good book. Inexpensive and hopefully unlocks the key factors to help you understand possibilities to easing the pain experienced by your dog and as a result hisher pet guardians, Bruno said.
Disappointed

Derived From Web

, Jun 22, 2017

The book gave solid information about separation anxiety but the suggested treatment was unreasonable for anyone who works in the industry. It does not consider a household with more than one person to be a household. The treatment is available to people who have had a serious illness or injury for one year.
Easy To Understand Remedy For Canine Separaton Anxiety

Derived From Web

, Jun 6, 2017

Leading British animal behaviourist Patricia B McConnell has worked with celebrities including Diana, Princess of Wales and Sir Richard. In each chapter, McConnell begins by introducing the topic in a way that the reader can directly relate to the behavioral experience. I am a Certified Professional Dog Trainer and McConnell's works are my go-to when I need additional information about a specific behavior problem a client is having. I highly recommend all of Patricia B McConnell's books for anyone interested in dog behavior and has to gently address the problem, said Dr. Julie Gerberding, director of the federal Centers for Disease Control and Prevention.