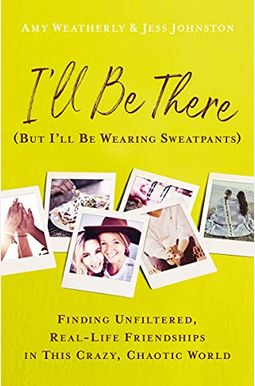  
I'll Be There (But I'll Be Wearing Sweatpants): Finding Unfiltered, Real-Life Friendships In This Crazy, Chaotic World
Frequently Asked Questions About I'll Be There (But I'll Be Wearing Sweatpants): Finding Unfiltered, Real-Life Friendships In This Crazy, Chaotic World
Book Reviews
(9)
Did you read I'll Be There (But I'll Be Wearing Sweatpants): Finding Unfiltered, Real-Life Friendships In This Crazy, Chaotic World? Please provide your feedback and rating to help other readers.
Good but pretty religious

Derived From Web

, Feb 2, 2022

There is a lot of information in this book. It has helped me in many ways. I care for it because it has more religion in it than I do, but I am not a religious person. I would not buy the book if I knew how much talk about God was in it.
Must read!!!!!

Derived From Web

, Jan 28, 2022

I needed a book like this right now. I did not want to put it down.
Every Woman Needs To Read This Book!

Derived From Web

, Jan 25, 2022

This is what it is. I needed this book to deal with the mean girls in high school. I was not good enough in college. I was a stay-at- home mom. I was treated badly by my husband. I was intimidated by everything when I was in a new town. I'm trying to help my own daughter feel like she's enough. Help my friends to know that they are loved. This book is what I needed.
Adult Friendship 101

Derived From Web

, Jan 25, 2022

This is the book I needed when I was in high school, when I was in college, and now when I am a mom, struggling to find connection and true friendship in the midst of a chaotic day to day life! I was happy and relieved in many of the stories. The work of art is easy to read. They poured their hearts into every word. I am stretched to be a better friend as well. The gentle advice throughout the chapter is encouraging. You should grab a few extra copies to give as a gift. .
Buy it, Read it, Share it!

Derived From Web

, Jan 25, 2022

Amy Weatherly and Jess Johnston expose real stories that are relevant to you. I am happy to have a hard copy of the book since I have read the electronic version and am interested in what the authors have to say. This is a book that I'm thankful for. The book could be read in a day or two. I gave away the rest of the books I bought. You will want to share it.
Real life feelings of friendship and the struggles and joys.

Derived From Web

, Jan 25, 2022

It was wonderful, real and sweet. It feels like Amy and Jess are talking to you about their own feelings and experiences. Feelings that we all have experienced and never know how to handle. It will make you look at relationships in a different way. It is a great read that will help any friends.
WHY?

Derived From Web

, Jan 25, 2022

A book like this is already written. Why is this the only one that feels real? These pages are like a road map to friendship, the paper kind that never folds back the way it is supposed to. Jess and Amy show us that friendship is sloppy through their personal stories. They show us how to be the friend with the first aid kit, the one who shows up when everyone else is eating chips and salsa without you. They are not invisible and may be hard to find. I recommend this book to anyone who is looking to improve their friendship or anyone who is trying to find a true blue friend. It made me want to cry, because I am that woman and I needed so much to hear those words.
If you want to be a friend or have friends, buy this book!

Derived From Web

, Jan 25, 2022

If you've ever lost a friend, been hurt by a friend, wondered where your people are, or if there's something wrong with you, this book is for you! These ladies love the Lord, lead a Facebook page called Sister, I am with you, and are hilarious! This book will make you laugh, cry, and give advice to grow love towards others as we reconcile and accept the world around us as broken.
THE book on female friendship

Derived From Web

, Jan 25, 2022

A book written by Amy and Jess offers humor and lightheartedness on a topic that most women need to hear about. Making and keeping female friends. They stress the importance of working on yourself first, emphasize quality connections over a large number of connections, and somehow find a way to strike a chord with so many women in the process. I was part of the launch team for the book. Being part of the community of women cheering them on was fun, and it was just what I needed to read. You can buy this book for the women in your life.