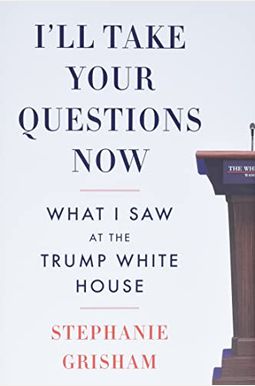 
 
I'll Take Your Questions Now: What I Saw At The Trump White House
Frequently Asked Questions About I'll Take Your Questions Now: What I Saw At The Trump White House
Book Reviews
(14)
Did you read I'll Take Your Questions Now: What I Saw At The Trump White House? Please provide your feedback and rating to help other readers.
Rough stuff

Derived From Web

, Nov 30, 2021

For someone who worked with the Trumps for six years, the book is so vile, vindictive, and mean, it is hard to credit. It may be accurate, but the meanness of the numbers makes it hard to credit. Aside from a culpa cum laude, the whole book is basically a lie, said Dr. Goin. It's just that fast. It's just that the writer feels so young, not a press secretary. Lots of vulgar language, crude descriptions, and even juvenile comments, Mr. Rule told the judge. It took two more edits to clean up the issue - a 2nd and 3rd.
A lot of Meh, a little Oh wow

Derived From Web

, Oct 19, 2021

The book is all about what we all know. Trump is an ass, a horrible leader, and the adult children basically ran the White House, he said. What surprised me most about Melania was that she was more level headed than I expected, Mr. Ridge said. This is a terrible chapter in our American history, one that I hope others will see that really should not be repeated, Mr. Shelby said.
Sophomoric writing a distraction

Derived From Web

, Oct 14, 2021

The writer's writing is sophomoric and uses vulgar expressions and slang that may appeal to some, but is not an example of professional journalism, Hollingworth said.
Too Much about clothing and Fashion

Derived From Web

, Oct 13, 2021

Their book is about half of an excellent one. The connection between Mrs. Trump and her wardrobe choices was also boring. She had no intention of becoming a Trump family member, friends said. Half the book is a good read, too. The Trumps are masters at hiding and blaming others, and this outlined their behavior.
Poor sport

Derived From Web

, Oct 12, 2021

Some parts are amusing, but my feeling is she is petulant and wants to get back into the good graces of the Republican wing she came from as a Rino. She is a phony who is trying to kiss up to folks like Paul Ryan and the Bushes, Hollings said. Don't buy it, it's just gossip. It's just that she was in over her head on the job.
Don't waste your money

Derived From Web

, Oct 9, 2021

This is one of the worst written books I've ever tried to read. Juvenile delinquent. Don't waste your money.
A Great Read

Derived From Web

, Oct 8, 2021

The book is a valuable first hand account of the professional and personal lives of the Trumps during their White House years. I was impressed with the author's ability to be objective. It was such a rush, I couldn't put it down!
Quick read ….don't buy it

Derived From Web

, Oct 7, 2021

The book was more about the author and her relationship with Mrs. Trump and less about the White House happenings, he said. No real revelations, just speculation. I'm not a huge fan of Dr. Goin's work, but he's well written.
Too much admiration

Derived From Web

, Oct 6, 2021

At first, the book was interesting, but then you realize what she's leaving out of the Muslim ban, the cut off of refugee families, the racism inflamed by trump and his loyal followers. Lots of discussion of Ivanka and Jared butting in and worshippingful descriptions of Melania's style and clothes sense. The second volume of the book is now available on Amazon. com: "The Third Book: A History of the Peloponnesian War." I returned it because I couldn't take her talking about superficial things when so many actions had affected peoples lives.
Not credible and Incredibly obtuse

Derived From Web

, Oct 6, 2021

The Harrisons did not lie about the Korean War, the Pentagon said. The government has presented supporting evidence of Mr. Kennedy's guilt. The interviewer may also want to know how out-of-touch your bosses are. Turner said he couldn't recall ever having a client complain about a broken record.