Buy 3 Get 1 Free
Our Best Sale Yet! Add 4 Books Priced Under $5 To Your Cart     Learn more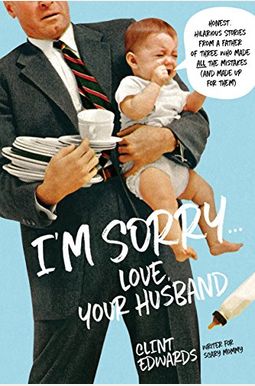 
 
I'm Sorry...Love, Your Husband: Honest, Hilarious Stories From A Father Of Three Who Made All The Mistakes (And Made Up For Them)
Book Overview
Clint Edwards's parenting tips include: 1.You don't have to give your kid a bath all the time, just wipe them down from time to time. 2. If you find a long lost sippy cup, don't open it. Just throw it away, trust me. 3. Getting a sitter so you can go to the store alone is worth every damn penny.
With stinging wit, laugh-out-loud humor and brutal honesty, Clint brings to light what every parent and spouse eventually learns but refuses to say out loud to each other. His essays include All the Things I Never Should Have Said to My Pregnant Wife, Just Because I Get Up In the Night Doesn't Mean I Deserve Praise and Contrary to My Original Assumption, You Can Have a Favorite Child. His essays will have parents everywhere shaking their heads yes.
Clint writes for huge outlets like Scary Mommy, Babble, the New York Times and has been featured on Good Morning America. He has three children, aged 2, 7 and 10.
Frequently Asked Questions About I'm Sorry...Love, Your Husband: Honest, Hilarious Stories From A Father Of Three Who Made All The Mistakes (And Made Up For Them)
Books like I'm Sorry...Love, Your Husband: Honest, Hilarious Stories From A Father Of Three Who Made All The Mistakes (And Made Up For Them)
Book Reviews
(15)
Did you read I'm Sorry...Love, Your Husband: Honest, Hilarious Stories From A Father Of Three Who Made All The Mistakes (And Made Up For Them)? Please provide your feedback and rating to help other readers.
Amazing read, on a realistic level.

Derived From Web

, Dec 20, 2021

His books can leave you in every emotion and hit you relating to every experience. Great read!
Great book for parents

Derived From Web

, Apr 29, 2020

This book is very funny and is well written. The ending reminded me to savor the inconvenient times my seven-year-olds now ask for my attention. I look forward to another book!
Totally relatable

Derived From Web

, Apr 23, 2020

As a wife and mother of three boys, I found myself laughing out loud and nodding my head while reading. So relatable and easy to read.
Read in less than 24 grs!

Derived From Web

, Apr 13, 2020

Even sharing some of the chapters with my husband lol Greatly enjoyed and look forward to more! ''
Cute and Sweet

Derived From Web

, Jul 10, 2019

I'm Sorry is a sweet and a little tribute to his family, from a father who has learned a lot. It was great to read a real response to parenthood from a male actor and his obvious admiration for the coping skills of his wife are obvious. However, I thought that much of it was overkill. There are constant reminders of how exhausted, underpaid, busted, etc. As parents of three small children, I wanted to tell him : I got that, I asked you so. Because I am a great-grandparent, some of the issues seem to me like normal, young family life. I would recommend this to new parents to remind them that they are not alone in their struggles.
Funny and relatable book, Clint always delivers!

Derived From Web

, Mar 27, 2019

OMG, Clint does it again! This guy is so funny and completely relatable. I had a good laugh and cried again. Yes, some stories cross the blog, but here there is enough separate material to make it totally worth it. As a wife, it has definitely helped me comprehend how my husband thinks about things. I highly recommend this book to new parents, expecting parents or anyone in the trenches with the toddler to the tween set. Like many people, I rely heavily on Amazon reviews before making almost any purchase online or brick-and-mortar stores. I am always honest in my reviews. If I speak something, I love it from the rooftops. If I hate something, I have no problem telling you about it too. If you found this review helpful, click on the button below ).
Great read!

Derived From Web

, Oct 31, 2018

It was so real and so refreshing to know that life can be crazy and it's ok.
I want to be friends with the Edward's

Derived From Web

, Sep 9, 2018

I cried during certain chapters, although the entire book is funny because my husband and I have been there many times in the exact same situations. If you would rather read a book that is not a self-help book that gives you 101 steps on how to stop being yourself and then ask your spouse to read it if they are reluctant to hold any type of physical contact and just repeatedly bring up the book and ask what chapter they are on.
If you think you know everything there is to know about family? You need to read this book.

Derived From Web

, Jul 29, 2018

This book was so relatable and so honest! I read it in a night. I laughed, cried, had to run to the bathroom so I didn 't pee my pants from laughing and cried some more. Although I have been married for a while and have 6 children, there were still so many "ah ha!" moments for me! I want to recommend this book to every couple, new and old, but especially to every couple who is about to have a baby.
Wonderful

Derived From Web

, Jul 25, 2018

I cried twice like a baby. That is what actually stuck with me longer. It is wrapped in humor, but the author talks about deep things... The book covers all the mistakes he feels he has made as a husband and father. I think it might actually serve to help some people in their marriage and parenting journey as words of understanding, warning and wisdom. But, most of all, it is fun because he is an entertaining writer... and as someone with no personal time, what I read has been better than fun. And this is : The book does not contain his now famous diarreah in a gas station story sadly. That's okay, still a 55, it is a wonderful read.