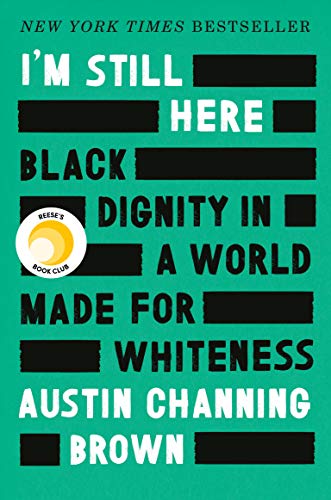  
I'm Still Here: Black Dignity in a World Made for Whiteness
Book Overview
NEW YORK TIMES BESTSELER - RESE'S BOK CLUB PICK - From a leading voice on racial justice, an eye-opening account of growing up Black, Christian, and female that exposes how white America's love affair with diversity so often falls short of its ideals.
Austin Channing Brown introduces herself as a master memoirist. This book will break open hearts and minds.--Glennon Doyle, #1 New York Times bestselling author of Untamed
Austin Channing Brown's first encounter with a racialized America came at age seven, when she discovered her parents named her Austin to deceive future employers into thinking she was a white man. Growing up in majority-white schools and churches, Austin writes, I had to learn what it means to love blackness, a journey that led to a lifetime spent navigating America's racial divide as a writer, speaker, and expert helping organizations practice genuine inclusion. In a time when nearly every institution (schools, churches, universities, businesses) claims to value diversity in its mission statement, Austin writes in breathtaking detail about her journey to self-worth and the pitfalls that kill our attempts at racial justice. Her stories bear witness to the complexity of America's social fabric--from Black Cleveland neighborhoods to private schools in the middle-class suburbs, from prison walls to the boardrooms at
Read More chevron_right
Frequently bought together
Frequently Asked Questions About I'm Still Here: Black Dignity in a World Made for Whiteness
Books like I'm Still Here: Black Dignity in a World Made for Whiteness
What should you read after I'm Still Here: Black Dignity in a World Made for Whiteness Book? Here is a list of books to read if you read and loved I'm Still Here: Black Dignity in a World Made for Whiteness
Book Reviews
(16)
Did you read I'm Still Here: Black Dignity in a World Made for Whiteness? Please provide your feedback and rating to help other readers.
Great read

Derived From Web

, Jun 7, 2021

I value this contribution—it was an interesting read to help me better understand Black experience and white privelege, said Dr. Charles Floyd. Most people need a variety of input on these topics and this is a solid addition to the genre of diversity equity and inclusion readings, he said.
A good book describing how different viewpoints and experiences are very valuable..

Derived From Web

, May 22, 2021

This was well written and it really makes you think, especially if you are not a person of color, he said. It is an awaking to me to see that diversity is not converting people of different color or ethnicity to my way of thinking, Raymond said. Their point of view is extremely important and is equally valuable as mine, he said.
Required Reading-or should be

Derived From Web

, Dec 26, 2020

I got a hint at the shallowness of my understanding of racism in America by reading Austin's book. What a naive or subtle response from a white person's perspective. We must do better, Mr. Dhaliwal said. We must change the status quo, Copps said.
A must-read story of vulnerability!

Derived From Web

, Dec 9, 2020

I can't remember the last time I read an entire book in one sitting, but that was exactly what I did with I'm Still Here. What a beautifully written and heart-felt story of an experience that I have never known. I'm grateful to have been provided this intimate insight into the world around me, Beckham said in the statement. I can't recommend this book highly enough.
Excellent reading

Derived From Web

, Aug 29, 2020

In "What It Means to Black in America," Brown writes, "the reader is invited into the world of myth and legend. This book will change your perceptions and give you the heart necessary for transformation of our culture, he said.
A well believed dreamer

Derived From Web

, Aug 9, 2020

I come from the same background, but I'm a decade older. My views don't quite align with Austin's, but I agree with where she's going. I don't have the same fire in my belly, and I am a bit more cynical about "our" people, but I too agree that at the end of the day they should be able to return home to their families.
Doesn't center white readers- Thank you!

Derived From Web

, Jul 13, 2020

I love that this book doesn't center the white reader. She doesn't explain everything, so readers like me can understand, but rather centers Black women as her readers. Thanks for the support!!!!!!!!! It's important for readers like me to not always be the center, the intended reader, even though we should read this and learn a lot. I look forward to re-reading it. It was shared with my mom, and she also enjoyed it.
Wow. Must read

Derived From Web

, Jun 9, 2020

I am writing this review in the midst of peaceful marches, continued police brutality, and riots along with the demonstrations in major cities not only in the US but around the world. The Ku Klux Klan and other white supremacist groups are co-opting BLM marches to incite more racial violence and a civil war. The global financial crisis has brought about a severe downturn in demand for medicines. I picked this book up in an effort to educate myself, to take responsibility for my racism, white fragility and white supremacy, Rosa said. Channing Austin Brown, who stars in a revival of "The Rocky Horror Show," also appears in the new film. I see her and get a taste of what it means to be a Black Woman in America and some of the myriad of ways and white privilege pervade our society, Reichert said. In a generous gesture of uncharacteristic compassion, I see myself and some of the ways in which I am complicit. In "Peeling the Veil: The Power of Persuasion," Michael Eric Dyson peels back the veil and truly experiences racism, how we react to it, and how to combat it.
Intensely personal, painfully informative , challenging yet hopeful

Derived From Web

, Sep 2, 2019

I've read the book, but I was not planning to attend a retreat. The topic of the retreat was justice and Brown's account of being physically and verbally attacked at work were received by a nearly all-white group, who hopefully came away with a better understanding of what Black people ensure despite progress made in race relations. I'm neither black nor white, so I see, hear and experience issues of race very differently. As a member of the model minority, who has lived most of her life ensconced in but not completely accepted in the white world, I deeply appreciate Brown's perspective. She makes me want to know more about experience of race from more peoples perspectives _ black, white, Asian, Latino and multi-racial, Raymond said. It is only when we intentionally seek out perspectives of people who do not look like us or have similar backgrounds that we can better work toward all of us, he said.
Hardcover, but size of a paperback

Derived From Web

, Oct 22, 2018

The book is also very expensive, at $27.95. There are also three books in the series that are twice the thickness and slightly smaller. I am white and I have experienced nastiness and rudeness from white people that exceed her injustices, Williams said. In her book, "White Guilt," she categorizes all white people as racists.