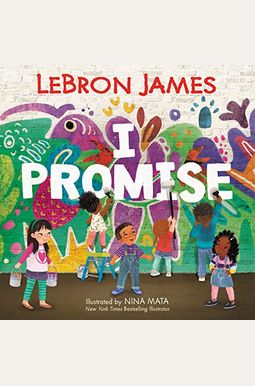 
 
Book Overview
An Instant #1 New York Times Bestseller An Instant Indie Bestseller
*An Amazon Best Book of the Year * A B&N Best Book of the Year*

A great gift for tiny go-getters and big dreamers

NBA champion and superstar LeBron James pens a slam-dunk picture book inspired by his foundation's I PROMISE program that motivates children everywhere to always #StriveForGreatness.
Just a kid from Akron, Ohio, who is dedicated to uplifting youth everywhere, LeBron James knows the key to a better future is to excel in school, do your best, and keep your family close.
I Promise is a lively and inspiring picture book that reminds us that tomorrow's success starts with the promises we make to ourselves and our community today.
Featuring James's upbeat, rhyming text and vibrant illustrations perfectly crafted for a diverse audience by #1 New York Times bestselling and Geisel Honor winning artist Nina Mata, this book has the power to inspire all children and families to be their best.
Perfect for shared reading in and out of the classroom, I Promise is also a great gift for graduation, birthdays, and other occasions.
Plus check out the audiobook, read by LeBron James's mother and I Promise School supporter Gloria James

Frequently bought together
Frequently Asked Questions About I Promise
Book Reviews
(15)
Did you read I Promise? Please provide your feedback and rating to help other readers.
A Great read!!

Derived From Web

, Oct 24, 2021

This is a great read for students or children. I gave my 3k and Prek students a gift for moving up to the ceremony. I sometimes read to my students beginning the new school year and also as a reminder of our promise.
Lebron scores again!

Derived From Web

, Jan 29, 2021

Don 't tell me that because you dribble and shoot, you can 't write a book. The book is an inspiration to all who read and share the words. The art is beautiful on its own merits, but it helps us to read and keep us inspired. With all these wonderful, inspiring words and pictures, I wish to have been a child today. Makes me feel like an ole. lol, you have to admit it.
What an inspiring read for children- loved it!.

Derived From Web

, Jan 6, 2021

My daughter liked the examples of values, like kind and nice. She also liked the illustrations, the cool hairstyles and all the colors and art!! Would recommend for young children up to age 11 for young children.
Commitment

Derived From Web

, Jan 3, 2021

Beautiful!!! Beautiful ''!!! ... So very well written and perfectly illustrated... It speaks of the commitment to self, others and our environment. It speaks of commitment to self. Beautiful!! Beautiful ''! ! !
Printed upside down!

Derived From Web

, Dec 7, 2020

This is well, disappointing. My book came with the story printed inside upside down! Now I have to go through the process of returning etc. I am glad that I didn 't wait until the last minute to wrap this up for Christmas! Now I hope the one sent isn 't messed up!
Will become a favorite during story time!

Derived From Web

, Dec 6, 2020

I bought this book for my 3 yr old nephew soon to be 4 yr old nephew for his birthday in a few days. Honestly, I'm not a big fan of LBJ, but after reading the reviews, I knew that he and his 2 yr old sister would love it. BTW, my nephew loves Lebron and we give him a hard time. I just received it and read it... and I LOVED it! Everyday we do story time, where they choose a book together with myself. They both love to read and love books, what is important. I am an avid reader and want to pass the Love books to them. I know this will become a favorite very quickly and be chosen several times a week to where I 'll have to say again? Really? I can 't wait to give it to him. Regardless of my feelings, I'm so glad I bought the book, because it is not about me. It is about them reading books and the wonders of reading. Lebron! GREAT JOB Lebron! Nina Mata, the illustrations are so bright, diverse, and beautiful. TLC TLC is a TLCLC that is, in part, re-created TLC.
Modern Day Book of Virtues...

Derived From Web

, Oct 31, 2020

I love this book. I love it. A few times a week, we read this to our children. We read it to our children a few times a week. The illustrations used in the book are beautiful. Most importantly, we love the message that this book has... encouraging children to be kind, loving, humble, brave, and always to rise when they fall. Children and even adults as adults : wonderful reminders for children and even for us. Love it! Love it! ''
Wonderful storybook

Derived From Web

, Oct 29, 2020

As part of their Christmas gift, Update-purchased 2 more for cousins as part of their Christmas gift. This book is love this book! Love this book! Bought this for my 5 year old twins, love the character building in the story as well as diversity. Pictures are vibrant, bold and beautiful. We have loved reading this at bedtime and have used the I Promise mantra throughout our daily routine. My daughter has a hard time losing and this has helped her get past her feelings and try again. During the holidays, plan on buying some for the family and friends.
Best Book Ever...

Derived From Web

, Sep 15, 2020

I am so thrilled with this book and the positive steps it has in my grandsons mind and heart... He heard it on zoom school first and the teachers talked about what each page meant, the words they heard, the goals they have. My grandmother is 9 years old and loves the book. His 61 year old aunt loves the book and has one, as well as his 61 year old grandfather. Thank You So Much '' for sharing this book, I will keep writing it as a must have. Goes to give some books to the school for students who may not be able to obtain the book. WOW, JUST, WOW... nailed it with heart and soul.
Beautiful book

Derived From Web

, Sep 5, 2020

Absolutely Fabulous Book '' The illustrations are fantastic and the message is beautiful. Well done LeBron James! Well done LeBron James! '' !