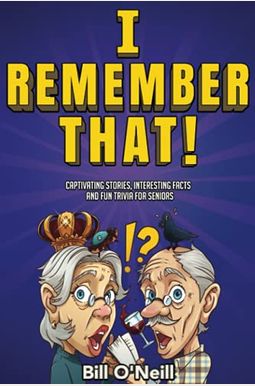 
 
I Remember That!: Captivating Stories, Interesting Facts and Fun Trivia for Seniors
Frequently Asked Questions About I Remember That!: Captivating Stories, Interesting Facts and Fun Trivia for Seniors
Book Reviews
(8)
Did you read I Remember That!: Captivating Stories, Interesting Facts and Fun Trivia for Seniors? Please provide your feedback and rating to help other readers.
Gruesome story included

Derived From Web

, Dec 21, 2021

Upon receiving this book, which I was going to use as a stocking stuffer, I flipped to a random story, which turned out to be one detailing a very gruesome murder, graphically described. I threw the book away. I ruined it for you, that ruined it for me. The rest of the stories may have been ok, but I didn 't bother to find out.
They intened for 65ish year olds now

Derived From Web

, Oct 6, 2021

I bought fro my 92-year-old grandmother thinking that it would be nice to read for her fun, when it is actually better suited for my 67-year-old mother's age. But my mother enjoyed it so there was that!
I remembered most of it...

Derived From Web

, Jul 13, 2021

This was a fun read. It has brought back a lot of memories. I had forgotten about and filled in a couple of things I did not know. These books are a pleasant way to spend the hours, but then again I read only history books.
The best trivia book of Bill's so far

Derived From Web

, Jul 9, 2021

This book is so much fun to read and I think this is the best bill ever written and I have read more than a few. This is the first book that comes with Quizzes. If you read every word or if you are truly knowlegeable and have good memory, you will ace these fun quizzes without doubt. This book takes you on and from the 50s down Memory Lane. It touches many different topics, politics, pop culture, medical fields, sports, science, and sports. Half of these forementioned events were before my time, but I have knownheard just the same about them. As usual, Bill presents history from such an interesting angle and nobody will get bored by his writings. Read this and do the quizzes. Great read, great read...
So much fun!

Derived From Web

, Jul 6, 2021

Although I am a late baby boomer, born 1961, this book was so much fun to read. I learned so many new facts and confirmed some things that I have been curious for many many years. I love Bill's series of books and can not wait for the next one.
One of my favorite trivia author.

Derived From Web

, Jul 5, 2021

My favorite trivia author is Bill O Neill, because you never know what direction he will go next. Each book is interesting and very unique. He is never boring and keeps the format new. Thank you for the info.
A Lot of Good Memories For Older Folks and Background For Younger Ones

Derived From Web

, Jun 20, 2021

There was very old and younger person might not know in this book, but it brought back many old memories. It also provides a good background for younger people. was not aware of some of the things. Overall, a lot of good information was broken by categories and even quizzes at the end of each chapter.
This Is An Interesting Book.

Derived From Web

, Jun 17, 2021

Before reading this book, I already knew a lot of the information that was mentioned in this book, because I lived through many of the time periods mentioned in this book. Some of the interesting information mentioned in this book include the following information : in 1964, only 3% of US households had color television. In 1972, more than 50% of U.S. households had color television. The utterly amazing defeat of Polio was effective. Many countries in the world easily bypassed the 8 track technology and went straight from LPs to cassettes. The American League St. Louis Browns were moved to Baltimore in 1954 and became the Baltimore Orioles. For those people who lived during the time periods mentioned in this book, the book will bring back some memories. For the currently young people who did not live through many of the time periods mentioned in this book, they could learn some information that they may not have known before reading this book.