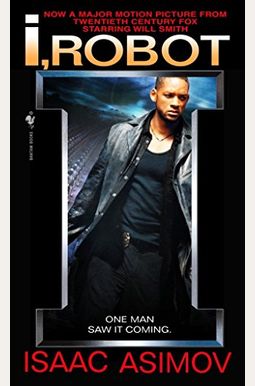 
 
Book Overview
This classic science fiction masterwork by Isaac Asimov weaves stories about robots, humanity, and the deep questions of existence into a novel of shocking intelligence and heart.
A must-read for science-fiction buffs and literature enjoyers alike.--The Guardian
I, Robot
, the first and most widely read book in Asimov's Robot series, forever changed the world's perception of artificial intelligence. Here are stories of robots gone mad, of mind-reading robots, and robots with a sense of humor. Of robot politicians, and robots who secretly run the world--all told with the dramatic blend of science fact and science fiction that has become Asimov's trademark. The Three Laws of Robotics:
1) A robot may not injure a human being or, through inaction, allow a human being to come to harm.
2) A robot must obey orders given to it by human beings except where such orders would conflict with the First Law.
3) A robot must protect its own existence as long as such protection does not conflict with the First or Second Law. With these three, simple directives, Isaac Asimov formulated the laws governing robots' behavior. In
I, Robot
, Asimov chronicles the development of the robot from its primitive origins in the present to its ultimate perfection in the not-so-distant future--a future in which humanity itself may be rendered
Read More chevron_right
Frequently Asked Questions About I, Robot
Book Reviews
(4)
Did you read I, Robot? Please provide your feedback and rating to help other readers.
I'm such a slacker.

Derived From Web

, Apr 10, 2021

I watched the I, Robot movie with Will Smith and didn't buy or read this until after that. I did not write this review until 7 years after I read the book. The movie part of the book is just a short story. There was a 2 page short story in a Stephen King book, and they got Maximum Overdrive out of it. I was really disappointed in myself for not reading this sooner as a sci- fi fan. It was great. It's interesting to see what other authors have built on. Why not 5 stars if it's so awesome? In the past 7 years, I haven't felt the need to revisit it.
Classic Asimov; dated and visionary

Derived From Web

, Sep 11, 2020

The book is made up of a series of short stories which were connected by a narrative thread. The underlying theme is the behavior of various robots as they operate under the laws of robotics. I read this book for the first time about 50 years ago. It is a dated view of the future with a mix of aspects for which Asimov's predictions are way off target, as well as other areas which are consistent with current day debate about Machine Leaning, Artificial General Intelligence and the coming Singularity.
The origin tales for Asimov's robots

Derived From Web

, Oct 26, 2018

I, Robot is a series of short stories that introduces his conception of the evolution of robots that are organized around the three law of robotics that are embedded into the brain that powers them. Beginning with non- speaking and evolving to robots gradually taking responsibility for much of humanity's tasks, the stories are related by the interviewer at the end of her career The robots are given more responsibility and things don't always work out as they should. The laws of robotics were created by Asimov to make sure safety is assured. He predicts animosity from the general population. The solar system is being explored and exploited. This is a classic and must be read in order to appreciate all his later robot themed novels.
Fantastic Collection of Short, Robot Stories

Derived From Web

, May 26, 2017

Each chapter of the book is a new short story. The stories are being told by Dr. Calvin, who is being interviewed, because of the theme of this is a future earth. This format is easy to read because it doesn't distract from the actual stories. The Three Laws of Robotics were presented in each short story, as well as how robots were becoming integrated into the human community. The book arrived a day after it was ordered. It was packaged well and undamaged.