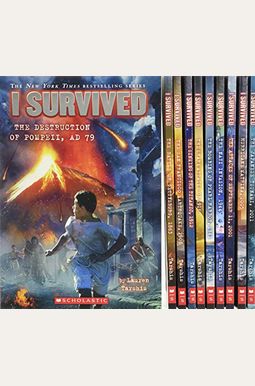 
 
I Survived: Ten Thrilling Books (Boxed Set)
Book Overview
When disaster strikes, heroes are made.
A collectible box set of ten books in the bestselling I Survived series from author Lauren Tarshis This set includes paperback editions of these books: I Survived the Sinking of the Titanic, 1912
I Survived the Shark Attacks of 1916
I Survived the Attacks of September 11, 2001
I Survived the Nazi Invasion, 1944
I Survived the Bombing of Pearl Harbor, 1941
I Survived the Battle of Gettysburg, 1863
I Survived the Destruction of Pompeii, AD 79
I Survived Hurricane Katrina, 2005
I Survived the San Francisco Earthquake, 1906
I Survived the Japanese Tsunami, 2011 With relatable characters and riveting plotlines, the I Survived books are perfect for reluctant readers or any young reader who enjoys an action packed, page turning thriller. Each book also contains several pages of nonfiction content, encouraging readers to further explore the historical topic.
Frequently Asked Questions About I Survived: Ten Thrilling Books (Boxed Set)
Book Reviews
(10)
Did you read I Survived: Ten Thrilling Books (Boxed Set)? Please provide your feedback and rating to help other readers.
I love these books for kids from 9 - 15 yrs old

Derived From Web

, Jan 2, 2021

I teach school and most kids from 4th grade and high school through the beginning of the school love these books. I like that there are a whole series of them, so that once they are introduced to the series, there are many books for them to read. They are historically accurate and so they learn in a fun way about historical events. There are also life lessons learned by characters. We read with my class for a year and look forward to it. I '' helped at a daycare during Covid, while the schools were all shut. One of the boys considered himself above all this school stuff and didn 't want to do with me or my reading class until I told them that we were reading a novel together and one of the choices was an I survived book. Immediately he wanted that one, and so did most of the kids. They were no longer fighting me about reading, but excited for me to come and read with them.
10 books, 10 boys

Derived From Web

, Aug 2, 2020

The main protagonist is a boy in every single one of these books. My eight-year-old daughter loves reading these books, but I HATE the it reinforces the idea that history is about men. There are 3 books in books 11-20 that feature girls. In the first set of 10, a whopping 30% are girls, but 100% are boys in the second 10 books of the series. Why reinforce that in children who have a chance to grow up without these biases?
OK for 9-12 Yr Olds

Derived From Web

, Dec 6, 2019

I bought this after my 8 year old took it as a similar one at the school library. It was OK for him and he enjoyed them initially. The themes ended up, however, a little too scary for him and he decided to put them back on the bookshelf for now. Specifically, the books on the Terror Attacks on 911 and the EarthquakeFire in San Francisco really bothered him. He should be fine with the themes in a year or two.
Buy it! They will read it and ask for more.

Derived From Web

, Sep 22, 2019

I love the series I SURVIVED. I purchased all 22 for a classroom of a new teacher and she said that the students are not only increasing their reading, but also improving their reading. They are so motivated to read the books that they complete all their other projects and tasks accurately and cooperatively to be able to get more. Wish I could purchase another set for her so that the kids could discuss in teams, but we are working on other materials. If you want to buy a kid to read and love it, buy this!
Great books!

Derived From Web

, Sep 15, 2019

We read them together and I help him with the more difficult words. I feel like it challenges him in reading, but he is so interested in story that he is excited to read.
Kids will love them.

Derived From Web

, Aug 26, 2019

My son loves the Star Wars books, but I wanted to find something that he would enjoy with some substance. These are loosely based on historical events, so that why not? Loved them and bought the price, better than the book store individually selling them. My son LOVES him and I love asking him about him when he is done and having him learn a little history.
Best series

Derived From Web

, Aug 16, 2019

St. Helen was in school and loved it, so I bought him the series for the summer. He loves these books and takes him away from XBox Yeah!
Enjoyed reading and lead to more learning

Derived From Web

, Jul 31, 2019

When we are done with each, they start to look more about the event and the time period and even the country if it is a different country. They are excited to read them by themselves and join us. The second grader and the kindergarten can read these books.
Great books exciting

Derived From Web

, Jul 11, 2019

I picked them up for my grandson and he loves them. I enjoy talking to them and then reading about them.
I Survived

Derived From Web

, Jun 7, 2019

My kids can 't get enough of the books I survived. An engaging way to introduce history to 2nd -- 4th graders.