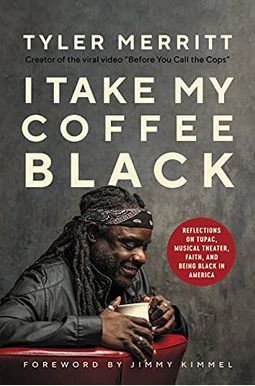  
I Take My Coffee Black: Reflections on Tupac, Musical Theater, Faith, and Being Black in America
Frequently Asked Questions About I Take My Coffee Black: Reflections on Tupac, Musical Theater, Faith, and Being Black in America
Book Reviews
(13)
Did you read I Take My Coffee Black: Reflections on Tupac, Musical Theater, Faith, and Being Black in America? Please provide your feedback and rating to help other readers.
Great Book, the authors narration in audible makes it even better.

Derived From Web

, Feb 10, 2022

The book helped me understand some of the issues I previously did not understand. His honesty and humor kept me interested and entertained while feeling all sorts of emotions. The book is a great read.
Thank you

Derived From Web

, Jan 19, 2022

Love the book, and Tyler's honest point of view. Even though I have lived through depression, loneliness, and single parenthood, I have likely survived through white privilege, Taylor said.
A Must Read

Derived From Web

, Jan 3, 2022

WOW! The whole thing is a parody, Mr. Rule told the judge. I felt I had the best conversation with the most interesting and amazing person, Taylor said. I don't know he's able to talk about his experiences with such grace, but he does.
I love this man

Derived From Web

, Nov 30, 2021

Tyler narrates the book himself and he is just so human, kind and real, wise for a young man, Richardson said.
Get a Cup of Coffee and Settle In!

Derived From Web

, Oct 23, 2021

I've had people say, "This is the best book I've ever read." His video, "Before You Call the Cops," went viral on social media. The book shares more of Merritt's personal stories and experiences. This is not a book you can rush through, it's truly like sitting and having coffee with an old friend. His heart, love for others and commitment to truth make this book a great choice for social discussion or just to give yourself some perspective. It was great to see the movie, said Blair. There is some language in the book, but I didn't feel overwhelmed.
Proximity breeds empathy

Derived From Web

, Sep 28, 2021

We're thrilled with the outcome, said Blair Folse, executive vice president of music for AOL Europe. He has welcomed us into his life and been more vulnerable than I think I ever could have. 0 1462228 1462228 He has welcomed us into his life and been more vulnerable than I think I ever could have. He brings you into closer proximity, to someone who might not be naturally in your circle of friends. 0 3171158201 This is great for those who are introverts, because it brings you into more direct contact with someone who might not be naturally in your circle of friends. There is, crying, and sometimes anger when reading the history he wants to highlight the background of situations and racial thinking. My goal is to pick up the vision and run with the flag of getting into proximity of others, thus creating real knowledge and empathy for my fellow humans and community. Even though the weather looked like me, he said, "it was mostly because of the way the planes were designed."
Real Talk

Derived From Web

, Sep 27, 2021

It arrived in my mailbox last week, and I ordered it in advance. If you love music from the 90s, musicals, hip hop, rock n roll or even Christian music there's something in this book for you. It was a book I found myself, crying, praising, and then humbled by. It is raw truth, says the hip-hop performer, that when he was raised in Vegas he was told he couldn't rap. Well, first of all, you know that's some crazy stuff. He makes you feel as if no one perfect, and we aren't called to be. We should strive for our actions and words to create a safe space for all, to leave them feeling good, he said. I listened to the audio book first and it's the author reading his own book. It's powerful to hear his words coming from his mouth. A definite must read.
EVERYONE! READ THIS BOOK

Derived From Web

, Sep 18, 2021

I've loved the book and the print version because I love Tyler's real voice and his writing voice, Raymond said. An intimate read. It's as if we're in a room, just the two of us, drinking coffee as I listen to him tell about himself. I've always enjoyed hearing the story of his life. I've run through the print and audio books, but I'm not a racing fan. however his words will stay with me a very long time and I know I'll refer to them often.
Informational, gripping, moving, funny, heart warming.

Derived From Web

, Sep 18, 2021

I'm not a book reader. This book is written in a time when we all need to listen to one another, Raymond said. Tyler says he has a lot to say. We all need to read, see, hear each other, he said. In his shoes, he explains what it is like to have your feet flexed. As an older white woman in my 70's I sure did stand up and take notice. Thanks for giving me information I can Use to understand what you and so many others are dealing with, Garton said. Thanks for your honesty. Thanks for the book.
Be prepared to be proximity-ed

Derived From Web

, Sep 15, 2021

I take my black coffee by Tyler Merritt wasn't what I expected, it was more than I expected. He takes us on a journey of proximity - one that is essential if we are ever to get past stereotypes and solve racial problems. In Living With Me, Merritt reveals his life experiences in a way that engages a range of emotions -- love, joy, anger, sadness, and admiration. He is open and honest about what he is willing to do to be vulnerable, Mr. Rule told the judge. His openness and vulnerability are some of the defining elements of the book. Spike Lee combines his vulnerability and life story with a depiction of his experiences as a black man growing up in America while delivering a history lesson and commentary on the assault on black men in our society. It was like taking a leisurely walk with a close friend filled with laughter, joy, tears, and real talk. I'm looking forward to a sequel, he said.