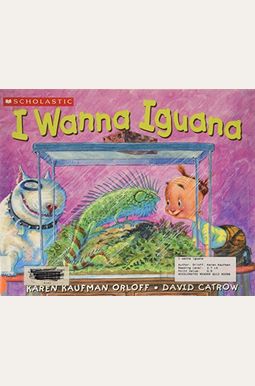 
 
Book Overview
This Description may be from another edition of this product.
Alex just has to convince his mom to let him have an iguana, so he puts his arguments in writing. He promises that she won't have to feed it or clean its cage or even see it if she doesn't want to. Of course Mom imagines life with a six-foot-long iguana eating them out of house and home. Alex's reassurances: It takes fifteen years for an iguana to get that big. I'll be married by then and probably living in my own house. and his mom's replies: How are you going to get a girl to marry you when you own a giant reptile? will have kids in hysterics as the negotiations go back and forth through notes. And the lively, imaginative illustrations show their polar opposite dreams of life with an iguana.
Frequently bought together
Frequently Asked Questions About I Wanna Iguana
Books like I Wanna Iguana
Book Reviews
(10)
Did you read I Wanna Iguana? Please provide your feedback and rating to help other readers.
YOU Wanna Iguana

Derived From Web

, Apr 20, 2022

The book is also being sold in bookstores. Written in the format of notes between Alex and his Mom regarding a pet iguana, you just may like it even more than your child.
Great for teaching argument-based writing

Derived From Web

, Apr 20, 2022

I bought this book and companion, "I Wanna New Room," by the same author, along with "The Blair Witch Project." They are delightful and funny, and do a wonderful job of teaching persuasive language and letters. I would definitely recommend it as a mentor text, although I think it would be most useful in the middle grades, he said.
Point of View lesson

Derived From Web

, Apr 20, 2022

I am a teacher and work in a small group environment, he said. I have majority of boys and I try to find books that are appropriate and would seek their interests, Raymond said. Iguanas are definitely on their list of topics to read about, Sosa said. I used it to teach my son how to read. This is an adorable story, Raymond said. The letters were used to help students point out the key words that help them identify what point of view the story is being told. It was a perfect book for my lesson and it was also very funny.
FANTASTIC READ-ALOUD MENTOR TEXT

Derived From Web

, Apr 20, 2022

If you want to have a good time, you need to be serious, and you need to be engaged, quality writing and great illustrations.
Great book!

Derived From Web

, Jun 12, 2021

The fifth nominee for fiction was Elizabeth Bishop, for "Persuasion." He also said that when he was asked by his wife what his sons' names were, she replied, "Alex." Like a personal book. My son has one as a present from our neighbor and we also bought another book, "I wanna Iguana," for our friend's kid.
Kids learn how to debate, and persuade... and EQ and IQ builder and fun in 1!

Derived From Web

, Jun 8, 2020

We love this book so much, we have to keep fighting, we have to find the killer. The cover of this book is by far the best.
Damaged

Derived From Web

, Jan 25, 2020

I bought this book for my second grader because I was having trouble with the first one. We're huge fans of Gillian Michael's book. On the first read, the pages were falling out. The book had clearly had been an attempt at repair, with glue in the spine. This was a horrible attempt at passing a damaged book off as good. 0 3171616 This was a horrid attempt at passing a damaged book off as good.
This is a super book! It is written in letters from a ...

Derived From Web

, Mar 17, 2018

It's a great book, said Blair. The letters were written by a son who wanted an iguana and a mom who didn't want one. It is very cute and great way to teach students about how to present arguments in order to get someone to do the talking.
Great book to teach letter writing

Derived From Web

, Aug 8, 2017

I have read this book to my class every year. My students do a Stanley Flat project, where they have to write a letter to a family member or friend in another area. We read this to the kids so they can see the layout of friendly letters. The letters are fun, cute and always make the kids laugh. This book is by far the best. A new book about the Beatles' life has arrived in bookstores.
Nightly Favorite

Derived From Web

, Apr 7, 2017

I was absolutely head over heels in love when this book was read to my 3 year old. In "The Letters," Nancy and Will follow a mother and son through a humorous exchange between a mother and son. The story begins with the boy, desperate to have an iguana, running to his mother. As the exchanges go back and forth they reveal the pure innocent in a child and their mothers' love to do for her child anything even if it will gross her out. I highly recommend this book to any mom's and their sons.