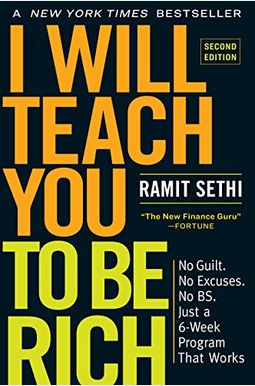 
 
I Will Teach You to Be Rich, Second Edition: No Guilt. No Excuses. No Bs. Just a 6-Week Program That Works
Frequently Asked Questions About I Will Teach You to Be Rich, Second Edition: No Guilt. No Excuses. No Bs. Just a 6-Week Program That Works
Book Reviews
(9)
Did you read I Will Teach You to Be Rich, Second Edition: No Guilt. No Excuses. No Bs. Just a 6-Week Program That Works? Please provide your feedback and rating to help other readers.
Just okay, nothing really new

Derived From Web

, Feb 3, 2022

The author knows what works for him, but a lot of his advice didn't apply to my situation. I am not Indian, I was not raised with the haggling genes, and I am not young enough to be able to wait and let my wealth accumulate. If you don't know anything about money, student loans, buying cars or houses, it's probably not worth the time and money to read it. I wasted an afternoon looking for something concrete that I could use.
For the price you can't go wrong with this helpful book

Derived From Web

, Jan 10, 2022

There are some good financial advice written in a funny way. The only downside is that it's obvious. If you need some pushing in the right direction, it's good to read this book and learn from it. The most important piece of advice is to invest early. You can invest in a 401K. When you are an old guy like me, you are hopefully sitting pretty and can retire in peace, because that money builds until then. Don't expect Uncle Sam to take care of you when you're older. There are many other pieces of advice like this.
Great advice

Derived From Web

, Oct 1, 2021

I already know a lot of the things in this book. I have a degree in finance, but I didn't learn all the practical tips of personal finance This book made me want to simplify my finances. I am single and childless so I am good to know for the future.
Good learning how to deal with debt.

Derived From Web

, Feb 19, 2021

The current environment has great details on how to deal with many things. I am a big spender and good student of Indian philosophy. It's easy to say that you need to cut expenses, but sometimes it's hard to cut everything. There is a way to budget your spending without cutting cappuccino. That's a great point, like enormous fee without knowing from where you are. I finally started reading his book after seeing the podcasts. I just needed advice like that.
Easy to read and apply

Derived From Web

, Jun 26, 2020

The book was easy to read and comprehend. I didn't go through the whole thing because I felt like it was a bit wordy. I gave the author four stars because he could have used less words and because it took him a long time to get his points across. I thought it was a good read and I learned something new. I was able to apply what I had learned. The book was broken down into weeks so you didn't feel like you had to do everything right away.
Kick-starter for personal finance

Derived From Web

, Aug 10, 2019

I liked his point of view about living a rich life. I wanted to try it out when the new edition came out. I liked the new writing that sounds like he talks to you directly. The practical tips and resources in the book don't apply to non-US readers, but it is a good start to learn more about your finances. It took longer than six weeks, but I feel confident that the systems are in place and I can bath in my wealth.
WOW - Life changing

Derived From Web

, Jun 19, 2019

This book has changed my life. I bought this book because I feel stagnant after going through a quarter-life crisis. I want to invest in my future and get in control of my finances. I've invested in a business that I never thought I'd have. This book gave me the confidence to take control of my life, instead of letting it control me, and I am excited for my future for the first time ever. Thank you, Ramit!
Feels padded and overly-long

Derived From Web

, May 18, 2019

There are good ideas here, but there's a lot of information that isn't usable. The publishing industry's insistence that book length on some level equals perceived value is probably the reason for this. It could've been 50 pages long. This is a worthy effort from the author.
This book changed my life and it can change yours too.

Derived From Web

, May 14, 2019

When I first read this book, I was a recent college graduate who had a lot of student debt and no knowledge of personal finance. I have been debt free since I read this book, have saved money every week since then, and have had an automated system for my finances the entire time that made it possible. I have saved thousands of dollars on loan interest, and have been given the confidence to take control of my financial life, thanks to Ramit's script. One chapter of this book could change your life. Don't waste a second debating it, just start. Thanks for everything, Ramit!