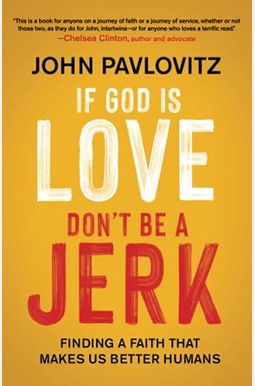 
 
If God Is Love, Don't Be A Jerk
Book Overview
Thou Shalt Not Be Horrible.
Imagine for a moment what the world might look like if we as people of faith, morality, and conscience actually aspired to this mantra.
What if we were fully burdened to create a world that was more loving and equitable than when we arrived?
What if we invited one another to share in wide-open, fearless, spiritual communities truly marked by compassion and interdependence?
What if we daily challenged ourselves to live a faith that simply made us better humans?
John Pavlovitz explores how we can embody this kinder kind of spirituality where we humbly examine our belief system to understand how it might compel us to act in less-than-loving ways toward others.
This simple phrase, Thou Shalt Not Be Horrible, could help us practice what we preach by creating a world where:
spiritual community provides a sense of belonging where all people are received as we are;
the most important question we ask of a religious belief is not Is it true? but rather, is it helpful?
it is morally impossible to pledge complete allegiance to both Jesus and America simultaneously;
the way we treat others is the most tangible and meaningful expression of our belief system.
In If God Is Love, Don't Be a Jerk, John Pavlovitz examines the Read More chevron_right
Frequently Asked Questions About If God Is Love, Don't Be A Jerk
Book Reviews
(18)
Did you read If God Is Love, Don't Be A Jerk? Please provide your feedback and rating to help other readers.
Extremely well written book

Derived From Web

, Dec 31, 2021

Just when I though most all pastors were either upfront and company supporters or just very tolerant of all who are so afraid to speak out against the hypocrisy, I met John at a book signing for his first book and heard him speak. I was so impressed with how he fearlessly spoke out against right wing evangelicals who portrayed a god who is nothing like the Jesus I follow, that I attended his second book signing and bought the third, too, he said. His insights are a balm for soul in a world shattered by just how prolific and timidly to speak out most pastors and churches have proven to be.
This is the book for our Times!

Derived From Web

, Oct 12, 2021

I'm not normally interested in God books, but have been following John Pavlovitz on Facebook and I like what he has to say about God and spirituality, he said. He also spoke frankly about the dangers of what is happening to Christianity in America. From the catchy chapter titles The Dude Abides to your D**n Neighbor, this book will take you on a journey of self-examination and a few ha moments, unlike any other. Enjoy it, read it, reread it, even if you have lost a limb. Order your copy of The Age of Persuasion today and you won't be disappointed.
Must read

Derived From Web

, Oct 7, 2021

I opened this book around supper time on the day it was delivered and couldn't put it down until I finished it sometime in the wee hours of the morning. As someone who grew up in the church, spent years deeply immersed in the church, but struggled with the disconnect between the commandment to love and the reality of church's response to the world, this book spoke to me, wrestled with me, and ultimately helped me clarify a lot of my issues. If you have a faith that doesn't quite fit, you may want to read this.
Learning how not to be a jerk

Derived From Web

, Oct 4, 2021

This book is a gentle, yet truthful path to confronting one's belief system and challenging us to make our practice reflect what we say we believe. I'm only in the first few chapters, but I have learned a great deal about holding myself accountable and showing my faith in action, he said. The pages of this book will soon be lovingly dogeared and adorned with colorful highlights of points that resonated with me, the writer said.
I can't put it down

Derived From Web

, Oct 1, 2021

This book speaks to so many issues that I have struggled with over the past several years of deconstructing my faith-intrinsic worldview as prescribed by my upbringing. If, like me, you have found yourself at odds with people you used to admire and love but cannot reconcile their complete disregard for as a verb.
The title says it all!

Derived From Web

, Oct 1, 2021

This book is a great read, regardless of your religious affiliation or lack thereof. John has a way of excavating and communicating the basic tenants of spirituality and life simply, compassionately, and humorously from his own experience, that also invites the reader to do the same. As with his previous books, he asks the reader to look deeply within themselves to question whether they are truly practicing the base tenant of LOVE to ALL of humanity. I profoundly resonate with all of John's writings and musings on the state of our world and his involvement in it. This book will not disappoint. Thanks again, John, for your words of wisdom that are a balm to a weary soul.
Speaks from the heart

Derived From Web

, Sep 30, 2021

When I was introduced to the writer by a friend, I fell in love with his books. Pauley- speaks from the heart, and I find myself relating to his words. I'm not alone in this crazy world that has too many people who purport to be Christian but their actions say otherwise.
A compassionate return to Christianity

Derived From Web

, Sep 29, 2021

Those of us who have left the church as a result of Evangelical bigotry and greed, now have a voice speaking for us and giving us back our chuurch, he said. A great deal of work, said Dr. Chester Floyd, director of the federal Centers for Disease Control and Prevention.
An Expansive View of Christianity Which Includes Everybody

Derived From Web

, Sep 29, 2021

His Christian yardstick was left in his back pocket. He looked at the world through the eyes of a child created by God. He saw the love which God has for us by His Grace, He said. He skillfully shares his insight as a gift bestowed by God to widen the church and the humanity outside it's walls.
Thoughtful and thought provoking

Derived From Web

, Sep 29, 2021

John brings his genuine empathy to bear in sometimes humorous, sometimes sobering prose. Pauley also writes that, "no matter how you feel about the world, you must follow Jesus."