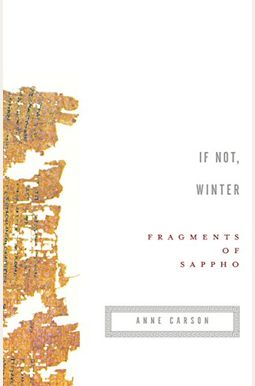  
If Not, Winter: Fragments of Sappho
Book Overview
By combining the ancient mysteries of Sappho with the contemporary wizardry of one of our most fearless and original poets, If Not, Winter provides a tantalizing window onto the genius of a woman whose lyric power spans millennia.
Of the nine books of lyrics the ancient Greek poet Sappho is said to have composed, only one poem has survived complete. The rest are fragments. In this miraculous new translation, acclaimed poet and classicist Anne Carson presents all of Sappho's fragments, in Greek and in English, as if on the ragged scraps of papyrus that preserve them, inviting a thrill of discovery and conjecture that can be described only as electric--or, to use Sappho's words, as thin fire . . . racing under skin. Sappho's verse has been elevated to new heights in this] gorgeous translation. --
The New York Times

Carson is in many ways Sappho's] ideal translator.Her command of language is hones to a perfect edge and her approach to the text, respectful yet imaginative, results in verse that lets Sappho shine forth.
--Los Angeles Times
Frequently bought together
Frequently Asked Questions About If Not, Winter: Fragments of Sappho
Book Reviews
(8)
Did you read If Not, Winter: Fragments of Sappho? Please provide your feedback and rating to help other readers.
Sappho for the modern reader

Derived From Web

, May 3, 2022

Anne Carson, who has taught Greek and Roman poetry, is also a poet. Her text is serious enough that it includes the original Greek text on the pages. There is also an extensive appendix with the standard academic footnotes, glosses, and erudite commentary. However, because the questions and difficulties of translation and text are tucked away in the appendix, the reader can focus on the poetry at hand. Dr. Carson's work is being done in painstaking line by line translation. Rather than simply translating another dusty exercise in classical scholarship, her own poetic translation leaves the reader aching with the haunting echoes of Sappho's heart cry across the intervening centuries.
Lovely poetry fragments- READ THIS BEFORE YOU BUY

Derived From Web

, Oct 13, 2021

This book of poetry fragments is a joy to read. What is more, fragments are what they are. Historians have precious little Sappho's poetry and only one complete poem. There are a few upset reviews, but this is simply all there is. There are huge chunks of poetry missing, making most of the poems difficult to glean meaning from. The translator has used brackets to illustrate how much is missing, as well as the choice to present each fragment separately. It really gives me the sense of how much time has passed, lost history, and context that I think is important to this text, Raymond said. It's like hearing a song being played rooms away, you hear bits and pieces, but you cannot hear the whole song. Before you buy it, make sure you understand what this book is about so you are not disappointed, it is not a book of poetry like we are used to.
Well Compiled and Uniquely Formatted

Derived From Web

, Jun 9, 2021

The book is being edited by Anne Carson, who also worked on the original 1960s issue. Each fragment is presented in both Greek and English, side by side, and bracketed to show the missing portions of the text. The introduction and footnotes are well written, filling in some of the lost context of the Civil War.
Unreadable drivel

Derived From Web

, Jul 19, 2020

The whole thing was allowed to be printed and foisted on people. My God, do not hesitate to translate this terrible beast into English. Get that one and mark my words wrong. This book is truly gibberish.
Unimpressed

Derived From Web

, Jul 2, 2020

I understand that there will be fragments of poems. What I didn't expect was that there would be so few poems and that the majority of the pages would be just a couple of words from fragments, Raymond said. Freddie expects to hear from him soon, said Cara Frey, a spokeswoman for the Centers for Disease Control and Prevention. Half the pages are in Greek, the other half in English. The biggest complaint I have is that there is one page dedicated to each of the six articles. If you combined a lot of the one word fragments, the book would shrink significantly. I was really looking forward to reading Sappho's poetry. I would prefer a book that just has the works in it that are actually poems and not one word fragment, or tiny sentence fragments, he said. It's great to be able to enjoy it instead of being irritated as I flip the pages looking for something to read.
Beautiful Translations

Derived From Web

, Mar 2, 2019

I was introduced to Sappho by a professor in a World Literature class at university. When I met her, I immediately fell in love and wanted to read more of her work. It took me a while to research and decide this was the translation I wanted and I have not been disappointed. Every six months I re-examine the piece of work. Sappho is a fragment because a lot of the work has been ruined but what is left is beautiful and this translation does it justice. Very happy with the service, Paul. S. Dunlap, executive director of customer service, said: "We would highly recommend.
Book of brackets

Derived From Web

, Oct 19, 2018

This book was a disappointment to me, Melissa said. I knew the poems were fragments for the most part, but I never dreamed a book could be compiled of such a vast amount of text. The brackets were so disruptive, they were to any attempt at achieving a poetic mood.
Beautifully compiled! I adore this book

Derived From Web

, Jul 24, 2017

This book is a must-have for any booklover. I absolutely adore this book, it's so much more than I was expecting. I find something new every time I open this book, sweet little turns of phrase, deeply felt. I love that it includes the Greek. Some are very short fragments, phrases that only hint at what the whole might have been, and some are more complete. There is something so lovely about the fragments, Tunick said. At the beginning, there is a quick introduction to Sappho, and the end notes are quite complete and give more context to the shorter fragments.