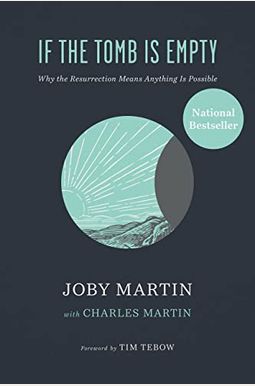  
If The Tomb Is Empty: Why The Resurrection Means Anything Is Possible
Frequently Asked Questions About If The Tomb Is Empty: Why The Resurrection Means Anything Is Possible
Book Reviews
(8)
Did you read If The Tomb Is Empty: Why The Resurrection Means Anything Is Possible? Please provide your feedback and rating to help other readers.
This book is a must read.

Derived From Web

, Feb 9, 2022

His widow, Sandra, and their son, Charles, used personal stories, humor and Scripture to tell the story of why the resurrection means anything is possible. This book has really helped me to put my walk with Jesus into perspective and since reading this book I have come to realize what my idols are and what has kept me from completely surrendering my life to Jesus, Morgenthau said.
Deeper abiding relationship with Jesus

Derived From Web

, Feb 8, 2022

He also tells us that God's love for us is in a way that connects with our heart. He shares the Gospel in a straight forward manor, using the Bible to explain the Bible, not bogged down in the quagmire of "religious phraseology." Even in the face of adversity, I'm reminded time and again that Jesus came on a rescue mission to pay my debt and "If The Tomb Is Empty" anything is possible.
Are you living like the tomb is actually empty?

Derived From Web

, Feb 8, 2022

This is a great book that explains the Bible in a relatable way that is easy to understand, while not losing the depth, significance, and life-changing truth of Jesus' death, resurrection, and life-changing message of reconciliation, forgiveness, Graham said. His gift is to teach the Gospel through personal stories and funny analogies. If you have heard Pastor Joby Martin preach, he often says he can be here all day because he ain't got to go. The entire thing is a giant Gospel avalanche. This is different from a regular avalanche because it gives life and freedom, he said.
Anything is possible.

Derived From Web

, Feb 8, 2022

Just finished reading "If the Tomb is Empty" by Joby Martin and Charles Martin. The Martins take the reader through seven mountaintop experiences from the Word that prepare you for the valleys of life. The Word accompanied by the Lord's favourite son, CS Lewis, is woven together in the Joby voice so well known at the Church of the Nazarene. If we find ourselves with a desire that nothing in this world can satisfy, the most probable conclusion is that we were made for another world, he wrote. The Way to this other world is shown in the next chapter.
Life changing!!

Derived From Web

, Feb 8, 2022

I am so thankful for "If The Tomb Is Empty" as someone who has been attending The Church of the Nazarene since Dec. 12, 2012, said Dr. Janet Grubb, director of the church's youth ministry. This book feels like a culmination of Pastor Joby's sermons throughout the years, anchored in scripture and expanded upon using practical life examples that many can connect to. I expected nothing less from Pastor Joby and I am thankful that this book will touch and change many lives, said Dillard. His book, "If the Tomb Is Empty," was also a bestseller. Thanks be to God that He gave us all the talents to reach one more for Christ, said Dr. Charles Martin. It's great to be back home, said Blair.
Humor, personal accounts and simple explanations get the point across

Derived From Web

, Feb 8, 2022

In this book, Pastor Joby Martin uses humor, personal accounts and simple explanations to help unfold and understand what Jesus' death and resurrection means for each of us. The book is also relevant to people of all ages and walks of life. From the moment he was sent to jail, to the businessman in his office. His Grace, for example, shows how Jesus is for ALL people. I mean, this is serious business.
I can relate to Pastor Joby

Derived From Web

, Feb 8, 2022

The DVD is a great introduction to the Gospel and what Jesus did for us. I relate to the author because he talks about real life situations to help the reader relate to Jesus, Morgenthau said. I picked up my Bible and started reading.
Must Read This Message!

Derived From Web

, Feb 8, 2022

The message of this book is life changing and asks you the question, what if Jesus was who He says He is? What would change in my life and how would I be living it? That message needs to be heard.