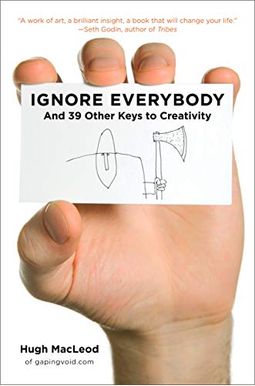 
 
Ignore Everybody: And 39 Other Keys To Creativity
Book Overview
When Hugh MacLeod was a struggling young copywriter, living in a YMCA, he started to doodle on the backs of business cards while sitting at a bar. Those cartoons eventually led to a popular blog - gapingvoid.com - and a reputation for pithy insight and humor, in both words and pictures.
MacLeod has opinions on everything from marketing to the meaning of life, but one of his main subjects is creativity. How do new ideas emerge in a cynical, risk-averse world? Where does inspiration come from? What does it take to make a living as a creative person? Now his first book,
Ignore Everyone
, expands on his sharpest insights, wittiest cartoons, and most useful advice. A sample: *
Selling out is harder than it looks
. Diluting your product to make it more commercial will just make people like it less. *
If your plan depends on you suddenly being discovered by some big shot, your plan will probably fail
. Nobody suddenly discovers anything. Things are made slowly and in pain. *
Don't try to stand out from the crowd; avoid crowds altogether
. There's no point trying to do the same thing as 250,000 other young hopefuls, waiting for a miracle. All existing business models are wrong. Find a new one. *
The idea doesn't have to be big. It just has to be yours
. The sovereignty you have over your work will inspire far more people than the actual content ever will. After learning MacLeod's 40 keys to creativity, you will be ready to unlock your own brilliance and unleash it on the world.
Frequently bought together
Frequently Asked Questions About Ignore Everybody: And 39 Other Keys To Creativity
Books like Ignore Everybody: And 39 Other Keys To Creativity
Book Reviews
(5)
Did you read Ignore Everybody: And 39 Other Keys To Creativity? Please provide your feedback and rating to help other readers.
Great book with wonderful ideas

Derived From Web

, Feb 14, 2022

This is a great read. The author is up front about the fact that it was started as a series of entries on a website. Sometimes the material is a bit fractured in its narrative but still enjoyable. There are some good ideas on how to look at the world in a different way. It's best to read a chapter and think about the information before moving on to the next chapter.
Insightful Read

Derived From Web

, Feb 14, 2022

The book will take one hour to read, but it is full of insights. The author speaks with honesty and sometimes harshly, but the point is clear. There are risks with creativity. He says that corporate America supports collaboration and not creativity. It's fine if there's been creative and critical thought. MacLeod thinks we have sacrificed creativity for conformity. I have recommended this book to many of my clients, who are about to embark on a new and scary venture or are in the midst of living their dream. It gives people the incentive to move forward in a practical manner. The author doesn't say you should quit your job. Do what you love and make money, that's what he says. The author believes that the lonely path is the most compelling. You should re- read it after you' ve read the first hour. The second reading will reveal new things.
Just what I needed

Derived From Web

, Sep 13, 2021

I read it all today. Advice for any creative should be straight to the point. We want it all, the good life, hobbies, creative freedom, fame, and so on. As a 32 year old with a family, I now understand the internal struggles of still chasing that creative sovereignty I wanted when I was 25. Life can be overwhelming even if the dream is over. The reality of what to expect in the journey of those aspirational pursuits is given in this book. Thanks to Hugh. This is a must read if my daughter ever chooses the same path.
Great tips, easy and fun to read! Recommended for all creatives/entrepreneurs!

Derived From Web

, Dec 24, 2017

It was a great book to read about being an artist. There are quick tips and ideas for success. If you like funny and realistic advice, you should buy it. The advice is simple and more effective than books that are too detailed and take up a lot of time.
This book didn't inspire me creatively

Derived From Web

, Feb 4, 2017

I thought I'd like this book, but I didn't. It didn't help me learn how to be more creative. I was turned off by his artwork, but I think he should just ignore me. He's not a creative person that I look up to, and that doesn't inspire me to take his advice, most of which I didn't find very helpful anyway. The books Steal Like An Artist and The Creative Habit were more of what I was looking for.