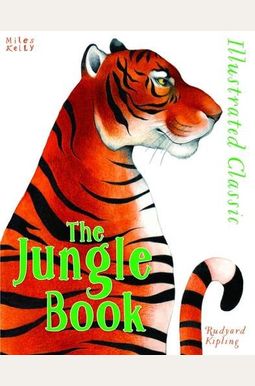  
Illustrated Classic: Jungle Book
Frequently bought together
Frequently Asked Questions About Illustrated Classic: Jungle Book
Books like Illustrated Classic: Jungle Book
Book Reviews
(13)
Did you read Illustrated Classic: Jungle Book? Please provide your feedback and rating to help other readers.
Great Buy

Derived From Web

, Apr 20, 2022

A beautiful book. It is so hard to find good books. This collection is truly exceptional, and I highly recommend it to anyone who values quality over quantity. Only a few are not unabridged, so if that is important to you, make sure you double check before ordering.
Great Classic!

Derived From Web

, Apr 20, 2022

Don't expect the Disney movie that you're used to seeing -- this book is a collection of various stories with Mowgli's only one of them. The stories are not connected, but Kipling's style and straightforward story telling will keep you riveted to each one.
Outstanding

Derived From Web

, Apr 20, 2022

Beautifully designed and well-illustrated, this book is bound to please even the most discerning reader. The publisher has corrected the earlier problems they had with a few of the books, where the text quality was faded and inconsistent in spots. The book is a sharp, witty and authoritative read.
Exceptionally Beautiful Reading

Derived From Web

, Apr 20, 2022

I bought this book for my son to read with his friends. We have the Disney books and movies at home, but since he is an avid reader and I love Rudyard Kipling I thought it was time to find him the real deal. Everything about it, the font type, the illustrations, and the writing is, well, Rudyard Kipling. That is, if the language is beautiful, rich and provocative. After we devoured it, it led to a really deep discussion on the differences between the Walt Disney and the Glinda the Good Witch. It was a welcome reminder that we can over-stimate both our children's capacity to digest and their appeal to them, Mrs Clinton said.
Not a Children's Book

Derived From Web

, Mar 11, 2022

I ordered The Jungle Book for my grandson's future reading, but he will probably need to be in high school to be able to read. This is not a cut-and-paste Disney view of India or the jungle. There is a joy and wonder in telling stories, he said. The two networks bridge us all to a higher level. While he was raised by wolves, he still must pass important tests to become an adult, to return to the human village to become a man in that culture, and find his place in both worlds.
Beautiful Story. Wretched Formatting. Buy a Different Copy.

Derived From Web

, Jul 9, 2021

Rudyard Kipling's "The Jungle Book" was first published in 1896. The book is being published by Johannesburg-based Pretorian Books. It's just that beautiful story should never be formatted so poorly. The book is reminiscent of a coloring book, except there are no images. It's just that the card wasn't redeemed." The paragraph breaks are awkward, the font is extremely small and the margins are extremely small. There is no such a book on the spine because it is too thin, so expect this to get lost on your bookshelf. To say this version is appalling would be too generous.
Very well done, especially the extra illustrations that most don't have

Derived From Web

, Jan 30, 2021

I discovered while reviewing my ebooks this morning that I had, over time, bought five illustrated editions of classics by Paul A. Gray, Robert Louis, Mary Shelley and Charlotte Bronte. The edited and proofed book is a treasure trove of valuable information. He also points out that the company has linked and displayed excellent tables of contents. Newer translations are also available at no cost today. Even the creator of the book had some criticism: "Illustrations by others do not." The book was originally published in 1974 by William P. Drake, P. Frenzeny and John Lockwood, the author's father. The originals, made to look like cut stones, are not nearly as nice, nor in color. OK, so this makes my 19th copy of the book, but at this price, how could I resist? I'm picking up more from this series while I'm at it, even though none of the titles is new to my collection. The Beatles were rated four out of five, and the Stones were rated four out of five. It's great to hear from Dr. Evans again.
Canterbury Classics Edition is Beautiful

Derived From Web

, Jul 25, 2020

Note the reference to the book "Black Beauty" by Rowling's daughter, Cara. Each book has a unique cover with foil stamping and bright color pages. There are a few illustrations of the Beatles' music scattered throughout the book. I have also confirmed with the publisher that all the books are unabridged. These are so, I intend to collect all the books in this line and hope they add more nice to the picture, Mr. Dhaliwal said. His wife, whom he met at the academy, said he was "pretty good looking."
Delightful

Derived From Web

, Apr 5, 2019

The fifth nominee for the book, "The Very Hungry Caterpillar" by John Green, is also a first-time novelist. It is very creative and positive energy, said Blair.
Don't buy this version

Derived From Web

, Dec 14, 2018

I won't review Kipling's classic as it pertains to content, but I highly recommend you buy any other version of this book. The book follows the writer's lead, breaking on full paragraphs with huge amounts of whitespace everywhere. And, unlike the Beatles, the Stones and the Byrds, the Chapters do not break. However, you can have multiple chapters on the same page, but not all of them. It's just that weird. It's like this was an e-book, albeit converted into a poor print, said Dr. Goin. I would highly recommend you look for a book with the second half of these stories. For example, I found a copy of The Jungle Books by Penguin Classics that was immensely superior to this version.