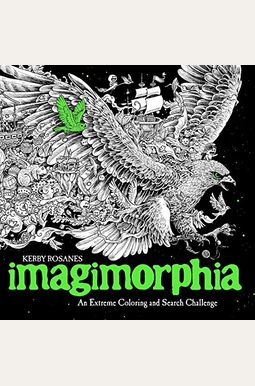  
Imagimorphia: An Extreme Coloring And Search Challenge
Book Overview
Fans of adult coloring books are invited to enter the weird and wonderful world of Kerby Rosanes, the illustrator behind internationally bestselling Animorphia, Geomorphia, Fantomorphia, and Mythomorphia. The perfect stocking stuffer gift for anyone who loves a coloring book challenge
A coloring book like you've never seen before--perfect for colored pencils, crayons, or markers
In
Imagimorphia,
animals and objects morph and explode into astounding detail. Bring each intricate image to life with color and find the objects hidden throughout the book. Printed on quality paper,
Imagimorphia
is a quirky coloring and search book for fans of adult coloring books like no other. An amazing adult coloring book challenge, featuring the strange and superdetailed images of artist Kerby Rosanes. Find your zen as you bring this beautiful art to life
Imagimorphia
is packed full of intricate images of stunning creatures and landscapes morphing and shapeshifting into Kerby's signature, breathtaking scenes. The world that he imagines will excite and transport drawers, as he brings this beautiful fantasyscape and its creatures to life.
Imagimorphia
is an amazing adult coloring book challenge featuring his trademark strange and super-detailed images, and perfect for coloring then posting on the wall or framing. The perfect gift for anyone in your life who loves adult coloring books
Frequently bought together
Frequently Asked Questions About Imagimorphia: An Extreme Coloring And Search Challenge
Books like Imagimorphia: An Extreme Coloring And Search Challenge

Book Reviews
(16)
Did you read Imagimorphia: An Extreme Coloring And Search Challenge? Please provide your feedback and rating to help other readers.
WOW!

Derived From Web

, May 7, 2022

The cover and the accompanying artwork are totally awesome. It's too much for my coloring style. I don't see me completing a single page, but there are a lot of great coloring in it that I will enjoy doing. Don't let my review deter you from enjoying what's great about this book. It says "ExTREME" and "it is." Enjoy the great things this book has to offer, Raymond said. If I had just glanced at this book at a store, I would not have bought it. Amazon has it. If I could give it more stars, I would. I didn't think it was going to be my style that means I am so enjoying this book, I had to come back and update my review. It keeps my imagination active & can use color pencils, gel pens and erasers. Enjoy!
Amazing artwork.

Derived From Web

, May 7, 2022

Amazing artwork... great variety with exquisite details...I'm very excited to dive into this book, and did I mention the book is slightly larger than normal with nice heavy bound paper?
great

Derived From Web

, Aug 2, 2021

These books wish some pics were all on one page and 1 sided that way they are easier to love hang when completed.
great book

Derived From Web

, Mar 1, 2021

One of his best books. Brand new paper is good quality for all pencils and pens. Kerby is a must have for any Kerby collection.
Great Find! Great Price! Quick Delivery! Total Satisfaction!

Derived From Web

, Feb 13, 2021

I absolutely love the series of coloring books. And was super excited to receive these after trying to find them for almost a year! The customer service representatives were extremely helpful and the packages were shipped super fast. Completely satisfied with the service, I am delighted with my purchase.
Amazing during quarantine - if you don't mind the assorted "search challenge objects"

Derived From Web

, Jun 9, 2020

What I'm complaining about is actually the little search challenge objects, which are actually part of the index. It really gets distracting to have to work in a wheelbarrow, telescope, or some other mundane object into the otherwise organic scenes - the search challenge objects just feel out of place in most of the amazing images. The paper is of reasonable quality. I'm sure there are better out there, but I've had little issue and bleed is almost non-existent.
Not any coloring pen you can use ... be carful

Derived From Web

, May 29, 2020

Media was not available for comment. I bought this book based on review and was shocked I cant use Arteza coloring marker. the paper pen are not good enough to hold the color i m so disappointed So i changed to Arteza real brush.
So glad I purchased this BOOK!

Derived From Web

, May 15, 2020

Trust me when I say you will love this book. Second guess yourself, order order. This book is filled with fun, imaginative pages.
Charming and intricate illustrations

Derived From Web

, Jul 19, 2019

A wonderful coloring book with new things to discover each time I open it! The intricate details are large enough to color in but small enough to create a complex page. The book is a work of art waiting for you to make it your own! It takes colored pencils very well but will buckle with light watercolor washes. The water doesnt go through the page but it will warp the paper. I've attached an image I used watercolor on. The only issue I have with this book is the binding. It is a glue so if you break the spine binding to lay the book flat, the pages can easily come loose. Tape has ruined the aesthetics of the book, Reichert said.
Love the artistry

Derived From Web

, Oct 21, 2018

Saw this on you tube and ordered it as I was fascinated with style of artistry. But every single drawing is filled with all the same images. Got tired of coloring fish... aliens.. and same birds. great talent but gets bored after 2nd one. You wind up doing the main characterization and loose interest in finishing as you've been there. done that already..I like to complete pages so it bugs me. Get me wrong, Lord. Great artist. Just wish all the little things were different and related to the main character. Like in t-Rex. All the drawings were done by dinos. But some people like to repeat things a lot, so I found coloring in different colors was a way to help with boredom but not for long. A fish. bird plant is still a fish... etc. no matter what color it is. Especially when it's the exact SAME FISH.. ENJOY HIS IMMENSE TALENT.