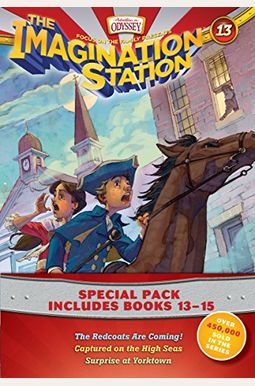 
 
Imagination Station Books 3-Pack: The Redcoats Are Coming! / Captured on the High Seas / Surprise at Yorktown
Book Overview
When they step into the Imagination Station, kids experience an unforgettable journey filled with action-packed adventure to inspire their imaginations. With each book, they're whisked away with cousins Patrick and Beth to embark on a new journey around the world and back in time.

This 3-pack of books 13-15 includes the following: The Redcoats Are Coming , Captured on the High Seas, and Surprise at Yorktown.

#13 The Recoats Are Coming
The first of a three-book story arc about the American Revolution, The Redcoats Are Coming follows Patrick and Beth as they assist the revolutionaries by waking up the sleeping citizens of 1775 Concord before the Redcoats come. In this adventure, the cousins meet Paul Revere, Samuel Adams, and John Hancock. They help smuggle musket balls, sound the alarm that the Redcoats are coming, and deliver a secret message to Paul Revere. Along the way they learn that most of the revolutionaries leaned on God's direction and even pastors helped in the cause.

#14 Captured on the High Seas
British warships battle with American privateers in this high sea adventure. Cousins Patrick and Beth have landed on the Royal Louis in the middle of the Revolutionary War. Cannonballs fly and swords slash. They're captured Now they face even more dangers. Will their new friend James Read More chevron_right
Frequently Asked Questions About Imagination Station Books 3-Pack: The Redcoats Are Coming! / Captured on the High Seas / Surprise at Yorktown
Book Reviews
(8)
Did you read Imagination Station Books 3-Pack: The Redcoats Are Coming! / Captured on the High Seas / Surprise at Yorktown? Please provide your feedback and rating to help other readers.
Great series! Highly recommend!

Derived From Web

, Jun 3, 2022

My 9-year-old son, who struggles to read, absolutely LOVES this series of books! Since kindergarten, my son has struggled to learn to read. Now that he is in the third grade, he has steadily progressed in his reading ability. Anytime I ask him to read the required material, he balks. He then discovered some Imagination Station books on his brother's bookshelf. He started reading and hasn t stopped. In the last 3 weeks, he has read 12 books... WHICH is HUGE for him! I wish these books were still written because I don 't know what he will read next. But I am grateful for the time he has had with this series. Additionally, the books'Imagination Station have a history thread running through them. He is reading and learning at the same time. Focus on the Family thanks you for an amazing series!
My son loved them

Derived From Web

, Jun 3, 2022

He absolutely devoured them and thanked me for buying them. I call this an unmitigated success.
Love these Faith and History centered adventure books!

Derived From Web

, Nov 16, 2021

I bought these to replace the magic tree house books I started with my son, who was buying chapter books. He liked adventure and mystery, but I really disliked the magic - spell - theme of these books. Through some research, I found the books'Imagination Station. They keep my 7 year old very interested in mystery and adventure. I love that they are clean, without any suggestive content or language. I also like history lessons and we are able to talk about what was good about that period of time and what was not and why. He can also read them by himself and we can read them before bed. Amazon has them at a great price and with prime shipping we can read when we finish a book. I love, love, and recommend these books to anyone who wants a good book for their kiddo. I hope they keep coming out with more because we have almost reached the last of the series.
My Kids Loved This Book

Derived From Web

, Aug 14, 2019

Ages 11, 10, 8 and 6 all read it or had it read to them and enjoyed the story. It is good to find this kind of book that also has nice values!
Church vs State

Derived From Web

, Oct 31, 2018

A cautionary note to those concerned about the current deeply divided atmosphere in our country, these books contain overtones that might be considered controversial. contains a sermon in which the separation of Church and State is clearly opposed with a major character agreement. In Surprise at Yorktown, General Washington makes a religious speech in which he calls God the great Lord and ruler of the Nations. History - Content is good, but is seen through a filter that gives these stories a political bias.
Fun stories. Big print

Derived From Web

, Aug 5, 2018

Fun stories to tell. Big Print, occasional chapters and short pictures. This year we used these in combination with Rush Limbaugh's Rush Revere audiobook series and Liberty Kids DVD learning set for our Early American History Curriculum.
Great Series!

Derived From Web

, Mar 19, 2018

I love this series, I can trust for my children and they love them too. In fact, all their friends have read them. Edical, good values and interesting themes!
Worth every penny!

Derived From Web

, Mar 4, 2017

If you are able to order the entire collection just by chance. Hide them and give them one by one to your little reader. My son would gladly complete lessons etc to get his hands on the latest book. He has been reading and rereading the entire series for a few months now. I chose these as an alternative to the magic treehouse and have no regrets about it.