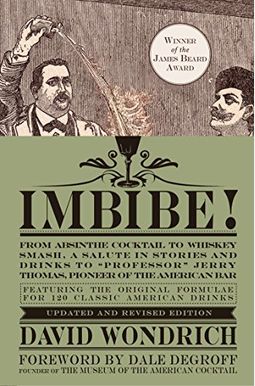 
 
Imbibe! Updated and Revised Edition: From Absinthe Cocktail to Whiskey Smash, a Salute in Stories and Drinks to professor Jerry Thomas, Pioneer of t
Book Overview
The newly updated edition of David Wondrich's definitive guide to classic American cocktails.

Cocktail writer and historian David Wondrich presents the colorful, little-known history of classic American drinks--and the ultimate mixologist's guide--in this engaging homage to Jerry Thomas, father of the American bar.
Wondrich reveals never-before-published details and stories about this larger-than-life nineteenth-century figure, along with definitive recipes for more than 100 punches, cocktails, sours, fizzes, toddies, slings, and other essential drinks, along with detailed historical and mixological notes. The first edition, published in 2007, won a James Beard Award. Now updated with newly discovered recipes and historical information, this new edition includes the origins of the first American drink, the Mint Julep (which Wondrich places before the American Revolution), and those of the Cocktail itself. It also provides more detail about 19th century spirits, many new and colorful anecdotes and details about Thomas's life, and a number of particularly notable, delicious, and influential cocktails not covered in the original edition, rounding out the picture of pre-Prohibition tippling. This colorful and good-humored volume is a must-read for anyone who appreciates the timeless appeal of a well-made drink-and the uniquely American history behind it.
Frequently bought together
Frequently Asked Questions About Imbibe! Updated and Revised Edition: From Absinthe Cocktail to Whiskey Smash, a Salute in Stories and Drinks to professor Jerry Thomas, Pioneer of t
Book Reviews
(17)
Did you read Imbibe! Updated and Revised Edition: From Absinthe Cocktail to Whiskey Smash, a Salute in Stories and Drinks to professor Jerry Thomas, Pioneer of t? Please provide your feedback and rating to help other readers.
Completely fantastic

Derived From Web

, Apr 20, 2022

This book is amazing, the research must have taken years, Robert. The book is well done, has excellent prose and flows, and includes everything. I mean everything about it -- a cross-referencing of the drinks, the history, society at that time -- just terrific. A fun and engrossing read, and I'm dying to try the recipes. I'm more of a fan of history than drinks, but this book really interested me in the origins of liquor cocktails and their place in culture, he said. Overall, I'm pleased with the quality of the books. If you're simply looking for a bar manual or recipe book, this is not the book for you. Very good customer service, recommended.
I am obsessed with this book.

Derived From Web

, Apr 20, 2022

I am surprised by how effective Wondrich's passions are transferred to the readers of IMBIBE. I am simply obsessed with this little book, Raymond said. It's ridiculous, I wish it was three times longer. I ran out of Bols Genver and I am regularly filling my friends with concoctions from the mid-19th century, and they're lovin it. He also said that Dr. Goin had a "particular favourite." A graduate of Yale and Columbia University, Wondrich has a seductive, learned, sly, and wonderfully trenchant writing style. It's a bloody wonder. Where have you all my life?
entertaining, but not for research historians seeking info

Derived From Web

, Apr 20, 2022

Jerry Thomas, the writer, was an alcoholic. Most of the time, the writer neglects to cite footnotes or bibliography, leaving the reader without a full reference to research. Great disappointment for the historian or anyone else who wants to further investigate the subject.
Just ok

Derived From Web

, Apr 20, 2022

I'm not a big fan of Dr. Goin's book, but I got this book looking for reading materials on a few long flights. It can be challenging to find interesting fooddrink books because they can devolve into a big list of recipes, which is not very interesting material. 0 14622616 This is not very interesting material, so I think it's best to leave it at that." The first couple of chapters are good, but it becomes more like a reference manual after that. Because it's not that suitable for airplane reading, it's not recommended. 0 1462228 1492201 It's not recommended for airplane reading, even if you have an open bar in first class. The writing is a little self-serving at times, but generally interesting, clear and entertaining. But I would recommend that people read a History of the World in 6 Glasses before they are ready to try new cocktail recipes.
I like the content, but the writing style leaves something to be desired...

Derived From Web

, Apr 20, 2022

I enjoy trying different cocktails and I'm very much looking forward to this book, she said. I do enjoy its content, however the writing style obscures the content, Garton said. His frequent use of witty or period-appropriate quips is tiresome, even for a novelist. It reads like the author is in his cups and forth holding the other patrons of a bar. But I'm a sober reader.
Bravo

Derived From Web

, Apr 20, 2022

By digging through so much of the cultural history and evolution of drinks, he has shed light that will help everyone better understand all the past histories. The author's background as a professor of comparative literature has to be part of what made this a pleasure to read, Raymond said. It's going to be a true classic. It's a must read for all lovers of the art of cocktails.
"A cat can gaze upon a king..."

Derived From Web

, Apr 20, 2022

After a Dry Martini or a Sazerac Cocktail or two, we're all cats. This is the best book I've read this year. Part biography, part history and part mixology. If you enjoy the odd cocktail or two, you owe a measure of thanks to Jerry Thomas, the professor who teaches at the university. In the late 19th century, Jerry perfected and prodded forward the development of the cocktail. His life was interesting and productive, Hughes said. The book gives you many of the recipes from his book with modern translations. I have been experimenting with the recipes and have had one or two slow mornings, oops. It's well worth the investment. It's just that you leave the vodka in the cabinet.
Great Cocktail history

Derived From Web

, Apr 20, 2022

This is one of the first books I picked up when I started to get serious about bartending, and I was not disappointed! If you're looking for easy to use recipe for classic cocktails then this might not be the book you're looking for, but if you're looking to learn a few things about the history, recipes, and methodology behind some great drinks from a great period in bartending that has long since been lost, then this is exactly the book you're looking for. I HIGHLY recommend that you add it to your collection! It's great to be back home, said Blair.
Bunch of pretentious garbage

Derived From Web

, Dec 14, 2021

Clearly, this book is written by someone who has never stepped foot in a bar. It's full of pretentious nonsense with make believe stories of the origins of cocktails.
The source of all bad thinking and writing on cocktails

Derived From Web

, Sep 28, 2021

The 12 Bottle Bar is an excellent example of how this could happen. He's not writing, he's holding forth, and his lazy, meandering syntax suggests that he was probably drunk or at least buzzed while doing so, even when I tried to skim.