Buy 3 Get 1 Free
Our Best Sale Yet! Add 4 Books Priced Under $5 To Your Cart     Learn more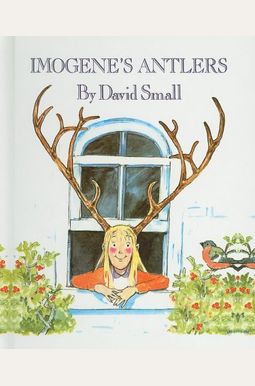 
 
Book Overview
This Description may be from another edition of this product.
This whimsical story of a little girl who wakes one morning to discover she has grown antlers has delighted children since it was first published 15 years ago. The perfect Christmas present for any kid looking forward to a visit from Santa's reindeer--or any reader looking for some year-long fun
The family doctor, the school principal, and even Imogene's know-it-all brother, Norman, fail to resolve her dilemma. Imogene, the cook, and the kitchen maid, however, make the best of things, finding unusual uses for Imogene's new horns. Meanwhile, the problem appears to be solved when Imogene awakes the next morning antler-free.But the family (and the reader) are in for a surprise when Imogene comes down to breakfast. . . .
Frequently bought together
Frequently Asked Questions About Imogene's Antlers
Books like Imogene's Antlers
Book Reviews
(15)
Did you read Imogene's Antlers? Please provide your feedback and rating to help other readers.
Winsome, confiding and happy story for kids from 2 up

Derived From Web

, Jun 3, 2022

I was surprised to see this book for 4 and up it is loved by my daughters from 2. It is a beautiful, fun and well illustrated story about Imogene, who wakes up one day to discover that she has grown a pair of antlers. These are not small and discrete, but a full spread. And so this is how Imogene handles her day with great fun. Her mother is not so convinced and spends her time collapsing, IMogenes'; brother Norman discovers she has been transformed into a rare form of miniature elk. Imogene loves having antlers, she can feed the birds, play the piano, although dressing up is difficult, but the cook says it will be fun to decorate for Christmas. Lovey whimsical illustrations in a very 50 style, which appeals to me for this kind of story. There is a great amount of detail in them, which I think has a good appeal for young readers. There is a marmalade cat and a rangy old dog, which also appears here and there. Highly recommended reading for adults and children.
A classic

Derived From Web

, Jun 3, 2022

One of the many wonderful things about having children in one's life is that they bring you to fantasy or pretend with such ease. Normal is abnormal. David Small's Antlers by Imogene is a wild example of luscious imagination, which is welcomed eagerly in childhood. There is no explanation for how this happened or why this happened. Now I don 't mean to suggest that some of the people in the story do not flip out --- they do. Heavens, thank you. The scenes of Imogene's mother fainting are fantastic in their drama and yet simple. How fun for a child to think about making his mother growl, the principal faint and the doctor confused. Imogene's Antlers is right on its way to becoming a classic in children's literature.
Whimsical story

Derived From Web

, Jun 3, 2022

As a child, Imogene's Antlers was one of my favorite books. I had the book with the cassette tape and it really brought the story to life. Imogene is a young girl who wakes up one morning to find she has grown antlers, but instead of hide in her room, Imogene faces the day with confidence and accepts her fate. This book is fun for children and parents too, and I think it teaches a valuable lesson about being different. At the risk of seeing symbolism where there is none, I think it suffices to say that this is a funny book that will put a smile on the face of your child.
One of the most beloved books EVER!!!

Derived From Web

, Jun 3, 2022

I have an autographed copy of this book, and from the moment I read a little girl with antlers, I was hooked. Years later this story still captivated me enough that when my husband asked me what we would name our new little kitten, I popped with Imogene! It suits some time! Whether you believe it or not! This book I talk about with all childhood wonder and love and reverence due to it. It is the most delightful book to read to a child, and the ending is just as fun! Too bad, David Small hasn 't written another book to follow! I 'd buy it in a heartbeat! I love this book and I CANNOT wait to read it to my children!
Short and sweet with charming illustrations

Derived From Web

, Jun 3, 2022

This book is simple with short texts. She particularly liked how her antlers changed through the book with everything from birds landing on them to holding candles to light her piano music to holding donuts. Imogene's Antlers was a hit in our house, especially when Imogene wound up with her antlers gone, but instead with a bum full of Peacock feathers at the end.
On Facing Adversity -- For the Young and Young at Heart

Derived From Web

, Jun 3, 2022

My children love Imogene's antlers. It is a fun, quickly moving story about Imogene, who awakens to find herself be-antlered one day. What I like most about the book is the underlying story of resilience that it tells. She embraces it, accepts it and has fun with it. Enjoy!
Silly, pointless bit of fun :)

Derived From Web

, Jun 3, 2022

One day, Imogene woke up with antlers. Right? Well, happens to the best of us. This may cause a few problems but easily adapts. Yes, her mother may faint and her principal may appear dazzling, but antlers! You can lay doughnuts for the birds on them and light candles to light the room. The problem comes as fast and mysteriously as it went, but it is met with a new Peacock tail! In this book there is no great moral or revelation, it is just a silly story.
Imogene's back!

Derived From Web

, Jun 3, 2022

What is a girl to do when she wakes with antlers on her head? I remember this book from way back! The story is simply told with wry humor and the illustrations are snubs and clean. It is so good to see it back in print for a whole new generation to discover. I have already introduced it to my friend's child, who now wants to wear antlers for Halloween. If you read this book as a kid again, then run and read it now. You won 't regret it.
Creative and whimsical story

Derived From Web

, Jun 3, 2022

A new type book about a girl who wakes up with antlers and has to adjust to her fun and whimsical headpiece, while her parents worry about what to do about them.
Very funny

Derived From Web

, Jun 3, 2022

My 5-year-old remembers this from her pre-kinder class and asked me to read it again to her. She loves it so much that I bought it and went ahead and bought the kindle version. We both love the humor of this book and the ending gets us giggling every time. It is a very short book and it has caught the attention of 26 pre- K students, plus my daughter has spoken about this book ever since I read it to her pre- K class.