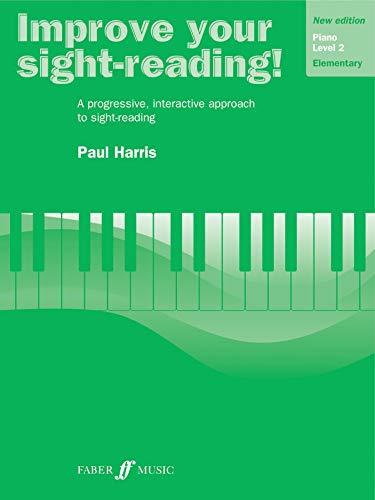 
 
Improve Your Sight-Reading! Piano, Level 2: A Progressive, Interactive Approach to Sight-Reading
Frequently bought together
Frequently Asked Questions About Improve Your Sight-Reading! Piano, Level 2: A Progressive, Interactive Approach to Sight-Reading
Book Reviews
(7)
Did you read Improve Your Sight-Reading! Piano, Level 2: A Progressive, Interactive Approach to Sight-Reading? Please provide your feedback and rating to help other readers.
Not quite what I expected

Derived From Web

, May 21, 2022

This is a good study for the eye reading. It isn 't. It is good for what it is.
Not fun, but good

Derived From Web

, Jul 7, 2021

If you are learning piano or teaching yourself, but do not like drills, this is not for you. If you are the type to say ok, it's not great, but it is good and worthy and I want to be a better site reader '', then this is a great book. Essentially, what you get is a section you clap with as you count and pay attention to the notes and time. Then you have about 10 little one line pieces that you play. Each page seems to work on something new and gradually builds up on itself. For example, you start with quarter notes then add sharps and flats and eighth notes and then slurs and ties... you get the idea. The pieces are short, fairly easy to play and you will improve your reading of the site. Thoughts are not exciting or fun, what they are.
Helpful

Derived From Web

, Sep 11, 2020

This book was very helpful in building my sightreading skills. Personally, I have been playing since I was around 6 years old, but I was taught by myself and never learned to see well. This book helped me to go back and work on sightreading, really recommend if you have a similar situation!
Challenging for its level

Derived From Web

, Jan 9, 2018

I use the FJH Sight Reading andRhythm series every day and am on Level 3B. I have been reading from Alfred's all-time favorites Level 1 and the Faber Classicsjazz and BluesChristmas books Level 3. Harris'book at Level 2 is still tricky if you focus on all the articulations. But they are not very interesting to play. I like the FJH - Sight reading and rhythms every day series better.
I think this is a great series of books to improve sight reading

Derived From Web

, Jul 28, 2017

I think this is a great series of books to improve the sight reading experience. It is well designed and consisting of several exercises with a focus on short keys at a time. The tunes are also pleasant.
Exactly what I needed.

Derived From Web

, Apr 28, 2017

I'm on the book two, it is very basic, which is exactly what I needed! Reading sight at the piano is quite difficult for me, but I finally take the time to practice, and this book is a great resource. I will buy the next level, and hope there are more to come. I included a scan of a page just to show the difficulty level, I hope that it is not a copyright offense. Also the pages lay flat easily, so the book is very cooperative, which is usually not mentioned in reviews.
This is a great series.

Derived From Web

, Jan 10, 2017

Simple, straightforward exercises that help with the sight reading practice definitely help. I bought this for my student, but I am also using it for the practice of sight reading.