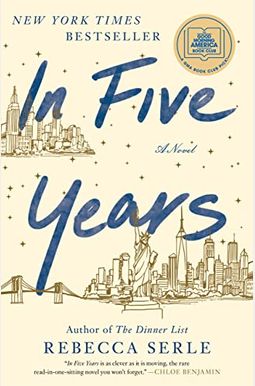 
 
Book Overview
This Description may be from another edition of this product.
A Good Morning America Book Club Pick Perfect for fans of Me Before You and One Day--a striking, powerful, and moving love story following an ambitious lawyer who experiences an astonishing vision that could change her life forever. Where do you see yourself in five years? When Type-A Manhattan lawyer Dannie Cohan is asked this question at the most important interview of her career, she has a meticulously crafted answer at the ready. Later, after nailing her interview and accepting her boyfriend's marriage proposal, Dannie goes to sleep knowing she is right on track to achieve her five-year plan. But when she wakes up, she's suddenly in a different apartment, with a different ring on her finger, and beside a very different man. The television news is on in the background, and she can just make out the scrolling date. It's the same night--December 15--but 2025, five years in the future. After a very intense, shocking hour, Dannie wakes again, at the brink of midnight, back in 2020. She can't shake what has happened. It certainly felt much more than merely a dream, but she isn't the kind of person who believes in visions. That nonsense is only charming coming from free-spirited types, like her lifelong best friend, Bella. Determined to ignore the odd Read More chevron_right
Frequently Asked Questions About In Five Years
Book Reviews
(15)
Did you read In Five Years? Please provide your feedback and rating to help other readers.
Engrossing and fast read, worth picking up.

Derived From Web

, Jan 7, 2022

I started this book about five hours ago. It flows well, the characters are well-written, and there is a slow release of information. Three quarters in and the end felt rushed. I'm glad I took the chance on this book. I'm a crier in the sad parts. It would be a good read for casual readers.
A true masterpiece!

Derived From Web

, Nov 6, 2021

This book is very good. When I was not reading it, I was thinking about it. I loved the development of the characters and the love they had for each other. The book should be longer. I don't want to give away any information in my review. You are missing something if you haven't read this book yet. Well done Rebecca Serle!
Sobbed

So good. Nothing like what I expected it to be and somehow still perfect. I have a five month old and read it in six hours.
Good book, but slightly disappointed with the plot

When opening up "In Five Years", I had envisioned a different storyline than what ended up being.
It was by no means hard to read, but it was slightly predictable and anticlimactic. I had heard such great things about the novel so I was really excited to read it and when it didn't live up to the expectations of those previous reviews.
A good read if you like things that talk about fate and trying to change the inevitable. It won't be a total loss if you don't read this book.
WOW! What a fantastic book!

Derived From Web

, Mar 4, 2021

Well written! A book! Absolutely wonderful! I read it in one day. I couldn't put it down. Definitely a must read. What a book. It is an unforgettable love story. They weren't joking when they said you wouldn't be able to put it down. I read it in a day. There is a book about romance and friendship. The book was well written and had me in tears. I highly recommend it. I can't wait to read more by this author! I'm ready to read this book again.
Suspenseful

Derived From Web

, Dec 29, 2020

The book was refreshingly original and I enjoyed it. When is a dream not a dream? Over the course of the next five years, it will come true. I liked how the story unfolded to show how impossible it is. The main character was perfect for me. My characters get beaten up a bit more in life. The plot and writing skills made this a hard-to-put-down novel, when I needed it the most. I am looking forward to read more by this writer.
Wow.

Derived From Web

, Aug 10, 2020

The summary doesn't include the fact that a main character dies. There is that. A highly edited version of an outline of a table of contents with words in it. Poor quality! Halfway decent idea and a story that is likely to happen all the time.
BUMMER BOOK

Derived From Web

, Jun 15, 2020

I didn't like this book at all. The time travel is not relevant to the plot at all. The book is disappointing. It was sad but not what I expected. I was looking for a good time and this was not it.
Strong start

Derived From Web

, May 15, 2020

I was very excited when it started. The author is trying to say that you shouldn't be in control of life all the time. This was poorly executed, honestly. If she had this vivid dream and knew his name and everything from the beginning, why didn't she search for him first? If her love story is about her friendship, why bring him in? He did not do much. David is poor. It was all over the place. The beginning was wonderful. I was very excited. I was waiting for a climax that never came. Very dead.
Oh my ....

Derived From Web

, May 5, 2020

People need a little joy because of the COVID virus. Don't read this if you are that person. It isn't a feel good story. Not what I was expecting at all. I wouldn't recommend it. That is all about it.