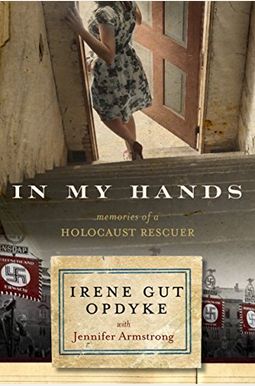  
In My Hands: Memories of a Holocaust Rescuer
Book Overview
No matter how many Holocaust stories one has read, this one is a must, for its impact is so powerful.--School Library Journal, starred
I did not ask myself, Should I do this? but How will I do this? Through this intimate and compelling memoir, we are witness to the growth of a hero. Much like The Diary of Anne Frank,
In My Hands
has become a profound testament to individual courage.
You must understand that I did not become a resistance fighter, a smuggler of Jews, a defierof the S and the Nazis, all at once.
When the war began, Irene Gut was just seventeen: a student nurse, a Polish patriot, a good Catholic girl. Forced to work in a German officiers' dining hall, she learns how to fight back.
One's first steps are always small: I had begun by hiding food under a fence.
Irene eavesdropped on the German's plans. She smuggled people out of the work camp. And she hid twelve Jews in the basement of a Nazi major's home. To deliver her friends from evil, this young woman did whatever it took--even the impossible.
Frequently bought together
Frequently Asked Questions About In My Hands: Memories of a Holocaust Rescuer
Books like In My Hands: Memories of a Holocaust Rescuer
Book Reviews
(17)
Did you read In My Hands: Memories of a Holocaust Rescuer? Please provide your feedback and rating to help other readers.
A must read!

Derived From Web

, May 9, 2022

The potential buyer can read all the other five-star reviews to find out what this book is about. I just want to make two comments. One, I cannot remember writing my close friends and telling them they MUST buy and read any book. After I finished this book, I did just that, saying that you absolutely must read about this Polish girl's courage and sacrifices while saving potential holocaust victims. I want to acknowledge the writer of the book, Jennifer Armstrong. It is difficult to imagine a writer sweating profusely trying to guarantee that the reader will always think it is the author who is telling the story, not the writer. In this Jennifer Armstrong did a truly outstanding job because you never doubt that it is Irene who is telling you her story. Good work, Jennifer. I wish we could meet over a glass and discuss your trials as you were doing the writing.
Another Holocaust account but different

Derived From Web

, May 9, 2022

I have read many books on the Holocaust, among other things, for educational purposes — history tends to repeat itself when history is ignored! This story is a bit unique in that it focuses on the many honorable Germans who helped rescue and save, Mr. Dhaliwal said. Not written in a way that I could call it a page-turner per se, but worth reading. And, of course, there are those who complain about copyright infringements.
Amazing story....Thank you Irene!

Derived From Web

, May 9, 2022

Amazing doesn't depict this book, which is more than that! It's almost like a nightmare what this gal had to go through, Mr. Booher told the judge. She was a total survivor, and took unbelievable risks to save some of her Jewish friends, Morgenthau said. Lord help us all. Thanks so much for sharing this with us Irene! You are probably one of those people who had to be told your story.
Hero's come from many walks of life.

Derived From Web

, May 9, 2022

Great read. This book kept me engaged throughout. There are so many hero's doing so many different things to add to the Nazi resistance, Ava said. A lot of luck and timing was involved, too.
Memoir of a heroine

Derived From Web

, May 9, 2022

Memoirs of ordinary people during extraordinarily horrific times always make me wonder just how courageous I would be under similar circumstances. Her experiences during World War II in Europe are legendary bravery. She states she did what she thought was right, repeatedly. It's a testimony to stand up for the down-trodden and for what one believes.
Loved it so much got the book and the audio book.

Derived From Web

, May 9, 2022

First I listened to the book on audio. I liked it so much I got the book a year later. Amazing story of survival. Hiding right in a Nazi officers home. WOW! Courageous. A must read for those who what to never forget. Uplifting to what we can and will do for others when we have to.
The Other Irene

Derived From Web

, Apr 27, 2021

After reading a fictional treatment of the life of Irene Sendler, I found this book here at Amazon, believing it to be a more factual account. Just a few pages into the book, I discovered this was about another brave woman, Irene Opdyke. Like Irena Sendler, Irene Opyke was named one of the Righteous Among the Nations and was asked to plant a tree at the Yad Vashem Memorial in Jerusalem. This Polish woman risked her life saving Jews during the Nazi occupation of her native Poland. Collaborating with Armstrong on a book, she writes her story in clear, sometimes lyrical prose. The world must not forget them. The reader is inspired just by reading IN MY HANDS to seek ways in which to make the world a better place.
Living in and overcoming the nightmare

Derived From Web

, Jun 1, 2020

The author brings you into Helen's soul as she overcomes one challenge after another during the Nazi rule over Poland. This is a very young girl, said Dr. Julie Gerberding, director of pediatric neurosurgery at the Children's Hospital at Montefiore. She matures as she works in a hospital, resistance, and finally in a Nazi restaurant. She experiences many escapes and recovers from starvation and endemic diseases. Truly deserving of the Israeli honors, he said. She is a person i would have been thrilled to know.
Riveting History Relevant Today

Derived From Web

, Feb 10, 2020

In My Hands, we are presented with a stunning perspective into the depravity engendered by hatred and war, and the horrors of the Holocaust, contrasted with the beauty of the human spirit and the power of one person for good. The level of vilification and othering portrayed in the book is hauntingly mirrored in society today, and is a guidepost for what's possible with the intervention of good people who give a damn, Graham said. That is, if we take action. In My Hands deserves to be on the recommended reading list in any level of social science education and to be passed among friends as a reminder that we all have a choice, he said.
Inspirational Story of a Courageous Young Woman

Derived From Web

, Feb 6, 2020

She was a Roman Catholic girl when the Germans invaded Poland. She and her family were just trying to get through the war without starving when she took a job at a restaurant frequented by SS officers that was just outside the ghetto fence. She never really decided to be a rescuer. Her compassion and strong sense of right and wrong led her to do the right thing, Crosby said. At first she would sneak leftover food out of the restaurant and push it under the ghetto fence. One led to another and another until she was hiding 13 people in the basement of the Nazi officer's house and ferrying supplies to partisans in the forest. She writes what she was feeling as well as what she was doing. She had to do things that were wrong under most circumstances and believed she was committing sins, but did it anyway. The story follows through to the end of the war and beyond.