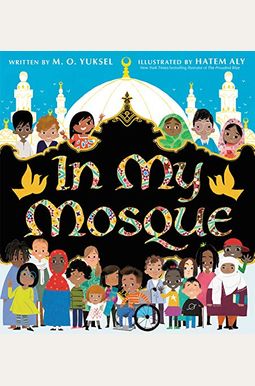 
 
Book Overview
This marvelous, welcoming book on mosques, Muslims, and Islam is a must, offering foundational knowledge on the world's second largest religion. --School Library Journal (starred review)

Step in and discover all the rituals and wonder of the mosque in this lyrical debut picture book from M. O. Yuksel, with gorgeous artwork from New York Times bestselling illustrator Hatem Aly. A great conversation starter in the home or classroom, this book is perfect for fans of All Are Welcome and The Proudest Blue.
No matter who you are or where you're from, everyone is welcome here. From grandmothers reading lines of the Qur'an and the imam telling stories of living as one, to meeting new friends and learning to help others, mosques are centers for friendship, community, and love.
M. O. Yuksel's beautiful text celebrates the joys and traditions found in every mosque around the world and is brought to life with stunning artwork by New York Times bestselling illustrator Hatem Aly (Yasmin series, The Proudest Blue, The Inquisitor's Tale). The book also includes backmatter with an author's note, a glossary, and more information about many historical and significant mosques around the world.
Frequently bought together
Frequently Asked Questions About In My Mosque
Book Reviews
(10)
Did you read In My Mosque? Please provide your feedback and rating to help other readers.
Beautiful

Derived From Web

, Feb 4, 2022

It is wonderful to introduce children to different cultures. It is lovely to learn someone or to give information about other people. The big and colourful was great. For children and adults alike, very engaging. A must buy a new car.
I really love this book

Derived From Web

, Oct 2, 2021

Really beautiful illustrations in which many real mosques were included, easy to write as an introduction to the events that take place in mosques, I have replaced the word mosque with Masjid, which we usually use in our conversations. I highly recommend this book.
Beautiful book!

Derived From Web

, May 14, 2021

This book has filled me with peace and light. I have never been in a mosque, but I have been in temples and cathedrals and have felt a closeness and connection to the divinity. From this book, I can only imagine that I would have similar feelings when visiting a mosque. Hugs from aunties, passing prayer mats, the chanting, the serving together... the is such a sense of connection portrayed in this book. Bright, colorful, patterned -- it is really quite stunning! After reading this book, I felt such a connection and similarity to Muslims. There is more that connects us than divides us. I really hope that you'll give this book a look!
A great resource for those who want to learn more about Islam and mosques

Derived From Web

, Apr 7, 2021

Having visited many mosques around the world, it was great to see them represented in the book. The author's charming writing style, coupled with the lyrical illustrations, really captures the attention of the reader. With a growing Muslim population in the USA, there have been many new mosques under construction as well as those that some tried to burn down unfortunately. I hope that children and their parents, who are unfamiliar with their Muslim neighbors or curious about what takes place inside a mosque, read this book and realize that we have more in common than what separates us. I am looking forward to seeing more books by this author.
A gentle introduction to Islam for children

Derived From Web

, Mar 29, 2021

Not only is it a beautiful, colorful book, but one that echoes with joy and happiness the joy that a religion can bring. Bringing a controversial light on a refreshing topic should serve as a starting point for discussion and research. Notes in the back of the book, All about Mosques, Glossary, Author's note and list of historical mosques were a splendid addition.
Great Book!

Derived From Web

, Mar 29, 2021

My daughter loves the book absolutely! Most notably when she linked about what she knows and what is illustrated in the book! It is also a great book to remember a mosque for children who forgot about the mosque because of COVID restrictions. Book is great! Author : Thank you!
Stunning book!

Derived From Web

, Mar 25, 2021

The word that comes to mind for me when I think about this book is breathtaking. Both languages and illustrations create huge joy and peace in feelings of great joy. In the United States, Islamic faith is so often distorted and weaponized. IN MY MOSQUE offers a practical and compassionate exploration of the truth of Islam as well as a glimpse into the interior of actual mosques. I was absolutely transported when I read that book, and my interest in visiting mosques and learning more has definitely increased. If that is for me right now as an adult, imagine how true it will be for children! This is a picture book that is lifted to magic by the perfect pairing between the beautiful lyrics and the jaw-dropping illustrations. I've been living '' in this book honestly. -) Must read the book!
Mostly well done

Derived From Web

, Mar 24, 2021

I always try to buy books like this for my children, and was excited to preorder when it came out. My only complaint is that, since the book is focusing on people of all colors, etc. in the mosque, that it would have reflected someone Nea praying in one of the illustrations of Shia. I am Shivaa and we don 't fasten our hands when we pray. It is a small complaint but since I like to show my children books about us '', some inclusivity in this way would have been nice. I know it's a high order, so I am not surprised, but it is a bummer because if you pay attention to this stuff, this book is geared towards Sunnis.
This Book is Phenomenal! An Accurate Depiction and Story of a Mosque

Derived From Web

, Mar 24, 2021

The illustrations will amaze you! I love how Hatem has a different mosque on each page from different parts of the world. The pictures showed children with whom any kid will connect. It is just what needs this world right now. A book that shows how much we are all alike! I would recommend this book highly to everyone. Zainab Khan is a famous Afghan.
A new favorite

Derived From Web

, Mar 23, 2021

JOY! This time, Hatem Aly really outdid himself! I have read every other book he has illustrated and In My Mosque is my favorite.