Buy 3 Get 1 Free
Our Best Sale Yet! Add 4 Books Priced Under $5 To Your Cart     Learn more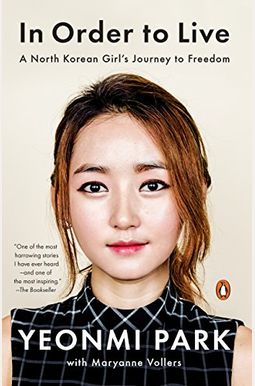  
In Order To Live: A North Korean Girl's Journey To Freedom
Frequently Asked Questions About In Order To Live: A North Korean Girl's Journey To Freedom
Books like In Order To Live: A North Korean Girl's Journey To Freedom
Book Reviews
(12)
Did you read In Order To Live: A North Korean Girl's Journey To Freedom? Please provide your feedback and rating to help other readers.
Harrowing and Haunting, Extremely Educational and Inspiring

Derived From Web

, Jan 28, 2022

Written very simple and straight forward, very truthful and extremely detailed. It is a harrowing story and can be unbelievable in many parts. This is just a very important book to read : It is amazing and horrifying what we allow to happen to the modern people, a North Korean Holocaust, a modern day Holocaust, largely ignoring the world. A riveting book that you 'll power through in a day or less, absolutely can 't put this one down.
Goes to the heart

Derived From Web

, Dec 1, 2021

Such a sad and hopeful book, all in one. An example of the best humanity is capable of and also the worst -- and very well written, to boot. An inside look at life in North Korea, what it is like to escape -- not because you want freedom, but because you are starving, then learn what it is like to learn about freedom and find it and treasure it. This is a book that stays forever with you.
A book you will never forget

Derived From Web

, Jun 16, 2021

I was blown away by this story of this young girls. To be able to write a story about the first 15 years of your life, means something terribly wrong or amazingly right. So much respect gained for the things we take for granted here in America. I never knew the atrocities of North Korea in detail and this book has shown me how dreadful life can be without freedom. It is time to remember this in our own country once again!
Powerful

Derived From Web

, Jan 10, 2021

This girl is amazing. Writing her experience, she really did a beautiful job writing her experience. The pain, fear and joy could be felt throughout the book. I'm so happy for her and her family ''. I wish them nothing but happiness, success and love.
In our minds we knew

Derived From Web

, Nov 29, 2020

Yeonmi Park's well written life story puts into words what we all knew what has happened and is still happening to the people of N. Korea. Starvation camps, death camps, families punished for the alleged crime of a member. Political corruption, bribes. A world upside down from the civilization we live in. Hitler, Stalin and his father are equal to Kim Jung and his father, and other murderous thugs who rule by fear. The book is well written, detailed in the horrible young life of a girl who dreamed of bread and freedom.
She tells us what we have forgotten

Derived From Web

, Oct 8, 2020

Why did we fight so hard to create this country? '' What horrors did our forefathers try to save us from? We have lived the easy life for so long that, dictatorships and evil regimes are just shadows and rumors. Yeonmi traveled on a very dark road to bring us a message. The freedom is not free and the price we pay for losing this freedom is beyond the imagination of soft, well-fed Americans who have never been under the grinding boot of a despot. Yeonmi gives us a firsthand account of the dark side of human nature. Some strange part of human behavior makes us easy targets for sweet-sounding ideology. We willingly support the creation of a government that promises to tap our every need, but ends up filling every ounce of our productivity. If we forget these lessons, our grandchildren will be scrabbling in the dirt for frozen potatoes, their free will be shaved away with no awareness that a choice even exists.
Terrifying Journey

Derived From Web

, Nov 18, 2018

Years of near starvation survive Yeomi and her family. Yeomi and her mother fled into China believing that they will soon meet with Yeomi's elder sister, who first went. Years pass before they are finally reunited, but Keomi and her mother never stop looking for her. This is a happy ending, but North Korea continues in its human rights abuses and works to convince their starving people that they are lucky to live in the greatest country on Earth.
Eye-opening

Derived From Web

, Oct 12, 2018

Everyone knows that North Korea is an oppressed country, but this book takes the reader inside and shows them what a normal family life is like. Written by a now 24 year old who was a young teenager when she finally escaped with her mother because she was starving and would do anything for food, she chronicles what the average escapee goes through for freedom. Her resilience and the will to live will inspire you, and now I know exactly what goes on inside that country. So important, but sad to know the details.
A story about a young woman's escape from North Korea

Derived From Web

, Dec 17, 2017

I really enjoyed reading this story about the life of Yeonmi Park and her family in America and their eventual escape via China and then South Korea. She and her mother and father endured so many trials in North Korea and later in China. So heart-wrenching to learn about life under the communist dictatorship and also as an immigrant in China. It takes desperation and courage to even contemplate an escape from this cruel country.
Gripping book. I can't believe some of the things ...

Derived From Web

, Nov 28, 2017

Book by Gripping. I can not believe some of the things that this girl has to go through. This was a very easy read in terms of how well it was written and I read through it quite quickly, but it was difficult to digest some of the content. It opens your eyes to the struggles of the people in North Korea and makes me want to go to South Korea and volunteer with the refugees to help them learn more about the world.