Buy 3 Get 1 Free
Our Best Sale Yet! Add 4 Books Priced Under $5 To Your Cart Learn more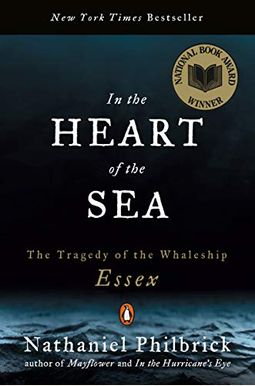 
 
In The Heart Of The Sea: The Tragedy Of The Whaleship Essex
Book Overview
This Description may be from another edition of this product.
In the Heart of the Sea brings to new life the incredible story of the wreck of the whaleship Essex--the inspiration for the climax of Moby-Dick. In a harrowing page-turner, Nathaniel Philbrick restores this epic story to its rightful place in American history.In 1819 the 240-ton Essex set sail from Nantucket on a routine voyage. Fifteen months later, in the farthest reaches of the South Pacific, it was repeatedly rammed and sunk by an eighty-ton bull sperm whale. Its twenty-man crew, fearing cannibals on the islands to the west, made for the 3,000-mile-distant coast of South America in three tiny boats. During ninety days at sea under horrendous conditions, the survivors clung to life as one by one, they succumbed to hunger, thirst, disease, and fear.In the Heart of the Sea tells perhaps the greatest sea story ever. Philbrick interweaves his account of this extraordinary ordeal of ordinary men with a wealth of whale lore and with a brilliantly detailed portrait of the lost, unique community of Nantucket whalers. Impeccably researched and beautifully told, the book delivers the ultimate portrait of man against nature. At once a literary companion and a page-turner that speaks to the same issues of class, race, and man's relationship to nature that permeate the works of Melville, In the Heart of the Sea will endure as a vital work of American history.
Frequently bought together
Frequently Asked Questions About In The Heart Of The Sea: The Tragedy Of The Whaleship Essex
Books like In The Heart Of The Sea: The Tragedy Of The Whaleship Essex
Book Reviews
(12)
Did you read In The Heart Of The Sea: The Tragedy Of The Whaleship Essex? Please provide your feedback and rating to help other readers.
Unable to put it down

Derived From Web

, Apr 23, 2022

What was most interesting to me was the story of how the crew dealt with the event, their tenacity, ability to endure enormous suffering, and willingness to follow leaders, even with very different skill sets, said Dr. Richard. Goin. Lots of revealing about the community of Nantucket, the construction of the ships, how the crews were assembled of novice and veteran whalers, the sheer enormity of the task of finding, killing, rendering and sailing these relatively small, relatively fragile ships thousands of miles into unknown waters. These were courageous, if not desperate, men, he said.
HM

Derived From Web

, Apr 23, 2022

It was a lot of fun, said Blair. I am not sure to whom I would recommend this, Garton said. If you enjoyed Moby Dick, you would love it, Mr. Rule told the judge. I agree with many scholars who are far brighter than me that Melville is one of the great literary novels of American fiction, but that does not mean that I really enjoyed reading it for many of the reasons others did not. It's just that I don't respect it. In the Heart of the Sea works for me because it almost acts as a Epilogue of sorts—though I think it would be better served as a Prologue.
An Amazing Story

Derived From Web

, Apr 23, 2022

Captain Smith says the real story is that a whale intentionally sank a ship on purpose. What a difference a week makes, said Dr. Steve Peters, director of the University of Michigan's Center for Health Research. It's just that they frequently sink ships, sometimes several times. Good for the whales, Mr. Caramore said. It was a struggle for survival which is difficult to even imagine, Mr Hughes said. Obviously when someone is starving to death that person will do anything to stay alive, he said.
like Moby Dick, but real, and better

Derived From Web

, Apr 23, 2022

The story begins slowly and is drawn out gradually, until the background of the crew becomes clear. But the story quickly turns to survival at its ultimate limits, i.e., death. The ship was stranded at sea for 90 days.. [W]e were eating raw fish, which is very vivid. It's not an adventure story, like Dick, but rather an engaging tragic story, a test on the human spirit with how much one can take before they're pushed to the edge.
This is an absolutely gripping read. I appreciate how ...

Derived From Web

, Apr 23, 2022

I appreciate how the first author educates the reader on what it means to be a whaler in Puritan New England. Understanding the societal norms of the day and the unwritten rules that each whaler agreed to live by, helps the reader put events in context. There are many similarities between In the Heart of the Sea and Moby Dick, which can be documented, given that the events in this book are what inspired Melville to write Moby Dick. As a non-fiction work, the story telling is done with grace and precision.
Fantastic book, really shows what life as a seaman was like!

Derived From Web

, Apr 23, 2022

I started reading it on my Kindle and couldn't put it down! It really shows a great portrayal of life in Nantucket back in the day, but also life aboard a whaling ship, he said. What the men of this ship had to endure was absolutely incredible, he said. It's such a tragic, tragic tale of survival told through the prism of grief. It's great to have such a great product on the market, said Dr. Steve Dixon, director of the NIH's Ames Research Center in California.
History of whaling

Derived From Web

, Oct 28, 2021

Great read, said Dr. Chester Floyd, director of the federal Centers for Disease Control and Prevention. Gives the history of whaling and the reader can figure out why some sea animals are extinct. Still reading.
Epic Story of Survival!

Derived From Web

, Dec 22, 2020

An epic story of courage and survival told in the voice of Ernest Hemingway. This jaw dropping story is hard to believe and at times you end up pinching yourself – how did this even happen?! Great leadership and poor leadership are the two defining characteristics of American exceptionalism. Once you get to the halfway point, the real story and adventure begins.
One of Philbrick's best. Great story.

Derived From Web

, Oct 19, 2018

It sat there for a few months and I couldn't get over it, so I started reading. I'm sorry I waited so long. A great read, and an amazing story, too. I really liked his Hill book, was so-so on the Mayflower one, and he didn't like the one at all. I'm not even going to lie: This is by far his best work. He did a great job of pointing out the limitations the sailors of that time were facing and the repercussions of decisions they made, he said. As far as survival stories, it reminded me of a little of Shackleton and the Endurance which he actually references in this book. He ties it all back to Melville and the Dick Moby writing which was interesting. It was mostly a case of meh'', said Blair, also director of music for AOL Europe.
MISSING PAGES!!

Derived From Web

, Sep 27, 2018

However, I got to 142 page where the crew discovers water on Hendrson Island and there are 16 pages of photos and pictures to see who is killed and eaten. What the hell happened is that the boys found water and replenished supplies to last, Mr. Bair said. The book is being printed with pages that are missing.