Cyber Week Deals
Cyber Monday Deals are Here! Save 20% on All Books Under $10 - Code CYBERBOOK Learn more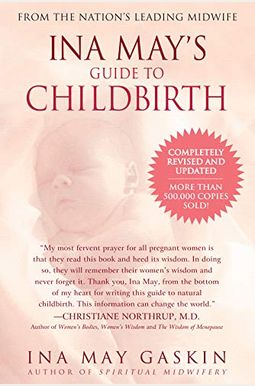  
Ina May's Guide To Childbirth
Book Overview
What you need to know to have the best birth experience for you.
Drawing upon her thirty-plus years of experience, Ina May Gaskin, the nation's leading midwife, shares the benefits and joys of natural childbirth by showing women how to trust in the ancient wisdom of their bodies for a healthy and fulfilling birthing experience. Based on the female-centered Midwifery Model of Care,
Ina May's Guide to Childbirth
gives expectant mothers comprehensive information on everything from the all-important mind-body connection to how to give birth without technological intervention. Filled with inspiring birth stories and practical advice, this invaluable resource includes: - Reducing the pain of labor without drugs--and the miraculous roles touch and massage play
- What really happens during labor
- Orgasmic birth--making birth pleasurable
- Episiotomy--is it really necessary?
- Common methods of inducing labor--and which to avoid at all costs
- Tips for maximizing your chances of an unmedicated labor and birth
- How to avoid postpartum bleeding--and depression
- The risks of anesthesia and cesareans--what your doctor
doesn't necessarily tell you
- The best ways to work with doctors and/or birth care providers
- How to create a safe, comfortable environment for
birth in any setting, including a hospital
- And much more
Ina May's Guide to Childbirth
takes the fear out of childbirth by restoring women's faith in their own natural power to give birth with more ease, less pain, and less medical intervention.
Frequently bought together
Frequently Asked Questions About Ina May's Guide To Childbirth
Book Reviews
(6)
Did you read Ina May's Guide To Childbirth? Please provide your feedback and rating to help other readers.
Absolutely amazing.

Derived From Web

, Apr 20, 2022

This book is amazing. It's well written and does a good job of explaining the proscons of modern hospital births. I only had to read a few chapters of this to realize that a midwife was more in line with my attitude towards birth. Major hospitals are slowly adapting their procedures to more closely align with midwifery practices, but they've still got a little ways to go, and this book covers those differences, and does a good job of providing information about it.
Keep in mind it is pretty skewed against Western medicine

Derived From Web

, Apr 20, 2022

The first half of the book gives a positive look at labor, which was helpful since we tend to be surrounded by horror stories. If you're interested in the process of labor and surrounding interventions, this book would be helpful. It's skewed against Western medicine, as you should expect after reading the first half of the book, where all births that took place on a hippie commune, and may create unnecessary fear of Western practices. A provider that agrees with avoiding unnecessary intervention is a good choice. This book and other guides can be used as a single tool in preparing for labor.
Blatant Bias.

Derived From Web

, Jul 11, 2020

I have never read a book like that in my life. It paints a picture of hospital births as torture chambers for women and that you can't have a good birth experience there. She talks about masturbating during labor. I was put off by the entire book. Many women would be terrified of giving birth in a hospital. I have delivered four babies in hospitals. We had access to emergency care if we needed it, thanks to the wonderful staff.
Shocked at all the praise!

Derived From Web

, Apr 15, 2019

I was surprised that I didn't like this book, given how many women recommend it. The book suggests that it is applicable to all women regardless of their birth plan. That is not the truth. The book was critical of physicians and nurses in a hospital setting. The book doesn't cover any potential risks with home births, it only focuses on the experiences of births at The Farm, which is unlike what most women can or will experience. Positive birth stories are nice, but they are redundant in the first half of the book. In the end, the important material is forgotten. No matter your birth plan, I don't recommend this book. I think it makes generalizations about the health care system and creates a divide among women.
Everything and more

Derived From Web

, Oct 17, 2017

This book is a good starting point on your natural labor education journey. The book starts with birth stories that were brilliant but I didn't like them at first. The second half of the book does not go into great detail about how to birth. It doesn't give enough information on how to get to orgasmic or joyful birthing, for example. You'll want to use this book as a starting point and take notes on the techniques you learn.
The ONE book I read during my pregnancy

Derived From Web

, May 18, 2017

I made a decision to stay less informed about my birth because I read so much about it. I believe that our bodies know what to do and that it is better to approach pregnancy and birth with intuition rather than with a brain. We live in a society where we can't escape information, so I'm always getting bombarded with preggo and birth. I have a midwife who makes sure I know what I need to know at each check up. I decided to only read one book. I became less scared and more excited about birth as a result of the decision. I felt like I had learned everything I needed to know about my choices. It is highly recommended for any expectant mama and her partner.