Buy 3 Get 1 Free
Our Best Sale Yet! Add 4 Books Priced Under $5 To Your Cart     Learn more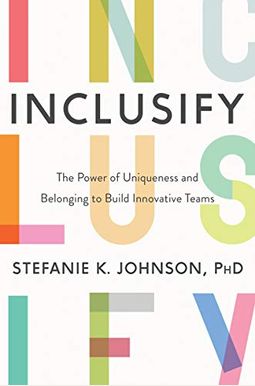 
 
Inclusify: The Power Of Uniqueness And Belonging To Build Innovative Teams
Book Overview
Wall Street Journal Bestseller
In this groundbreaking guide, a management expert outlines the transformative leadership skill of tomorrow--one that can make it possible to build truly diverse and inclusive teams which value employees' need to belong while being themselves.

Humans have two basic desires: to stand out and to fit in. Companies respond by creating groups that tend to the extreme--where everyone fits in and no one stands out, or where everyone stands out and no one fits in. How do we find that happy medium where workers can demonstrate their individuality while also feeling they belong?
The answer, according to Stefanie Johnson, is to Inclusify. In this essential handbook, she explains what it means to Inclusify and how it can be used to strengthen any business. Inclusifying--unlike diversifying or including-- implies a continuous, sustained effort towards helping diverse teams feel engaged, empowered, accepted, and valued. It's no use having diversity if everyone feels like an outsider, she contends.
In her research, Johnson found common problems leaders exhibit which frustrate their attempts to create diverse and cohesive teams. Leaders that underestimated the importance of group coherence and dynamics often have employees who do not feel like they belong; leaders that ignore the benefits Read More chevron_right
Frequently Asked Questions About Inclusify: The Power Of Uniqueness And Belonging To Build Innovative Teams
Book Reviews
(9)
Did you read Inclusify: The Power Of Uniqueness And Belonging To Build Innovative Teams? Please provide your feedback and rating to help other readers.
Worse than self-guided HR training

Derived From Web

, Dec 7, 2021

This book is missing on all fronts and reads like random protesters signs with no flow and no cohesion. I saw this on LinkedIn and bought it expecting a fresh perspective, but was disappointed by the intro and the rest of the book.
Excellent strategies

Derived From Web

, Aug 18, 2021

It is amazing how inclusive can actually make a company more profitable, yet so many are opposed. Thank you Ms. Johnson for sharing your journey with us!
If you buy one book on diversity and inclusion, this is it!

Derived From Web

, Jan 24, 2021

If you buy a book on diversity and inclusion, this is the one to get! While there are many books on this trendy topic, this book by Dr. Stafanie Johnson is the one that combines leadership strategies with rich qualitative analysis with empirical descriptions and actions. Not just another Pep-club-cookbook on diversity and inclusion, Johnson's Inclusify includes the scholarly references and literature you need to develop leadership strategies to understand organizations toward greater inclusivity and success.
Are you including or excluding?

Derived From Web

, Aug 14, 2020

For a long time, I thought I was a very inclusive leader of the people. I have always tried to have a very diverse team and treat them as colleagues. What I did not realize until I read Dr. Stefanie K. Johnson's new book Inclusify is that I have done things that do not fully include everyone around me. While these might sound very positive, the reality is that they each have actions, approaches and outlooks that exclude members of your organization. I love that she lays out the book by defining the manager types in a chapter and then telling you how to overcome your excluding tendencies around being this kind of manager in the next chapter. If you are like me trying to become a more effective leader, I HIGHLY recommend this book.
Phenomenal Insight and Actionable Steps!

Derived From Web

, Aug 3, 2020

The book Inclusive was PHENOMENAL by Stefanie K. Johnson. I picked this book because it was one of Adam Grant's recommended reading list of upcoming books and I am so glad that I did. Dr. Johnson talks about inclusion, diversity, belonging and microaggressions in a very tangible and actionable way. There are leaders who seem to be inclusive, but their words and actions are actually not well meaning. Dr. Johnson identifies types of leaders who seem helpful, lays out how they are damaging and then gives great advice and insight on what they can do to be better. There are so many books on inclusion, equality and equity, and this book stands out as a great call to action that not only engages the reader in what they do next, but also invites the reader to look within and seek the self-development required to be a truly inclusive leader. 5 :
A Very Important Book for Our Times

Derived From Web

, Jul 10, 2020

This is a really great book, both for the extensive research and for the excellent presentation of information. The author's writing style is conversational and draws the reader almost as if you are chatting with a friend. Chapter 2 : The ABCs of Breaking Bias was particularly relevant at that time for me and my team. We have held forums in the workplace to discuss systemic racism, and we will conduct an entire session focused on bias. Chapter 2 of this book will be the outline for this discussion. I gave a copy to my managers as well as a person, and enjoyed the analysis of different management types as they relate to inclusion. We were all very enlightened and learned a lot from this data -- especially the discussion of the meritocracy manager and how we got where we are in our thinking about merit. We'll talk for a long time about the lessons of this book and I can say that real change is happening here because of it.
Must read for all leaders in Corporate America

Derived From Web

, Jun 18, 2020

This book reminded me why I was drawn to work in #diveristyandinclusion. I loved the contemporary stories and playful archetypes that paint a picture of corporate America today. We need to embrace both uniqueness and belonging to promote workplace inclusion.
A must read for business students everywhere!!

Derived From Web

, Jun 16, 2020

This book delves into one of the biggest issues not only in the business world, but also in all industries around the world. Dr. Johnson articulates the world where diversity and inclusion meet and how we can make the world a better place as leaders. As an academic business student where Dr. Johnson works, nothing makes me prouder than work like this.
A must-read, actionable guide for leaders in these turbulent times

Derived From Web

, Jun 15, 2020

If you are a leader, you must read and immediately act on Dr. Johnson's steps on becoming an inclusive speaker. Dr. Johnson shows with her own personal rigor and her academic experiences how to make every employee feel included in your organization. For decades, American corporations have largely associated Diversity and Inclusion with a check box mentality. This book challenges the status quo, explains how you can be an inclusiveness and provides actionable steps that you can implement today. You will lead with empathy and trust and in these turbulent times you can no longer wait.