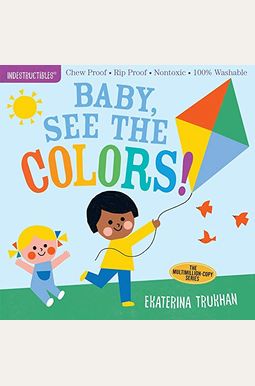 
 
Indestructibles: Baby, See the Colors!
Book Overview
The sky is blue--and so are blueberries Tomatoes are red, just like ladybugs and stop signs Flowers and giraffes are yellow--school buses, too
See all the colors in a book that's
indestructible
Indestructibles
is the trusted series for easing little ones into story time. Beloved by babies and their parents,
Indestructibles
are built for the way babies read (i.e., with their hands and mouths) and are:
Rip Proof--made of ultra-durable tight-woven material
Waterproof--can be chewed on, drooled on, and washed
Emergent Literacy Tool--bright pictures and few or no words encourage dialogic reading
Portable--lightweight books can go anywhere, perfect for the diaper bag and for travel
Safe for Baby--meets ASTM safety standards
Frequently Asked Questions About Indestructibles: Baby, See the Colors!
Book Reviews
(10)
Did you read Indestructibles: Baby, See the Colors!? Please provide your feedback and rating to help other readers.
Best $5 ever spent

Derived From Web

, Feb 23, 2022

This is a great product. When my baby got to the point where he could grab at books, it made story time harder. He doesn't matter if he grabs the pages and chews on them. It's impervious to water. I can let my baby play with it as he pleases, because it is rip proof. My 6 month old is playing with a toy.
Best for Infants

Derived From Web

, Nov 8, 2021

My 9 month old loves books but hasn't figured out the gentle nature in which books need to be handled. I don't want to be a helicopter parent that makes him turn every page and make sure he isn't tearing his book to shreds, so I recommend these wonderful books! They are just as strong as they say. I can show him how to be gentle with his other books because he has free reign over these and I don't have to worry about him ripping them apart.
Believe this to be true!

Derived From Web

, Feb 13, 2021

I bought 2 of these to try in my classroom of one year old's and they destroyed almost every board book by chewing or splitting the spine on them. Theses are a little crumpled but still intact. The books have won and my kids have tried everything they can to destroy them. Will get my school order more.
SUPER CONFUSING Colors

Derived From Web

, Feb 5, 2021

It's like the indestructible part, but not everything else. We don't even read the words of the story. We say the color when we turn the page. My child is supposed to be learning colors, but talk about confusing. Each page has a main theme color, but it's not the only one! Half of the page is blue. It is ridiculous!
True to the title of indestructibles!

Derived From Web

, Jan 8, 2021

I bought this book for my eighteen month old daughter, who loves to put everything in her mouth, rip it apart, and put it in liquid. It's really strong. I will definitely be ordering more of these books.
Great Book For Young Learners!

Derived From Web

, Jan 1, 2021

I love my books and this one is no different. I usually don't use books with young students because they tear the pages or throw them across the room, but my book has been through a lot and still holds up. The simplistic nature of these books allows the reader to expand on the language with their own observations to promote language-rich opportunities for the children, and I believe these books are indispensable for those caring for or educating young children.
Does what it says, impossible to tear.

Derived From Web

, Dec 4, 2020

I gave these books 4 stars because they are so strong. My son could not ruin this book. They are a little disappointing. The colors one is nice because it goes over colors but some of the other stories are not very good. I would like to see an actual story taking place instead of a typical read.
Definitely buy again!

Derived From Web

, Dec 2, 2020

If you have a kid that likes to rip apart books, these books are a great choice. I bought a couple for my younger nieces and nephews because they are so strong. It is easy to clean.
Baby's #1 super favorite

Derived From Web

, Jul 25, 2020

My granddaughter had a favorite book when she was an infant. She was very excited about the book. Her favorite page was the red one. She preferred this book to most of her toys because she hugged and chewed it. After being loved to death, it became soft.
Toddlers love them

Derived From Web

, Oct 14, 2019

I teach at a daycare. My class is made up of seven, 18 month to 2 12 years. My kids love to read. The problem I was having with paperback and board books was that the kids were tearing the pages and bending breaking the spins of good story books. I needed something that they could play with, fight over, throw, step on, and generally survive the wave of toddler abuse. I bought 7 different versions of these books and so far they have held up. The kids like talking about the pictures. They like to sit with the baby dolls and read to each other. I don't see them as teaching tools. I can keep the regular story books out reach and still have the requirement of having books at their level without fearing that they will destroy another expensive story book. I will be buying more.